Mouse Anti-Human MMP-3-UNLB (SB14d)
Purified Anti-Human MMP-3 antibody for use in ELISA and immunohistochemistry / immunocytochemistry assays.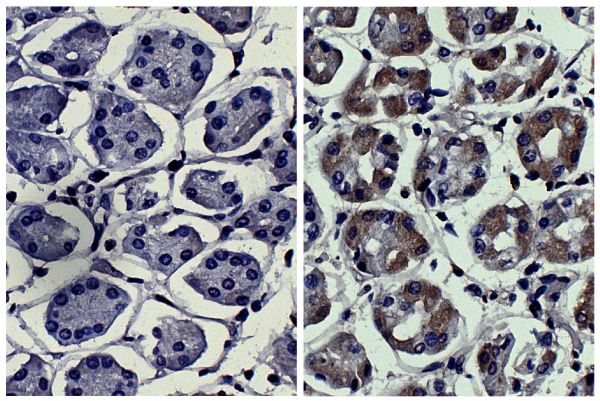 More Information
Clone
SB14d
Isotype
Mouse (BALB/c) IgG2aκ
Isotype Control
Mouse IgG2a-UNLB (HOPC-1)
Specificity
Human MMP-3
Alternative Names
Matrix metalloproteinase 3, stomelysin-1, transin
Description
Matrix metalloproteinases (MMPs) are a family of at least 23 structurally related, zinc-containing enzymes that have the ability to breakdown connective tissue. MMP-3 has shown substrate specificity to collagens types I, II, III, IV, VI, IX, X, and XIV as well as additional extracellular matrix components including gelatin, fibronectin, aggrecan, and perlecan.
Immunogen
Recombinant MMP-3
Conjugate
UNLB (Unconjugated)
Buffer Formulation
Borate buffered saline, pH 8.2
Clonality
Monoclonal
Concentration
0.5 mg/mL
Volume
0.2 mL
Recommended Storage
2-8°C
Applications
ELISA – Quality tested
Immunohistochemistry-Paraffin Sections 2
Immunohistochemistry-Frozen Sections – Reported in literature 1
Immunocytochemistry 3


RRID Number
AB_2794703
Gene ID
4314 (Human)

Gene ID Symbol
MMP3 (Human)

Gene ID Aliases
CHDS6; MMP-3; SL-1; STMY; STMY1; STR1
UniProt ID
P08254 (Human)

UniProt Name
MMP3_HUMAN (Human)

Documentation
---
Certificate of Analysis Lookup
Enter the Catalog Number and Lot Number for the Certificate of Analysis you wish to view
Need help with this product?
1. Rijken F. Pathophysiology and prevention of photoaging : the role of melanin, reactive oxygen species and infiltrating neutrophils [dissertation]. Utrecht (Netherlands): Utrecht University; 2011. (IHC-FS)
2. SouthernBiotech published data (IHC-PS)
3. SouthernBiotech unpublished data (ICC)