Mouse Anti-Influenza A, Nucleoprotein-UNLB (FluA-NP 2C9)
Purified Anti-Influenza A, Nucleoprotein antibody for use in immunohistochemistry, ELISA, and western blot assays.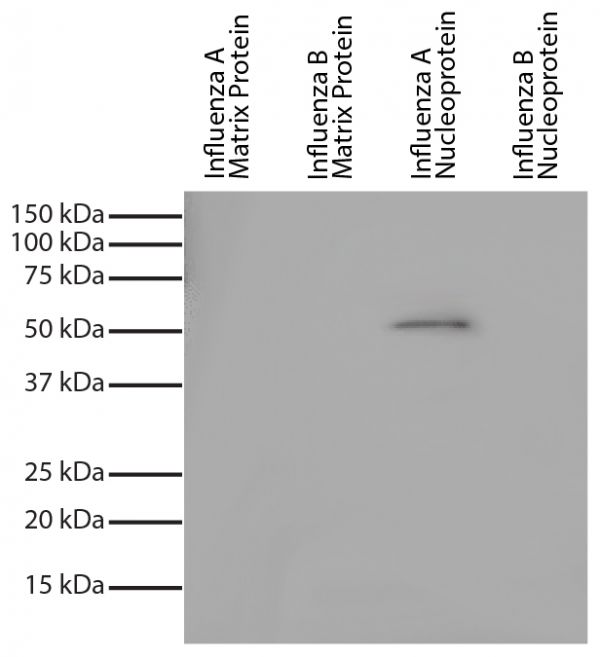 More Information
Clone
FluA-NP 2C9
Isotype
Mouse (BALB/c) IgG2aκ
Isotype Control
Mouse IgG2a-UNLB (HOPC-1)
Specificity
Influenza virus type A nucleoprotein
Alternative Names
NP
Description
Influenza virus type A nucleoprotein, also known as NP, is composed of a 498 amino acid sequence and is type-specific in influenza viruses. The NP encapsulates the virus genome to form a ribonucleoprotein (RNP) particle for the purposes of transcription and packaging. This clone can be paired as a capture antibody for ELISA with clone FluA-NP 4F1 (SB Cat. No. 10780-05).
Immunogen
Recombinant influenza virus type A nucleoprotein
Conjugate
UNLB (Unconjugated)
Buffer Formulation
Borate buffered saline, pH 8.2
Clonality
Monoclonal
Concentration
0.5 mg/mL
Volume
1.0 mL
Recommended Storage
2-8°C
Applications
ELISA – Quality tested
Immunohistochemistry-Frozen Sections – Reported in literature 1
Western Blot 2


RRID Number
AB_2794448
Documentation
---
Certificate of Analysis Lookup
Enter the Catalog Number and Lot Number for the Certificate of Analysis you wish to view
Need help with this product?
1. Nam J, Kim E, Song D, Choi YK, Kim J, Poo H. Emergence of mammalian species-infectious and -pathogenic avian influenza H6N5 virus with no evidence of adaptation. J Virol. 2011; 85: 13271–7. (IHC-FS)
2. SouthernBiotech published data (WB)