Rat Anti-Mouse IL-5-BIOT (TRFK4)
Biotin Anti-Mouse IL-5 antibody for use in immunohistochemistry / immunocytochemistry, ELISA, ELISpot, and multiplex assays.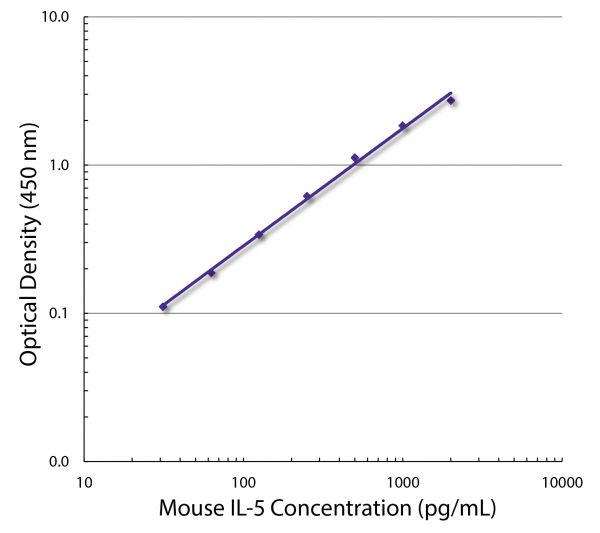 More Information
Clone
TRFK4
Isotype
Rat IgG2aκ
Isotype Control
Rat IgG2a-BIOT (KLH/G2a-1-1)
Specificity
Mouse IL-5
Alternative Names
Interleukin-5, B cell growth factor-2, BCGF-2, IgA enhancing factor, IgA-EF, T-cell replacing factor-1, TRF-1, eosinophil colony stimulating factor, Eo-CSF, eosinophil differentiation factor, EDF
Immunogen
Semi-purified T cell clone supernatant
Conjugate
BIOT (Biotin)
Buffer Formulation
Phosphate buffered saline containing < 0.1% sodium azide
Clonality
Monoclonal
Concentration
0.5 mg/mL
Volume
1.0 mL
Recommended Storage
2-8°C
Applications
ELISA-Detection – Quality tested 1-6
ELISpot-Detection – Reported in literature 7,9,10,12-16
ELISpot-Capture – Reported in literature 8,11
Immunohistochemsitry-Frozen Sections – Reported in literature 17,18
Immunocytochemistry – Reported in literature 3
Purification – Reported in literature 1
Neutralization – Reported in literature 1,2
Multiplex-Detection – Reported in literature 4

Note – May be paired with the purified clone TRFK5 (SB Cat. No. 10205-01) in a sandwich ELISA


RRID Number
AB_2794229
Gene ID
16191 (Mouse)

Gene ID Symbol
Il5 (Mouse)

Gene ID Aliases
Il-5
UniProt ID
P04401 (Mouse)

UniProt Name
IL5_MOUSE (Mouse)

Documentation
---
Certificate of Analysis Lookup
Enter the Catalog Number and Lot Number for the Certificate of Analysis you wish to view
Need help with this product?
1. Schumacher JH, O'Garra A, Shrader B, van Kimmenade A, Bond MW, Mosmann TR, et al. The characterization of four monoclonal antibodies specific for mouse IL-5 and development of mouse and human IL-5 enzyme-linked immunosorbent. J Immunol. 1988;141:1576-81. (Immunogen, ELISA-Detection, Purification, Neut)
2. Abrams JS, Roncarolo M, Yssel H, Andersson U, Gleich GJ, Silver JE. Strategies of anti-cytokine monoclonal antibody development: immunoassay of IL-10 and IL-5 in clinical samples. Immunol Rev. 1992;127:5-24. (ELISA-Detection, Neut)
3. Sander B, Höidén I, Andersson U, Möller E, Abrams JS. Similar frequencies and kinetics of cytokine producing cells in murine peripheral blood and spleen. Cytokine detection by immunoassay and intracellular immunostaining. J Immunol Methods. 1993;166:201-14. (ELISA-Detection, ICC)
4. Carson RT, Vignali DA. Simultaneous quantitation of 15 cytokines using a multiplexed flow cytometric assay. J Immunol Methods. 1999;227:41-52. (ELISA-Detection, Multiplex-Detection)
5. Abrams JS. Immunoenzymetric assay of mouse and human cytokines using NIP-labeled anti-cytokine antibodies. Curr Protoc Immunol. 2001;6.20:1-15. (ELISA-Detection)
6. da Fonseca DM, Silva CL, Wowk PF, Paula MO, Ramos SG, Horn C, et al. Mycobacterium tuberculosis culture filtrate proteins plus CpG Oligodeoxynucleotides confer protection to Mycobacterium bovis BCG-primed mice by inhibiting interleukin-4 secretion. Infect Immun. 2009;77:5311-21. (ELISA-Detection)
7. Lu P, Zhou X, Chen S, Moorman M, Morris SC, Finkelman FD, et al. CTLA-4 ligands are required to induce an in vivo interleukin 4 response to a gastrointestinal nematode parasite. J Exp Med. 1994;180:693-8. (ELISPOT-Detection)
8. Bordmann G, Rudin W, Favre N. Immunization of mice with phosphatidylcholine drastically reduces the parasitaemia of subsequent Plasmodium chabaudi chabaudi blood-stage infections. Immunology. 1998;94:35-40. (ELISPOT-Capture)
9. Karulin AY, Hesse MD, Tary-Lehmann M, Lehmann PV. Single-cytokine-producing CD4 memory cells predominate in type 1 and type 2 immunity. J Immunol. 2000;164:1862-72. (ELISPOT-Detection)
10. Stern BV, Boehm BO, Tary-Lehmann M. Vaccination with tumor peptide in CpG adjuvant protects via IFN-γ-dependent CD4 cell immunity. J Immunol. 2002;168:6099-105. (ELISPOT-Detection)
11. Fedoseyeva EV, Kishimoto K, Rolls HK, Illigens BM, Dong VM, Valujskikh A, et al. Modulation of tissue-specific immune response to cardiac myosin can prolong survival of allogeneic heart transplants. J Immunol. 2002;169:1168-74. (ELISPOT-Capture)
12. Kreher CR, Dittrich MT, Guerkov R, Boehm BO, Tary-Lehmann M. CD4+ and CD8+ cells in cryopreserved human PBMC maintain full functionality in cytokine ELISPOT assays. J Immunol Methods. 2003;278:79-93. (ELISPOT-Detection)
13. Linker RA, Rott E, Hofstetter HH, Hanke T, Toyka KV, Gold R. EAE in beta-2 microglobulin-deficient mice: axonal damage is not dependent on MHC-I restricted immune responses. Neurobiol Dis. 2005;19:218-28. (ELISPOT-Detection)
14. Nekrasova T, Shive C, Gao Y, Kawamura K, Guardia R, Landreth G, et al. ERK1-deficient mice show normal T cell effector function and are highly susceptible to experimental autoimmune encephalomyelitis. J Immunol. 2005;175:2374-80. (ELISPOT-Detection)
15. Hofstetter HH, Mössner R, Lesch KP, Linker RA, Toyka KV, Gold R. Absence of reuptake of serotonin influences susceptibility to clinical autoimmune disease and neuroantigen-specific interferon-gamma production in mouse EAE. Clin Exp Immunol. 2005;142:39-44. (ELISPOT-Detection)
16. Klinman D. ELISPOT assay to detect cytokine-secreting murine and human cells. Curr Protoc Immunol. 2008;6.19:1-9. (ELISPOT-Detection)
17. Sunnemark D, Ulfgren A, Örn A, Harris RA. Cytokine production in hearts of Trypanosoma cruzi-infected CBA mice: Do cytokine patterns in chronic stage reflect the establishment of myocardial pathology?. Scand J Immunol. 1996;44:421-9. (IHC-FS)
18. Martinelli TM, Van Driel IR, Alderuccio F, Gleeson PA, Toh B. Analysis of mononuclear cell infiltrate and cytokine production in murine autoimmune gastritis. Gastroenterology. 1996;110:1791-802. (IHC-FS)