Rat Anti-Mouse CD25-APC (7D4)
APC Anti-Mouse CD25 antibody for use in flow cytometry assays.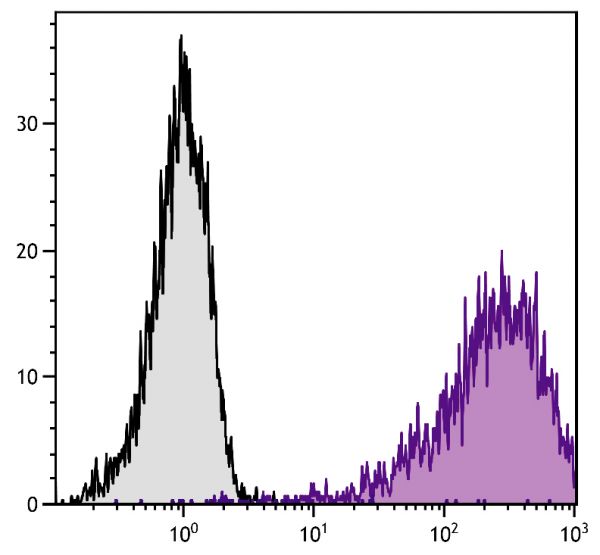 More Information
Clone
7D4
Isotype
Rat (Lewis) IgMκ
Isotype Control
Rat IgM-APC (NIP/M-2)
Specificity
Mouse CD25
Alternative Names
IL-2Rα, p55, IL-2 receptor α chain, Ly-43, Tac, IL-2-RA
Description
The IL-2 receptor (IL-2R) exists in three alternative forms made up from the individual components of CD25, CD122, and CD132. CD25 represents the low affinity α chain of the IL-2R, a type I transmembrane glycoprotein containing two CCP domains. It is rich in O-linked carbohydrates and has a short cytoplasmic tail. CD25 is expressed on activated T cells, B cells, NK cells, and monocytes of all mouse strains tested. It is transiently expressed at a low level during B cell development in bone marrow on the CD45R/B220low TdT- sIg- pre-B II and CD45R/B220low TdT- sIgM+sIgD- immature B cells, but not on the CD45R/B220low TdT+ sIg- pro-B/pre-B I stage nor on CD45R/B220high TdT- sIgM+sIgD+ mature B cells. CD25 is expressed at a higher level during very early T-cell development in fetal and adult thymus. The 7D4 monoclonal antibody reacts with an epitope between amino acids 125 and 212 that is distinct from that recognized by the monoclonal antibody 3C7 (SB Cat. No. 1600). While the monoclonal antibody 7D4 does not block the binding of IL-2 to CD25, when used in combination with the monoclonal antibody 3C7 it results in higher levels of inhibition of IL-2-driven proliferation than either of these two monoclonal antibodies alone.
Immunogen
IL-2 dependent BALB/c helper T cell clone HT2
Conjugate
APC (Allophycocyanin)
Buffer Formulation
Phosphate buffered saline containing < 0.1% sodium azide and a stabilizer
Clonality
Monoclonal
Concentration
0.1 mg/mL
Volume
1.0 mL
Recommended Storage
2-8°C; Avoid exposure to light; Do not freeze
Applications
Flow Cytometry – Quality tested 1,6-11
Immunohistochemistry-Frozen Sections – Reported in literature 4
Immunoprecipitation – Reported in literature 1,2
Neutralization – Reported in literature 3
Blocking – Reported in literature 1,2,13
Depletion – Reported in literature 5
Complement Mediated Cell Depletion – Reported in literature 12


RRID Number
AB_2795007
Gene ID
16184 (Mouse)

Gene ID Symbol
Il2ra (Mouse)

Gene ID Aliases
CD25; Il2r; Ly-43
UniProt ID
P01590 (Mouse)

UniProt Name
IL2RA_MOUSE (Mouse)

Documentation
---
Certificate of Analysis Lookup
Enter the Catalog Number and Lot Number for the Certificate of Analysis you wish to view
Need help with this product?
1. Malek TR, Robb RJ, Shevach EM. Identification and initial characterization of a rat monoclonal antibody reactive with the murine interleukin 2 receptor-ligand complex. Proc Natl Acad Sci USA. 1983;80:5694-8. (Immunogen, Block, IP, FC)
2. Ortega G, Robb RJ, Shevach EM, Malek TR. The murine IL 2 receptor. I. Monoclonal antibodies that define distinct functional epitopes on activated T cells and react with activated B cells. J Immunol. 1984;133:1970-5. (Block, IP, FC)
3. de Goër de Herve MG, Jaafoura S, Vallée M, Taoufik Y. FoxP3+ regulatory CD4 T cells control the generation of functional CD8 memory. Nat Commun. 2012;3:986. (Neut)
4. Benz C, Heinzel K, Bleul CC. Homing of immature thymocytes to the subcapsular microenvironment within the thymus is not an absolute requirement for T cell development. Eur J Immunol. 2004;34:3652-63. (IHC-FS)
5. Kohm AP, Williams JS, Miller SD. Cutting edge: ligation of the glucocorticoid-induced TNF receptor enhances autoreactive CD4+ T cell activation and experimental autoimmune encephalomyelitis. J Immunol. 2004;172:4686-90. (Depletion)
6. Yu S, Maiti PK, Dyson M, Jain R, Braley-Mullen H. B cell-deficient NOD.H-2h4 mice have CD4+CD25+ T regulatory cells that inhibit the development of spontaneous autoimmune thyroiditis. J Exp Med. 2006;203:349-58. (FC)
7. Pevsner-Fischer M, Morad V, Cohen-Sfady M, Rousso-Noori L, Zanin-Zhorov A, Cohen S, et al. Toll-like receptors and their ligands control mesenchymal stem cell functions. Blood. 2007;109:1422-32. (FC)
8. Kinsey GR, Sharma R, Huang L, Li L, Vergis AL, Ye H, et al. Regulatory T cells suppress innate immunity in kidney ischemia-reperfusion injury. J Am Soc Nephrol. 2009;20:1744-53. (FC)
9. Sweet RA, Ols ML, Cullen JL, Milam AV, Yagita H, Shlomchik MJ. Facultative role for T cells in extrafollicular Toll-like receptor-dependent autoreactive B-cell responses in vivo. Proc Natl Acad Sci USA. 2011;108:7932-7. (FC)
10. Juchem KW, Anderson BE, Zhang C, McNiff JM, Demetris AJ, Farber DL, et al. A repertoire-independent and cell-intrinsic defect in murine GVHD induction by effector memory T cells. Blood. 2011;118:6209-19. (FC)
11. Jacobsen J, Haabeth OW, Tveita AA, Schjetne KW, Munthe LA, Bogen B. Naive idiotope-specific B and T cells collaborate efficiently in the absence of dendritic cells. J Immunol. 2014;192:4174-83. (FC)
12. Pollard AM, Lipscomb MF. Characterization of murine lung dendritic cells: similarities to Langerhans cells and thymic dendritic cells. Eur J Immunol. 1990;172:159-67. (CMDC)
13. Malek TR, Ortega G, Jakway JP, Chan C, Shevach EM. The murine IL 2 receptor. II. Monoclonal anti-IL 2 receptor antibodies as specific inhibitors of T cell function in vitro. J immunol. 1984;133:1976-82. (Block)