Mouse Anti-Human Bax-UNLB (2D2)
Purified Anti-Human Bax antibody for use in flow cytometry, immunohistochemistry / immunocytochemistry, western blot, immunoprecipitation, purification, and neutralization assays.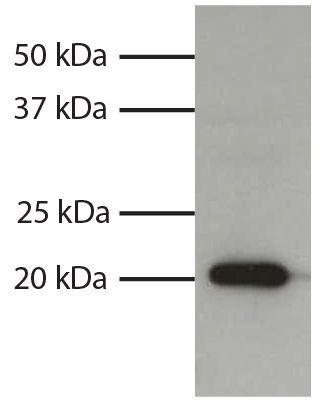 More Information
Clone
2D2
Isotype
Mouse IgG1κ
Isotype Control
Mouse IgG1-UNLB (15H6)
Specificity
Human/Monkey/Canine/Bovine Bax
Alternative Names
Apoptosis regulator BAX, BCL2 associated X protein
Description
Bax is a 20-22 kDa member of the Bcl-2 family of proteins involved in regulation of programmed cell death, or apoptosis. In murine thymocytes, it is expressed primarily as a cytoplasmic protein. Over-expression of Bax promotes apoptosis by formation of homodimers and through heterodimerization with Bcl-2, an inhibitor of apoptosis. The monoclonal antibody 2D2 reacts with an N-terminal epitope between amino acids 3-16 of human Bax. It can bind both soluble and detergent-altered forms of Bax as well as Bax-Bcl-2 and Bax-Bcl-xL heterodimers.
Immunogen
Human Bax peptide (a.a. 3-16)
Conjugate
UNLB (Unconjugated)
Buffer Formulation
Borate buffered saline, pH 8.2
Clonality
Monoclonal
Concentration
0.1 mg/mL
Volume
1.0 mL
Recommended Storage
2-8°C
Applications
Western Blot – Quality tested 1-10,16
Immunoprecipitation – Reported in literature 5,6,9,11
Flow Cytometry – Reported in literature 12
Immunohistochemistry-Paraffin Sections – Reported in literature 9,10,13
Immunocytochemistry – Reported in literature 5,11,14
Neutralization – Reported in literature 15
Purification – Reported in literature 16


RRID Number
AB_2794107
Gene ID
581 (Human)
718948 (Monkey)
403523 (Canine)
280730 (Bovine)

Gene ID Symbol
BAX (Human)
BAX (Monkey)
BAX (Canine)
BAX (Bovine)

Gene ID Aliases
BCL2L4
UniProt ID
Q07812 (Human)
F6ZV96 (Bovine)
Q8HYU5 )
O02703 )

UniProt Name
BAX_HUMAN (Human)
BAX_BOVIN (Bovine)

Documentation
---
Certificate of Analysis Lookup
Enter the Catalog Number and Lot Number for the Certificate of Analysis you wish to view
Need help with this product?
1. Hsu Y, Youle RJ. Nonionic detergents induce dimerization among members of the Bcl-2 family. J Biol Chem. 1997;272:13829-34. (Immunogen, WB)
2. Hsu Y, Wolter KG, Youle RJ. Cytosol-to-membrane redistribution of Bax and Bcl-XL during apoptosis. Proc Natl Acad Sci USA. 1997;94:3668-72. (WB)
3. Wolter KG, Hsu Y, Smith CL, Nechushtan A, Xi X, Youle RJ. Movement of Bax from the cytosol to mitochondria during apoptosis. J Cell Biol. 1997;139:1281-92. (WB)
4. Jeong S, Gaume B, Lee Y, Hsu Y, Ryu S, Yoon S, et al. Bcl-xL sequesters its C-terminal membrane anchor in soluble, cytosolic homodimers. EMBO J. 2004;23:2146-55. (WB)
5. Cartron P, Oliver L, Juin P, Meflah K, Vallette FM. The p18 truncated form of Bax behaves like a Bcl-2 homology domain 3-only protein. J Biol Chem. 2004;279:11503-12. (WB, IP, ICC)
6. Kim B, Ryu S, Song B. JNK- and p38 kinase-mediated phosphorylation of Bax leads to its activation and mitochondrial translocation and to apoptosis of human hepatoma HepG2 cells. J Biol Chem. 2006;281:21256-65. (WB, IP)
7. Oliver PG, LoBuglio AF, Zinn KR, Kim H, Nan L, Zhou T, et al. Treatment of human colon cancer xenografts with TRA-8 anti-death receptor 5 antibody alone or in combination with CPT-11. Clin Cancer Res. 2008;14:2180-9. (WB)
8. Fiveash JB, Gillespie GY, Oliver PG, Zhou T, Belenky ML, Buchsbaum DJ. Enhancement of glioma radiotherapy and chemotherapy response with targeted antibody therapy against death receptor 5. Int J Radiat Oncol Biol Phys. 2008;71:507-16. (WB)
9. Pucci S, Paola M, Fabiola S, David BA, Luigi SG. Interleukin-6 affects cell death escaping mechanisms acting on Bax-Ku70-Clusterin interactions in human colon cancer progression. Cell Cycle. 2009;8:473-81. (WB, IP, IHC-PS)
10. Croci M, Dettwiler M, Vaughan L, Guscetti F. Immunohistochemical expression of Bax and Bak in canine non-neoplastic tissues. Vet J. 2013;198:131-40. (WB, IHC-PS, Canine Reactivity)
11. Roucou X, Giannopoulos PN, Zhang Y, Jodoin J, Goodyer CG, LeBlanc A. Cellular prion protein inhibits proapoptotic Bax conformational change in human neurons and in breast carcinoma MCF-7 cells. Cell Death Differ. 2005;12:783-95. (IP, ICC)
12. Rivadeneyra-Espinoza L, Ruiz-Argüelles A. Cell-penetrating anti-native DNA antibodies trigger apoptosis through both the neglect and programmed pathways. J Autoimmun. 2006;26:52-6. (FC)
13. Liu G, Kolesar J, McNeel DG, Leith C, Schell K, Eickhoff J, et al. A phase I pharmacokinetic and pharmacodynamic correlative study of the antisense Bcl-2 oligonucleotide g3139, in combination with carboplatin and paclitaxel, in patients with advanced solid tumors. Clin Cancer Res. 2008;14:2732-9. (IHC-PS)
14. Cai Z, Lin M, Wuchter C, Ruppert V, Dörken B, Ludwig W, et al. Apoptotic response to homoharringtonine in human wt p53 leukemic cells is independent of reactive oxygen species generation and implicates Bax translocation, mitochondrial cytochrome c release and caspase activation. Leukemia. 2001;15:567-74. (ICC)
15. Zhang Y, McLaughlin R, Goodyer C, LeBlanc A. Selective cytotoxicity of intracellular amyloid β peptide1-42 through p53 and Bax in cultured primary human neurons. J Cell Biol. 2002;156:519-29. (Neut)
16. Basañez G, Nechushtan A, Drozhinin O, Chanturiya A, Choe E Tutt S, Wood KA, et al. Bax, but not Bcl-xL, decreases the lifetime of planar phospholipid bilayer membranes at subnanomolar concentrations. Proc Natl Acad Sci USA. 1999;96:5492-7. (Purification, Bovine Reactivity)
17. Hsu Y, Smaili S. Molecular characterization of the proapoptotic protein Bax. In: LeBlanc AC, editor. Apoptosis Techniques and Protocols. Totowa: Humana Press; 2002. p. 1-20. (Monkey & Bovine Reactivity)