Mouse Anti-Bcl-2-UNLB (10C4)
Purified Anti-Bcl-2 antibody for use in flow cytometry, immunohistochemistry / immunocytochemistry, western blot, and immunoprecipitation assays.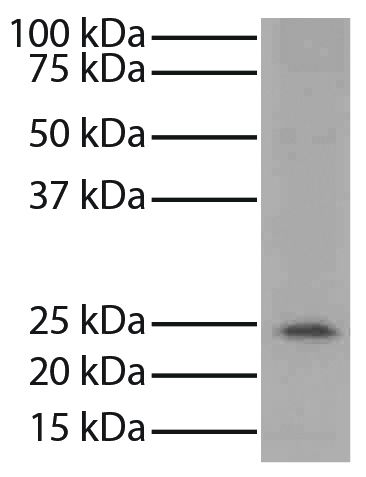 More Information
Clone
10C4
Isotype
Mouse IgG1κ
Isotype Control
Mouse IgG1-UNLB (15H6)
Specificity
Mouse/Rat Bcl-2
Alternative Names
B cell leukemia 2
Description
Bcl-2 is a 26 kDa member of the family of proteins involved in regulation of programmed cell death, or apoptosis. It is expressed in a variety of both normal and neoplastic tissues and appears to be membrane-bound since it is detectable in crude membrane and nuclear fractions, but not in the soluble fraction of cell lysates. Overexpression of Bcl-2 can prevent apoptosis, while formation of heterodimers with Bax, another Bcl-2-related protein, inhibits Bcl-2's ability to promote cell survival.
Immunogen
Murine Bcl-2 peptide (a.a. 61-76)
Conjugate
UNLB (Unconjugated)
Buffer Formulation
Borate buffered saline, pH 8.2
Clonality
Monoclonal
Concentration
0.1 mg/mL
Volume
1.0 mL
Recommended Storage
2-8°C
Applications
Western Blot – Quality tested 1-4
Immunoprecipitation – Reported in literature 3,4
Flow Cytometry – Reported in literature 5,6
Immunohistochemistry-Frozen Sections – Reported in literature 7
Immunohistochemistry-Paraffin Sections – Reported in literature 8
Immunocytochemistry – Reported in literature 3


RRID Number
AB_2794109
Gene ID
12043 (Mouse)
24224 (Rat)

Gene ID Symbol
Bcl2 (Mouse)
Bcl2 (Rat)

Gene ID Aliases
AW986256; Bcl-2; C430015F12Rik; D630044D05Rik; D830018M01Rik
UniProt ID
P10417 (Mouse)
P49950 (Rat)

UniProt Name
BCL2_MOUSE (Mouse)
BCL2_RAT (Rat)

Documentation
---
Certificate of Analysis Lookup
Enter the Catalog Number and Lot Number for the Certificate of Analysis you wish to view
Need help with this product?
1. Hsu Y, Youle RJ. Nonionic detergents induce dimerization among members of the Bcl-2 family. J Biol Chem. 1997;272:13829-34. (Immunogen, WB)
2. Hsu Y, Wolter KG, Youle RJ. Cytosol-to-membrane redistribution of Bax and Bcl-XL during apoptosis. Proc Natl Acad Sci USA. 1997;94:3668-72. (WB)
3. Conus S, Kaufmann T, Fellay I, Otter I, Rossé T, Borner C. Bcl-2 is a monomeric protein: prevention of homodimerization by structural constraints. EMBO J. 2000;19:1534-44. (WB, IP, ICC)
4. Gaudette BT, Iwakoshi NN, Boise LH. Bcl-xL protein protects from C/EBP homologous protein (CHOP)-dependent apoptosis during plasma cell differentiation. J Biol Chem. 2014;289:23629-40. (WB, IP)
5. McFarland HI, Puig M, Grajkowska LT, Tsuji K, Lee JP, Mason KP, et al. Regulatory T cells in γ irradiation-induced immune suppression. PLoS One. 2012;7(6):e39092. (FC)
6. Wang X, Szymczak-Workman AL, Gravano DM, Workman CJ, Green DR, Vignali DA. Preferential control of induced regulatory T cell homeostasis via a Bim/Bcl-2 axis. Cell Death Dis. 2012;3:e270. (FC)
7. Yamanaka T, Helgeland L, Farstad IN, Fukushima H, Midtvedt T, Brandtzaeg P. Microbial colonization drives lymphocyte accumulation and differentiation in the follicle-associated epithelium of Peyer's patches. J Immunol. 2003;170:816-22. (IHC-FS)
8. Saatli B, Kizildag S, Posaci C, Dogan E, Koyuncuoglu M, Ulukus EC, et al. Long-term effects of GnRH agonist, GnRH antagonist, and estrogen plus progesterone treatment on apoptosis related genes in rat ovary. Fertil Steril. 2009;91:2006-11. (IHC-PS)