Mouse Anti-Human EGFR-UNLB (SB41a)
Purified Anti-Human EGFR antibody for use in western blotting and immunohistochemistry / immunocytochemistry assays.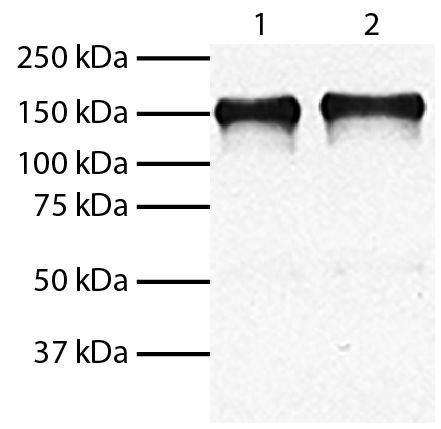 More Information
Clone
SB41a
Isotype
Mouse (BALB/c) IgG2aκ
Isotype Control
Mouse IgG2a-UNLB (HOPC-1)
Specificity
Human EGFR
Alternative Names
Epidermal growth factor receptor, proto-oncogene c-ErbB-1, receptor tyrosine-protein kinase erbB-1, ErbB-1, HER1
Description
Epidermal growth factor receptor (EGFR) is a transmembrane receptor for epidermal growth factor (EGF). It is a member of the ErbB family of receptors, a subfamily of four closely related receptor tyrosine kinases - HER1 (EGFR, ErbB-1), HER (Neu, ErbB-2), HER3 (ErbB-3), and HER4 (ErbB-4). EGFR exists on the cell surface as inactive monomers and is activated by binding of its specific ligands, including EGF, transforming growth factor alpha (TGF-α), or others. Upon activation, EGFR can pair with another EGFR to form an active homodimer or pair with another member of the ErbB receptor family to create a heterodimer.
Immunogen
Recombinant human EGFR
Conjugate
UNLB (Unconjugated)
Buffer Formulation
Borate buffered saline, pH 8.2
Clonality
Monoclonal
Concentration
0.1 mg/mL
Volume
1.0 mL
Recommended Storage
2-8°C
Applications
Western Blot – Quality tested
Immunohistochemistry-Paraffin Sections 1
Immunocytochemistry 1


RRID Number
AB_2794369
Gene ID
1956 (Mouse)

Gene ID Symbol
EGFR (Mouse)

Gene ID Aliases
ERBB; ERBB1; HER1; NISBD2; PIG61; mENA
UniProt ID
P00533 (Human)

UniProt Name
EGFR_HUMAN (Human)

Documentation
---
Certificate of Analysis Lookup
Enter the Catalog Number and Lot Number for the Certificate of Analysis you wish to view
Need help with this product?
1. SouthernBiotech published data (IHC-PS, ICC)