Mouse Anti-Human MMP-2-UNLB (SB13a)
Purified Anti-Human MMP-2 antibody for use in ELISA and immunohistochemistry / immunocytochemistry assays.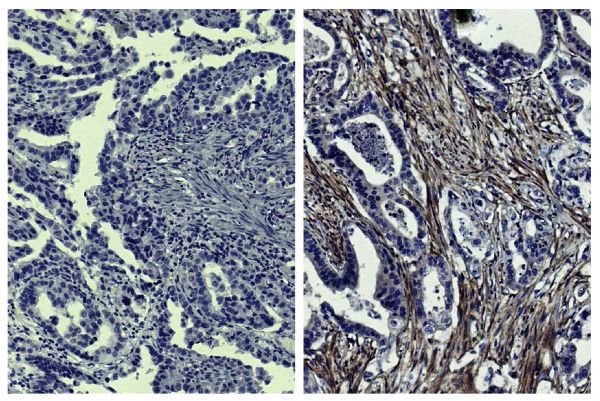 More Information
Clone
SB13a
Isotype
Mouse (BALB/c) IgG1κ
Isotype Control
Mouse IgG1-UNLB (15H6)
Specificity
Human MMP-2
Alternative Names
Matrix metalloproteinase 2, gelatinase A, 72 kDa type IV collagenase
Description
Matrix metalloproteinases (MMPs) are a family of at least 23 structurally related, zinc-containing enzymes that have the ability to breakdown connective tissue. MMP-2, along with MMP-9, belongs to the gelatinase group of MMP's which have three repeats of a type II fibronectin domain inserted in the catalytic domain. MMP-2 has shown substrate specificity to collagens types I, II, and III as well as the extracellular matrix component aggrecan.
Immunogen
Recombinant MMP-2
Conjugate
UNLB (Unconjugated)
Buffer Formulation
Borate buffered saline, pH 8.2
Clonality
Monoclonal
Concentration
0.5 mg/mL
Volume
0.2 mL
Recommended Storage
2-8°C
Applications
ELISA – Quality tested
Immunohistochemistry-Paraffin Sections 1
Immunocytochemistry 1


RRID Number
AB_2794701
Gene ID
4313 (Human)

Gene ID Symbol
MMP2 (Human)

Gene ID Aliases
CLG4; CLG4A; MMP-2; MMP-II; MONA; TBE-1
UniProt ID
P08253 (Human)

UniProt Name
MMP2_HUMAN (Human)

Documentation
---
Certificate of Analysis Lookup
Enter the Catalog Number and Lot Number for the Certificate of Analysis you wish to view
Need help with this product?
1. SouthernBiotech published data (IHC-PS, ICC)