Rat Anti-Mouse CD22-UNLB (2D6)
Purified Anti-Mouse CD22 antibody for use in flow cytometry, immunohistochemistry / immunocytochemistry, immunoprecipitation, and activation assays.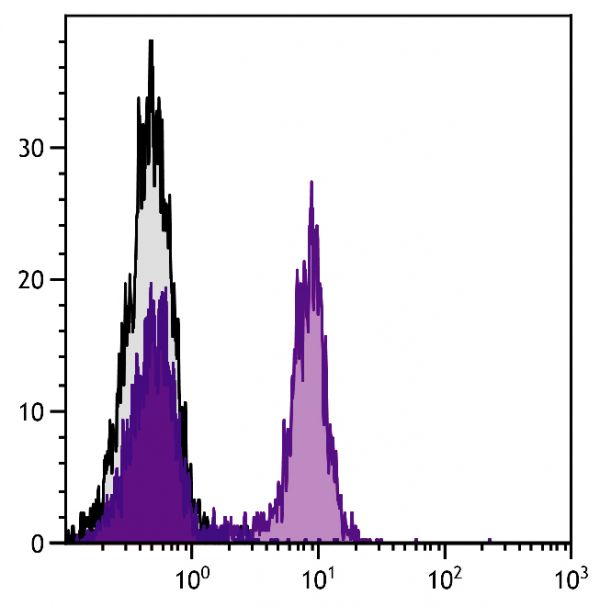 More Information
Clone
2D6
Isotype
Rat (LOU) IgG1κ
Isotype Control
Rat IgG1-UNLB (KLH/G1-2-2)
Specificity
Mouse CD22
Alternative Names
Lyb-8, Leu-14, BL-CAM
Description
CD22, also known as Lyb-8, is a heterodimeric transmembrane glycoprotein and a member of a structurally related group of immunoglobulin (Ig) superfamily domain-containing proteins called the sialoadhesin family. It is detected in the cytoplasm early in B cell development (late pro-B cell stage), appears on the cell surface concomitant with IgD, and is found on most IgM+IgD+ mature B lymphocytes. Expression is lost with terminal differentiation of B cells and is absent on plasma cells. Activation of B cells via cross-linking of surface Ig increases CD22 expression. CD22 associates with the B cell receptor (BCR) complex and mediates intercellular adhesion. Its intracellular domain is phosphorylated after antigen receptor cross-linking and is involved in negative regulation of B cell activation.
Immunogen
Splenic lymphocyte plasma membranes from CBA x C57 F1 mice
Conjugate
UNLB (Unconjugated)
Buffer Formulation
Borate buffered saline, pH 8.2
Clonality
Monoclonal
Concentration
0.5 mg/mL
Volume
1.0 mL
Recommended Storage
2-8°C
Applications
Flow Cytometry – Quality tested 1,6-8
Immunohistochemistry-Frozen Sections – Reported in literature 4
Immunohistochemistry-Paraffin Sections – Reported in literature 3
Immunocytochemistry – Reported in literature 5
Immunoprecipitation – Reported in literature 1,2
Activation – Reported in literature 9


RRID Number
AB_2794974
Gene ID
12483 (Mouse)

Gene ID Symbol
Cd22 (Mouse)

Gene ID Aliases
Lyb8; Lyb-8; A530093D23
UniProt ID
P35329 (Mouse)

UniProt Name
CD22_MOUSE (Mouse)

Documentation
---
Certificate of Analysis Lookup
Enter the Catalog Number and Lot Number for the Certificate of Analysis you wish to view
Need help with this product?
1. Torres RM, Law C, Santos-Argumedo L, Kirkham PA, Grabstein K, Parkhouse RM, et al. Identification and characterization of the murine homologue of CD22, a B lymphocyte-restricted adhesion molecule. J Immunol. 1992;149:2641-9. (Immunogen, IP, FC)
2. Courtney AH, Puffer EB, Pontrello JK, Yang Z, Kiessling LL. Sialylated multivalent antigens engage CD22 in trans and inhibit B cell activation. Proc Natl Acad Sci USA. 2009;106:2500-5. (IP)
3. van Holten J, Reedquist K, Sattonet-Roche P, Smeets TJ, Plater-Zyberk C, Vervoordeldonk MJ, et al. Treatment with recombinant interferon-β reduces inflammation and slows cartilage destruction in the collagen-induced arthritis model of rheumatoid arthritis. Arthritis Res Ther. 2004;6:R239-49. (IHC-PS)
4. Zhu L, Stalker TJ, Fong KP, Jiang H, Tran A, Crichton I, et al. Disruption of SEMA4D ameliorates platelet hypersensitivity in dyslipidemia and confers protection against the development of atherosclerosis. Arterioscler Thromb Vasc Biol. 2009;29:1039-45. (IHC-FS)
5. Ramya TN, Weerapana E, Liao L, Zeng Y, Tateno H, Liao L, et al. In situ trans ligands of CD22 identified by glycan-protein photocross-linking-enabled proteomics. Mol Cell Proteomics. 2010;9:1339-51. (ICC)
6. Walker JA, Smith KG. Dependence of surface monoclonal antibody binding on dynamic changes in FcγRIIb expression. Immunology. 2008;124:412-8. (FC)
7. O'Reilly MK, Tian H, Paulson JC. CD22 is a recycling receptor that can shuttle cargo between the cell surface and endosomal compartments of B cells. J Immunol. 2011;186:1554-63. (FC)
8. Zhu Z, Li R, Li H, Zhou T, Davis RS. FCRL5 exerts binary and compartment-specific influence on innate-like B-cell receptor signaling. Proc Natl Acad Sci USA. 2013;110:E1282-90. (FC)
9. Chan VW, Lowell CA, DeFranco AL. Defective negative regulation of antigen receptor signaling in Lyn-deficient B lymphocytes. Curr Biol. 1998;8:545-53. (Activ)