Goat Anti-Mouse IgG1, Human ads-APC
Only %1 left
Cat. No.:
1070-11L,
1070-11S
Goat Anti-Mouse IgG1-APC antibody with minimal reactivity to human proteins for use in flow cytometry assays.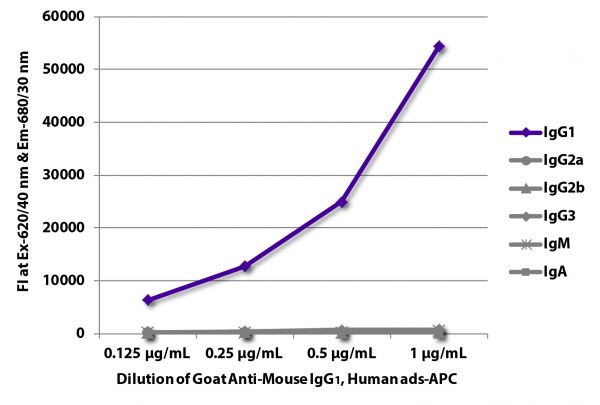 More Information
Isotype
Goat IgG
Isotype Control
Goat IgG-APC
Specificity
Reacts with the heavy chain of mouse IgG1
Source
Pooled antisera from goats hyperimmunized with mouse IgG1
Cross Adsorption
Mouse IgG2a, IgG2b, IgG3, IgM, and IgA; human immunoglobulins and pooled sera; may react with immunoglobulins from other species
Purification Method
Affinity chromatography on mouse IgG1 covalently linked to agarose
Conjugate
APC (Allophycocyanin)
Buffer Formulation
Phosphate buffered saline containing < 0.1% sodium azide and a stabilizer
Clonality
Polyclonal
Concentration
0.5 mg/mL
Volume
0.5 mL or 1.0 mL
Recommended Storage
2-8°C; Avoid exposure to light; Do not freeze
Applications
Quality tested applications for relevant formats include -
ELISA 1-8
FLISA
Flow Cytometry 6,9-15

Other referenced applications for relevant formats include -
ELISpot 4,6,7
Immunohistochemistry-Frozen Sections 3,9,16,17
Immunohistochemistry-Paraffin Sections 1,16,18,19
Immunohistochemistry-Whole Mount 25
Immunocytochemistry 14,20,21
Electron Microscopy 17
Western Blot 2,5,13,22,23
Surface Plasmon Resonance 24
Multiplex 26

RRID Number
AB_2794417
Gene ID
16017 (Mouse)

Gene ID Symbol
Ighg1 (Mouse)

Gene ID Aliases
IgG1; Igh-4; VH7183
UniProt ID
P01868 (Mouse)
P01869 (Mouse)

UniProt Name
IGHG1_MOUSE (Mouse)
IGH1M_MOUSE (Mouse)

Documentation
---
Certificate of Analysis Lookup
Enter the Catalog Number and Lot Number for the Certificate of Analysis you wish to view
Need help with this product?
1. Putterman C, Diamond B. Immunization with a peptide surrogate for double-stranded DNA (dsDNA) induces autoantibody production and renal immunoglobulin deposition. J Exp Med. 1998;188:29-38. (ELISA, IHC-PS)
2. Martin RM, Brady JL, Lew AM. The need for IgG2c specific antiserum when isotyping antibodies from C57BL/6 and NOD mice. J Immunol Methods. 1998;212:187-92. (ELISA, WB)
3. Richards HB, Satoh M, Jennette JC, Croker BP, Yoshida H, Reeves WH. Interferon-γ is required for lupus nephritis in mice treated with the hydrocarbon oil pristane. Kidney Int. 2001;60:2173-80. (ELISA, IHC-FS)
4. Sanjo H, Hikida M, Aiba Y, Mori Y, Hatano N, Ogata M, et al. Extracellular signal-regulated protein kinase 2 is required for efficient generation of B cells bearing antigen-specific immunoglobulin G. Mol Cell Biol. 2007;27:1236-46. (ELISA, ELISPOT)
5. Yamazaki T, Nagashima M, Ninomiya D, Arai Y, Teshima Y, Fujimoto A, et al. Passive immune-prophylaxis against influenza virus infection by the expression of neutralizing anti-hemagglutinin monoclonal antibodies from plasmids. Jpn J Infect Dis. 2011;64:40-9. (ELISA, WB)
6. Conway KL, Kuballa P, Khor B, Zhang M, Shi HN, Virgin HW, et al. ATG5 regulates plasma cell differentiation. Autophagy. 2013;9:528-37. (ELISA, ELISPOT, FC)
7. Koutsonanos DG, Esser ES, McMaster SR, Kalluri P, Lee J, Prausnitz MR, et al. Enhanced immune responses by skin vaccination with influenza subunit vaccine in young hosts. Vaccine. 2015;33:4675-82. (ELISA, ELISPOT)
8. Dabaghian M, Latifi AM, Tebianian M, Dabaghian F, Ebrahimi SM. A truncated C-terminal fragment of Mycobacterium tuberculosis HSP70 enhances cell-mediated immune response and longevity of the total IgG to influenza A virus M2e protein in mice. Antiviral Res. 2015;120:23-31. (ELISA)
9. Farstad IN, Carlsen H, Morton HC, Brandtzaeg P. Immunoglobulin A cell distribution in the human small intestine: phenotypic and functional characteristics. Immunology. 2000;101:354-63. (FC, IHC-FS)
10. Zurney J, Howard KE, Sherry B. Basal expression levels of IFNAR and Jak-STAT components are determinants of cell-type-specific differences in cardiac antiviral responses. J Virol. 2007;81:13668-80. (FC)
11. Pauklin S, Petersen-Mahrt SK. Progesterone inhibits activation-induced deaminase by binding to the promoter. J Immunol. 2009;183:1238-44. (FC)
12. Bai L, Deng S, Reboulet R, Mathew R, Teyton L, Savage PB, et al. Natural killer T (NKT)-B-cell interactions promote prolonged antibody responses and long-term memory to pneumococcal capsular polysaccharides. Proc Natl Acad Sci USA. 2013;110:16097-102. (FC)
13. Sutton KM, Hu T, Wu Z, Siklodi B, Vervelde L, Kaiser P. The functions of the avian receptor activator of NF-κB ligand (RANKL) and its receptors, RANK and osteoprotegerin, are evolutionarily conserved. Dev Comp Immunol. 2015;51:170-84. (FC, WB)
14. Teocchi MA, Ramalho VD, Abramczuk BM, D'Souza-Li L, Santos Vilela MM. BTK mutations selectively regulate BTK expression and upregulate monocyte XBP1 mRNA in XLA patients. Immun Inflamm Dis. 2015;3:171-81. (FC, ICC)
15. Imamura M, Shook D, Kamiya T, Shimasaki N, Chai SM, Coustan-Smith E, et al. Autonomous growth and increased cytotoxicity of natural killer cells expressing membrane-bound interleukin-15. Blood. 2014;124:1081-8. (FC)
16. van der Loos C. User Protocol: Practical Guide to Multiple Staining. BioTechniques' Protocol Guide 2010. 2009 Nov. doi: doi10.2144/000113281. (IHC-FS, IHC-PS)
17. Raats CJ, van den Born J, Bakker MA, Oppers-Walgreen B, Pisa BJ, Dijkman HB, et al. Expression of agrin, dystroglycan, and utrophin in normal renal tissue and in experimental glomerulopathies. Am J Pathol. 2000;156:1749-65. (IHC-FS, EM)
18. Huizinga R, van der Star BJ, Kipp M, Jong R, Gerritsen W, Clarner T, et al. Phagocytosis of neuronal debris by microglia is associated with neuronal damage in multiple sclerosis. Glia. 2012;60:422-31. (IHC-PS)
19. Neufeld T, Ludwig B, Barkai U, Weir GC, Colton CK, Evron Y, et al. The efficacy of an immunoisolating membrane system for islet xenotransplantation in minipigs. PLoS One. 2013;8(8):e70150. (IHC-PS)
20. King MC, Raposo G, Lemmon MA. Inhibition of nuclear import and cell-cycle progression by mutated forms of the dynamin-like GTPase MxB. Proc Natl Acad Sci USA. 2004;101:8957-62. (ICC)
21. Schindler YL, Garske KM, Wang J, Firulli BA, Firulli AB, Poss KD, et al. Hand2 elevates cardiomyocyte production during zebrafish heart development and regeneration. Development. 2014;141:3112-22. (ICC)
22. Konitsiotis AD, Jovanović B, Ciepla P, Spitaler M, Lanyon-Hogg T, Tate EW, et al. Topological analysis of Hedgehog acyltransferase, a multipalmitoylated transmembrane protein. J Biol Chem. 2015;290:3293-307. (WB)
23. Esser-von Bieren J, Volpe B, Kulagin M, Sutherland DB, Guiet R, Seitz A, et al. Antibody-mediated trapping of helminth larvae requires CD11b and Fcγ receptor I. J Immunol. 2015;194:1154-63. (WB)
24. Sun Y, Peng I, Senger K, Hamidzadeh K, Reichelt M, Baca M, et al. Critical role of activation induced cytidine deaminase in experimental autoimmune encephalomyelitis. Autoimmunity. 2013;46:157-67. (Surface Plasmon Resonance)
25. Zhu D, Fang Y, Gao K, Shen J, Zhong TP, Li F. Vegfa impacts early myocardium development in zebrafish. Int J Mol Sci. 2017;18:444. (IHC-WM)
26. Brummelman J, Helm K, Hamstra H, van der Ley P, Boog CJ, Han WG, et al. Modulation of the CD4+ T cell response after acellular pertussis vaccination in the presence of TLR4 ligation. Vaccine. 2015;33:1483-91. (Multiplex)