Goat F(ab')2 Anti-Mouse IgG1, Human ads-AF555
Goat F(ab')2 Anti-Mouse IgG1-Alexa Fluor® 555 antibody with minimal reactivity to human proteins for use in immunohistochemistry / immunocytochemistry assays.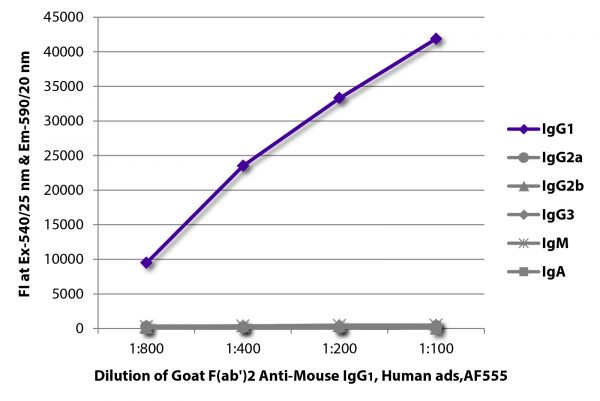 More Information
Isotype
Goat F(ab')2 IgG
Isotype Control
0110-32
Specificity
Reacts with the heavy chain of mouse IgG1
Source
Pepsin digest of Goat Anti-Mouse IgG1, Human ads (SB Cat. No. 1070)
Cross Adsorption
Mouse IgG2a, IgG2b, IgG3, IgM, and IgA; human immunoglobulins and pooled sera; may react with immunoglobulins from other species
Conjugate
AF555 (Alexa Fluor® 555)
Buffer Formulation
Phosphate buffered saline containing < 0.1% sodium azide
Clonality
Polyclonal
Concentration
0.5 mg/mL
Volume
1.0 mL
Recommended Storage
2-8°C; Avoid exposure to light
Trademark Information
Alexa Fluor® is a registered trademark of Thermo Fisher Scientific, Inc. or its subsidiaries
Applications
Quality tested applications for relevant formats include -
ELISA
FLISA
Flow Cytometry 1-15

Other referenced applications for relevant formats include -
Immunohistochemistry-Frozen Sections 16
Immunohistochemistry-Paraffin Sections 17
Immunocytochemistry 3,18

RRID Number
AB_2794437
Gene ID
16017 (Mouse)

Gene ID Symbol
Ighg1 (Mouse)

Gene ID Aliases
IgG1; Igh-4; VH7183
UniProt ID
P01868 (Mouse)
P01869 (Mouse)

UniProt Name
IGHG1_MOUSE (Mouse)
IGH1M_MOUSE (Mouse)

Documentation
---
Certificate of Analysis Lookup
Enter the Catalog Number and Lot Number for the Certificate of Analysis you wish to view
Need help with this product?
1. Lovchik JA, Wilder JA, Huffnagle GB, Riblet R, Lyons CR, Lipscomb MF. Ig heavy chain complex-linked genes influence the immune response in a murine cryptococcal infection. J Immunol. 1999;163:3907-13. (FC)
2. Kirveskari J, Bono P, Granfors K, Leirisalo-Repo M, Jalkanen S, Salmi M. Expression of α4-integrins on human neutrophils. J Leukoc Biol. 2000;68:243-50. (FC)
3. Albrecht B, Woisetschläger M, Robertson MW. Export of the high affinity IgE receptor from the endoplasmic reticulum depends on a glycosylation-mediated quality control mechanism. J Immunol. 2000;165:5686-94. (FC, ICC)
4. Stabel TJ, Bolin SR, Pesch BA, Rahner TE. A simple and rapid flow cytometric method for detection of porcine cell surface markers. J Immunol Methods. 2000;245:147-52. (FC)
5. Luby TM, Schrader CE, Stavnezer J, Selsing E. The μ switch region tandem repeats are important, but not required, for antibody class switch recombination. J Exp Med. 2001;193:159-68. (FC)
6. Gelderman KA, Blok VT, Fleuren GJ, Gorter A. The inhibitory effect of CD46, CD55, and CD59 on complement activation after immunotherapeutic treatment of cervical carcinoma cells with monoclonal antibodies or bispecific monoclonal antibodies. Lab Invest. 2002;82:483-93. (FC)
7. Meurens F, Whale J, Brownlie R, Dybvig T, Thompson DR, Gerdts V. Expression of mucosal chemokines TECK/CCL25 and MEC/CCL28 during fetal development of the ovine mucosal immune system. Immunology. 2007;120:544-55. (FC)
8. Dierssen JW, de Miranda NF, Mulder A, van Puijenbroek M, Verduyn W, Claas FH, et al. High-resolution analysis of HLA class I alterations in colorectal cancer. BMC Cancer. 2006;6:233. (FC)
9. Guikema JE, Linehan EK, Tsuchimoto D, Nakabeppu Y, Strauss PR, Stavnezer J, et al. APE1- and APE2-dependent DNA breaks in immunoglobulin class switch recombination. J Exp Med. 2007;204:3017-26. (FC)
10. Corver WE, Middeldorp A, ter Haar NT, Jordanova ES, van Puijenbroek M, van Eijk R, et al. Genome-wide allelic state analysis on flow-sorted tumor fractions provides an accurate measure of chromosomal aberrations. Cancer Res. 2008;68:10333-40. (FC)
11. Guikema JE, Schrader CE, Leus NG, Ucher A, Linehan EK, Werling U, et al. Reassessment of the role of Mut S homolog 5 in Ig class switch recombination shows lack of involvement in cis- and trans-switching. J Immunol. 2008;181:8450-9. (FC)
12. Guikema JE, Schrader CE, Brodsky MH, Linehan EK, Richards A, El Falaky N, et al. p53 represses class switch recombination to IgG2a through its antioxidant function. J Immunol. 2010;184:6177-87. (FC)
13. Verloes A, Van de Velde H, LeMaoult J, Mateizel I, Cauffman G, Horn PA, et al. HLA-G expression in human embryonic stem cells and preimplantation embryos. J Immunol. 2011;186:2663-71. (FC)
14. Prigione I, Penco F, Martini A, Gattorno M, Pistoia V, Morandi F. HLA-G and HLA-E in patients with juvenile idiopathic arthritis. Rheumatology. 2011;50:966-72. (FC)
15. Mackenzie-Dyck S, Kovacs-Nolan J, Snider M, Babiuk LA, van Drunen Littel-van den Hurk S. Inclusion of the bovine neutrophil Beta-defensin 3 with glycoprotein d of bovine herpesvirus 1 in a DNA vaccine modulates immune responses of mice and cattle. Clin Vaccine Immunol. 2014;21:463-77. (FC)
16. Tanaka M, Nagai T, Tsuneyoshi Y, Sunahara N, Matsuda T, Nakamura T, et al. Expansion of a unique macrophage subset in rheumatoid arthritis synovial lining layer. Clin Exp Immunol. 2008;154:38-47. (IHC-FS)
17. Kanaya T, Aso H, Miyazawa K, Kido T, Minashima T, Watanabe K, et al. Staining patterns for actin and villin distinguish M cells in bovine follicle-associated epithelium. Res Vet Sci. 2007;82:141-9. (IHC-PS)
18. Peng SL, Moslehi J, Craft J. Roles of interferon-γ and interleukin-4 in murine lupus. J Clin Invest. 1997;99:1936-46. (ICC)