Goat Fab Anti-Human IgG-FITC
Goat Fab Anti-Human IgG-FITC antibody for use in fluorescent assays.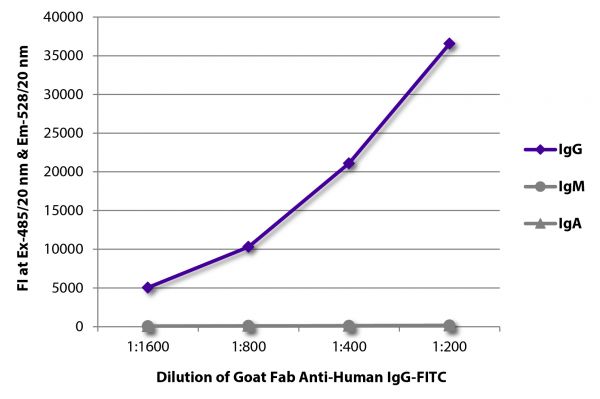 More Information
Isotype
Goat Fab IgG
Isotype Control
0131-02
Specificity
Reacts with the heavy chain of human IgG
Source
Papain digest of Goat Anti-Human IgG (SB Cat. No. 2040)
Cross Adsorption
Human IgM and IgA; may react with IgG from other species
Conjugate
FITC (Fluorescein)
Buffer Formulation
Phosphate buffered saline containing < 0.1% sodium azide
Clonality
Polyclonal
Concentration
0.5 mg/mL
Volume
1.0 mL
Recommended Storage
2-8°C; Avoid exposure to light
Applications
Quality tested applications for relevant formats include -
ELISA 1


RRID Number
AB_2895733
Documentation
---
Certificate of Analysis Lookup
Enter the Catalog Number and Lot Number for the Certificate of Analysis you wish to view
Need help with this product?
1. DiLillo DJ, Tan GS, Palese P, Ravetch JV. Broadly neutralizing hemagglutinin stalk-specific antibodies require FcγR interactions for protection against influenza virus in vivo. Nat Med. 2014;20:143-51. (ELISA)