Hamster Anti-Mouse CD154-FITC (MR1)
FITC Anti-Mouse CD154 antibody for use in flow cytometry and immunohistochemistry assays.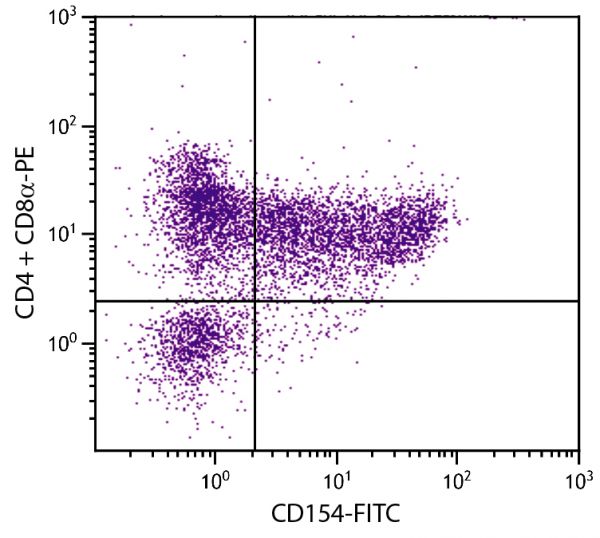 More Information
Clone
MR1
Isotype
Hamster (Armenian) IgG3
Isotype Control
Hamster IgG-FITC
Specificity
Mouse CD154
Alternative Names
CD40L, CD40 ligand, gp39
Description
CD154, formerly known as CD40 ligand and gp39, is a type II integral membrane protein and a member of the tumor necrosis factor (TNF) family of ligands. It is an important accessory molecule in T cell-B cell costimulatory interactions and is expressed predominantly on activated CD4+ T lymphocytes. It is also present on the surface of activated Th0, Th1, and Th2 T cell clones. Its expression is transient and cyclosporin-sensitive. The MR1 monoclonal antibody binds to murine CD154 with high affinity, blocks binding to CD40, and blocks CD154 function. Administration of this antibody to mice blocks the ability to mount primary and secondary immune responses to TD antigens yet does not alter the immune response to TI antigens.
Immunogen
Activated mouse Th1 clone D1.6
Conjugate
FITC (Fluorescein)
Buffer Formulation
Phosphate buffered saline containing < 0.1% sodium azide
Clonality
Monoclonal
Concentration
0.5 mg/mL
Volume
1.0 mL
Recommended Storage
2-8°C; Avoid exposure to light
Applications
Flow Cytometry – Quality tested 1,3,7
Immunohistochemistry-Frozen Sections – Reported in literature 2,3
Immunoprecipitation – Reported in literature 1
Blocking – Reported in literature 1,5,6
ELISA – Reported in literature 4


RRID Number
AB_2795092
Gene ID
21947 (Mouse)

Gene ID Symbol
Cd40Ig (Mouse)

Gene ID Aliases
IGM; IMD3; Ly62; TRAP; gp39; CD154; Cd40l; HIGM1; Ly-62; T-BAM; CD40-L; Tnfsf5; Tnlg8b
UniProt ID
P27548 (Mouse)

UniProt Name
CD40L_MOUSE (Mouse)

Documentation
---
Certificate of Analysis Lookup
Enter the Catalog Number and Lot Number for the Certificate of Analysis you wish to view
Need help with this product?
1. Noelle RJ, Roy M, Shepard DM, Stamenkovic I, Ledbetter JA, Aruffo A. A 39-kDa protein on activated helper T cells binds CD40 and transduces the signal for cognate activation of B cells. Proc Natl Acad Sci USA. 1992;89:6550-4. (Immunogen, FC, IP, Block)
2. Gerritise K, Laman JD, Noelle RJ, Aruffo A, Ledbetter JA, Boersma WJ, et al. CD40-CD40 ligand interactions in experimental allergic encephalomyelitis and multiple sclerosis. Proc Natl Acad Sci USA. 1996;93:2499-2504. (IHC-FS)
3. Lettesjö H, Burd GP, Mageed RA. CD4+ T lymphocytes with constitutive CD40 ligand in preautoimmune (NZB x NZW)F1 lupus-prone mice: phenotype and possible role in autoreactivity. J Immunol. 2000;165:4095-104. (IHC-FS, FC, Block)
4. Ardjomand N, McAlister JC, Rogers NJ, Tan PH, George AJ, Larkin DF. Modulation of costimulation by CD28 and CD154 alters the kinetics and cellular characteristics of corneal allograft rejection. Invest Ophthalmol Vis Sci. 2003;44:3899-905. (ELISA)
5. Foy TM, Shepard DM, Durie FH, Aruffo A, Ledbetter JA, Noelle RJ. In vivo CD40-gp39 interactions are essential for thymus-dependent humoral immunity. II. Prolonged suppression of the humoral immune response by an antibody to the ligand for CD40, gp39. J Exp Med. 1993;178:1567-75. (Block)
6. Baker RL, Wagner DH, Haskins K. CD40 on NOD CD4 T cells contributes to their activation and pathogenicity. J Autoimmun. 2008;31:385-92. (Block)
7. Yokoyama M, Ukai T, Ayon Haro ER, Kishimoto T, Yoshinaga Y, Hara Y. Membrane-bound CD40 ligand on T cells from mice injected with lipopolysaccharide accelerates lipopolysaccharide-induced osteoclastogenesis. J Periodont Res. 2011;46:464-74. (FC