Mouse Anti-Chicken CD28-UNLB (AV7)
Purified Anti-Chicken CD28 antibody for use in flow cytometry, immunohistochemistry / immunocytochemistry, immunoprecipitation, and costimulation assays.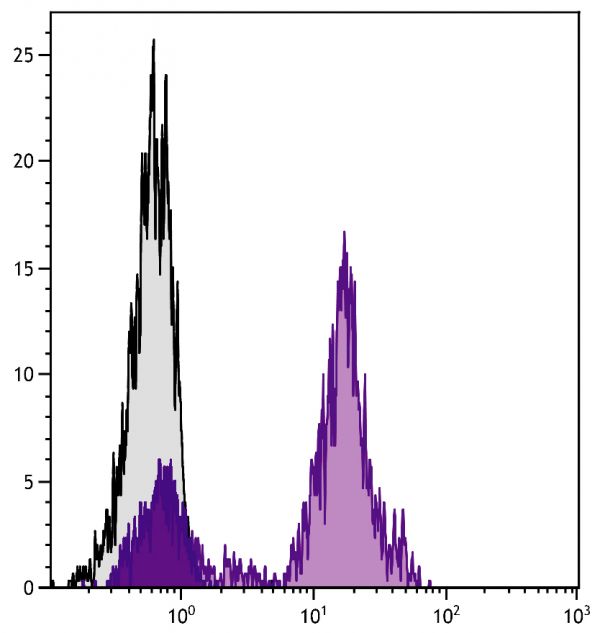 More Information
Clone
AV7
Isotype
Mouse (BALB/c) IgG1κ
Isotype Control
Mouse IgG1-UNLB (15H6)
Specificity
Chicken/Turkey CD28
Description
Chicken CD28 antigen is a type I transmembrane monomeric glycoprotein which does not contain the cysteine residues that form disulfide-linked covalent homodimers found in the mammalian counterpart. This may reduce the avidity of binding to individual ligand molecules expected to be present on antigen presenting cells. Peripheral γδ+ T cells are CD28 negative. Monoclonal antibodies against CD28 have a costimulatory effect on T cells stimulated by phorbol myristate acetate (PMA), concanavalin A, or monoclonal antibodies against the avian T cell receptor (TCR). Both Vβ1- and Vβ2-expressing cells respond equally well to stimulation with anti-CD28 in combination with PMA. These responses are resistant to cyclosporin A but inhibited by herbimycin A suggesting that CD28 employs a signaling pathway at least partly distinct from that triggered by TCR/CD3. The monoclonal antibody AV7 also reacts with turkey CD28 as demonstrated by flow cytometry.
Immunogen
Chicken peripheral blood lymphocytes
Conjugate
UNLB (Unconjugated)
Buffer Formulation
Borate buffered saline, pH 8.2
Clonality
Monoclonal
Concentration
0.5 mg/mL
Volume
1.0 mL
Recommended Storage
2-8°C
Applications
Flow Cytometry – Quality tested 1,5-7
Immunohistochemistry-Frozen Sections – Reported in literature 2
Immunocytochemistry – Reported in literature 3
Immunoprecipitation – Reported in literature 1
Costimulation – Reported in literature 4


RRID Number
AB_2796467
Gene ID
396249 (Chicken)
100126555 (Turkey)

Gene ID Symbol
CD28 (Chicken)
CD28 (Turkey)

UniProt ID
P31043 (Chicken)

UniProt Name
CD28_CHICK (Chicken)

Documentation
---
Certificate of Analysis Lookup
Enter the Catalog Number and Lot Number for the Certificate of Analysis you wish to view
Need help with this product?
1. Young JR, Davison TF, Tregaskes CA, Rennie MC, Vainio O. Monomeric homologue of mammalian CD28 is expressed on chicken T cells. J Immunol. 1994;152:3848-51. (Immunogen, FC, IP)
2. Powell FL, Rothwell L, Clarkson MJ, Kaiser P. The turkey, compared to the chicken, fails to mount an effective early immune response to Histomonas meleagridis in the gut. Parasite Immunol. 2009;31:312-27. (IHC-FS, Turkey Reactivity)
3. Powell F, Lawson M, Rothwell L, Kaiser P. Development of reagents to study the turkey's immune response: Identification and molecular cloning of turkey CD4, CD8α and CD28. Dev Comp Immunol. 2009;33:540-6. (ICC, Turkey Reactivity)
4. Peters MA, Browning GF, Washington EA, Crabb BS, Kaiser P. Embryonic age influences the capacity for cytokine induction in chicken thymocytes. Immunology. 2003;110:358-67. (Costim)
5. Meyerhoff RR, Ali RA, Liu K, Huang G, Koci MD. Comprehensive analysis of commercially available mouse antichicken monoclonal antibodies for cross-reactivity with peripheral blood leukocytes from commercial turkeys. Poult Sci. 2012;91:383-92. (FC, Turkey Reactivity)
6. Fernandes Filho T, Fávaro C Jr, Ingberman M, Beirão BC, Inoue A, Gomes L, et al. Effect of spray Escherichia coli vaccine on the immunity of poultry. Avian Dis. 2013;57:671-6. (FC)
7. Machado PC Jr, Beirão BC, Filho TF, Lourenço MC, Joineau ML, Santin E, et al. Use of blends of organic acids and oregano extracts in feed and water of broiler chickens to control Salmonella Enteritidis persistence in the crop and ceca of experimentally infected birds. J Appl Poult Res. 2014;23:671-82. (FC)