Mouse Anti-Chicken CD8α-APC (CT-8)
APC Anti-Chicken CD8α antibody for use in flow cytometry assays.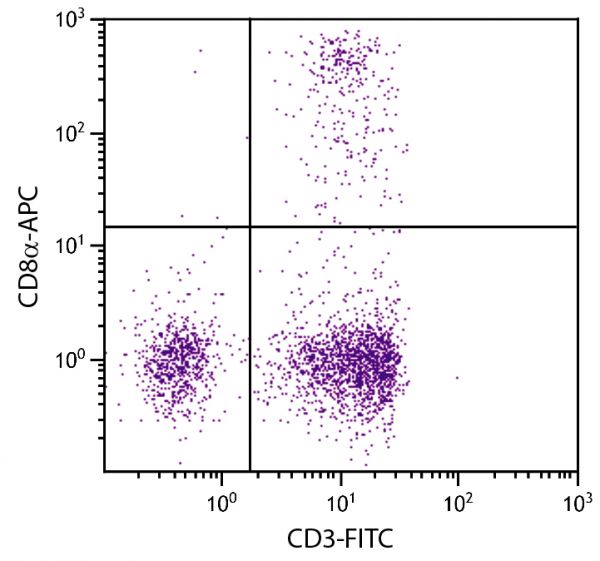 More Information
Clone
CT-8
Isotype
Mouse (BALB/c) IgG1κ
Isotype Control
Mouse IgG1-APC (15H6)
Specificity
Chicken/Turkey/Guinea Fowl/Pigeon CD8α
Description
In the chicken, the CD8 molecule is present in two forms - (i) a homodimer of two α chains and (ii) a heterodimer of an α chain and a β chain. While the vast majority of CD8+ cells in the thymus, spleen, and blood of adult chickens express both CD8α- and CD8β-chains, a relatively large proportion of the CD8+ TCRγδ cells in the spleens of embryos and young chicks express only the α-chain of CD8. Among intestinal epithelial lymphocytes, the major CD8+ T cell populations present in mice are conserved but there is a population of TCRγδ CD8αβ cells in the chicken that is not found in rodents. Chicken CD8 is expressed on approximately 80% of thymocytes, 15% of blood mononuclear cells, and 50% of spleen cells but less than 1% of cells in the bursa and bone marrow. The monoclonal antibody CT-8 recognizes the CD8α chain and has been shown to react to a polymorphic determinant in turkey.
Immunogen
Chicken thymocytes and Ig-negative blood leukocytes
Conjugate
APC (Allophycocyanin)
Buffer Formulation
Phosphate buffered saline containing < 0.1% sodium azide and a stabilizer
Clonality
Monoclonal
Concentration
0.1 mg/mL
Volume
1.0 mL
Recommended Storage
2-8°C; Avoid exposure to light; Do not freeze
Applications
Flow Cytometry – Quality tested 1,9-16,18
Immunohistochemistry-Frozen Sections – Reported in literature 2-5
Immunohistochemistry-Paraffin Sections – Reported in literature 6-8
Immunocytochemistry - Reported in literature 17
Immunoprecipitation – Reported in literature 1,17
Blocking – Reported in literature 1


RRID Number
AB_2796442
Gene ID
403158 (Chicken)
100126556 (Turkey)
102085944 (Pigeon)

Gene ID Symbol
CD8A (Chicken)
LOC100126556 (Turkey)
CD8A (Pigeon)

Gene ID Aliases
CD8 CD8A; CD8-alpha
Documentation
---
Certificate of Analysis Lookup
Enter the Catalog Number and Lot Number for the Certificate of Analysis you wish to view
Need help with this product?
1. Chan MM, Chen CH, Ager LL, Cooper MD. Identification of the avian homologues of mammalian CD4 and CD8 antigens. J Immunol. 1988;140:2133-8. (Immunogen, FC, IP, Block)
2. Tanimura N, Sharma JM. Appearance of T cells in the bursa of Fabricius and cecal tonsils during the acute phase of infectious bursal disease virus infection in chickens. Avian Dis. 1997;41:638-45. (IHC-FS)
3. Pantin-Jackwood MJ, Brown TP, Huff GR. Proventriculitis in broiler chickens: immunohistochemical characterization of the lymphocytes infiltrating the proventricular glands. Vet Pathol. 2004;41:641-8. (IHC-FS)
4. Abdul-Careem MK, Hunter DB, Thanthrige-Don N, Haghighi HR, Lambourne MD, Sharif S. Cellular and cytokine responses associated with dinitrofluorobenzene-induced contact hypersensitivity in the chicken. Vet Immunol Immunopathol. 2008;122:275-84. (IHC-FS)
5. Rauf A, Khatri M, Murgia MV, Saif YM. Fas/FasL and perforin-granzyme pathways mediated T cell cytotoxic responses in infectious bursal disease virus infected chickens. Results Immunol. 2012;2:112-9. (IHC-FS)
6. Solcan C, Solcan G, Cotea C. Immunotoxic action of ochratoxine A on lymphocytes from lymphoid tissues associated to gut mucosa in chickens. Bulletin UASVM Agriculture. 2010;67:283-90. (IHC-PS)
7. Rebel JM, Peeters B, Fijten H, Post J, Cornelissen J, Vervelde L. Highly pathogenic or low pathogenic avian influenza virus subtype H7N1 infection in chicken lungs: small differences in general acute responses. Vet Res. 2011;42:10. (IHC-PS)
8. Teixeira AR, Gomes C, Nitz N, Sousa AO, Alves RM, Guimaro MC, et al. Trypanosoma cruzi in the chicken model: Chagas-like heart disease in the absence of parasitism. PLoS Negl Trop Dis. 2011;5(3):e1000. (IHC-PS)
9. Li Z, Nestor KE, Saif YM, Fan Z, Luhtala M, Vainio O. Cross-reactive anti-chicken CD4 and CD8 monoclonal antibodies suggest polymorphism of the turkey CD8α molecule. Poult Sci. 1999;78:1526-31. (FC, Turkey Polymorphic Determinant Reactivity)
10. Sheela RR, Babu U, Mu J, Elankumaran S, Bautista DA, Raybourne RB, et al. Immune responses against Salmonella enterica serovar enteritidis infection in virally immunosuppressed chickens. Clin Diagn Lab Immunol. 2003;10:670-9. (FC)
11. Norup LR, Dalgaard TS, Pedersen AR, Juul-Madsen HR. Assessment of Newcastle disease-specific T cell proliferation in different inbred MHC chicken lines. Scand J Immunol. 2011;74:23-30. (FC)
12. Xue M, Shi X, Zhao Y, Cui H, Hu S, Cui X, et al. Effects of reticuloendotheliosis virus infection on cytokine production in SPF chickens. PLoS One. 2013;8(12):e83918. (FC)
13. Laniewski P, Kuczkowski M, Chrząstek K, Woźniak A, Wyszyńska A, Wieliczko A, et al. Evaluation of the immunogenicity of Campylobacter jejuni CjaA protein delivered by Salmonella enterica sv. Typhimurium strain with regulated delayed attenuation in chickens. World J Microbiol Biotechnol. 2014;30:281-92. (FC)
14. Peng X, Zhang K, Bai S, Ding X, Zeng Q, Yang J, et al. Histological lesions, cell cycle arrest, apoptosis and T cell subsets changes of spleen in chicken fed aflatoxin-contaminated corn. Int J Environ Res Public Health. 2014;11:8567-80. (FC)
15. Machado PC Jr, Beirão BC, Filho TF, Lourenço MC, Joineau ML, Santin E, et al. Use of blends of organic acids and oregano extracts in feed and water of broiler chickens to control Salmonella Enteritidis persistence in the crop and ceca of experimentally infected birds. J Appl Poult Res. 2014;23:671-82. (FC)
16. Char D, Sanchez P, Chen CH, Bucy RP, Cooper MD. A third sublineage of avian T cells can be identified with a T cell receptor-3-specific antibody. J Immunol. 1990;145:3547-55. (FC, Turkey and Guinea Fowl Reactivity)
17. Hu Q, Pan Z, Deen S, Meng S, Zhang X, Zhang X, et al. New alleles of chicken CD8α and CD3d found in Chinese native and western breeds. Vet Immunol Immunopathol. 2007;120:223-33. (IP, ICC)
18. Dudek K, Bednarek D. Cellular immune response of pigeons in the conditions of endotoxin fever and pyrogenic tolerance. Pol J Vet Sci. 2011;14:127-33. (FC, Pigeon Reactivity)