Mouse Anti-Human CD54-APC (15.2)
APC Anti-Human CD54 antibody for use in flow cytometry assays.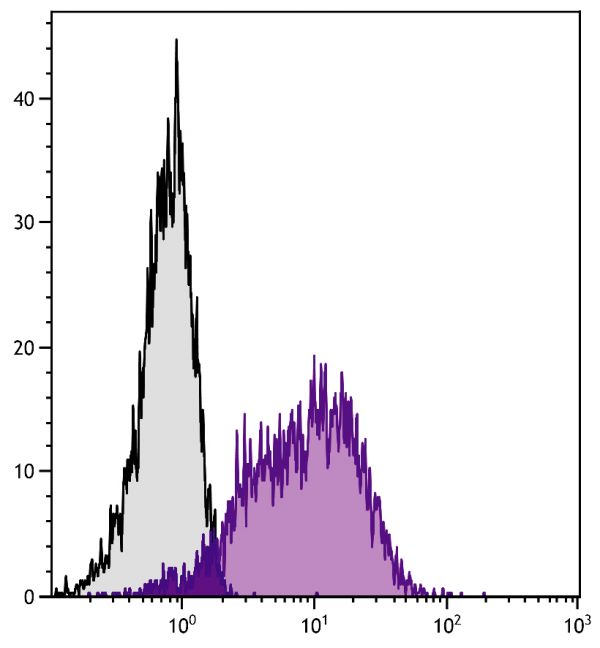 More Information
Clone
15.2
Isotype
Mouse (BALB/c) IgG1κ
Isotype Control
Mouse IgG1-APC (15H6)
Specificity
Human/Porcine CD54
Alternative Names
ICAM-1, intracellular adhesion molecule-1, Ly-47
Description
CD54, also known as intercellular cell adhesion molecule-1 (ICAM-1), is a 90 kDa type I transmembrane glycoprotein and a member of the immunoglobulin superfamily. It exhibits a wide tissue distribution being expressed on both hematopoietic and non-hematopoietic cells. ICAM-1 expression on leukocytes is low but is rapidly upregulated upon activation. Expression on endothelium and other non-hematopoietic cells is strongly upregulated by inflammatory mediators. The ligands of CD54 are CD11a/LFA-1α and CD11b/Mac-1α. Endothelial CD54 contributes to the extravasation of leukocytes from blood vessels particularly in areas of inflammation. CD54 on antigen-presenting cells (APC) contributes to antigen-specific T cell activation presumably by enhancing interactions between T cells and APC.
Immunogen
Rheumatoid synovial cells and human monocytes
Conjugate
APC (Allophycocyanin)
Buffer Formulation
Phosphate buffered saline containing < 0.1% sodium azide and a stabilizer
Clonality
Monoclonal
Concentration
Lot specific
Volume
1.0 mL
Recommended Storage
2-8°C; Avoid exposure to light; Do not freeze
Applications
Flow Cytometry – Quality tested 14-17
Immunohistochemistry-Frozen Sections – Reported in literature 1-3
Immunocytochemistry – Reported in literature 4,18
Immunoprecipitation – Reported in literature 7
Western Blot – Reported in literature 5
Blocking – Reported in literature 6,8,9
Neutralization – Reported in literature 7
ELISA – Reported in literature 10-13


RRID Number
AB_2796800
Gene ID
3383 (Human)
396750 (Porcine)

Gene ID Symbol
ICAM1 (Human)
ICAM1 (Porcine)

Gene ID Aliases
BB2; CD54; P3.58; ICAM-1
UniProt ID
P05362 (Human)

UniProt Name
ICAM1_HUMAN (Human)

Documentation
---
Certificate of Analysis Lookup
Enter the Catalog Number and Lot Number for the Certificate of Analysis you wish to view
Need help with this product?
1. Norton J, Sloane JP, Al-Saffar N, Haskard DO. Expression of adhesion molecules in human intestinal graft-versus-host disease. Clin Exp Immunol. 1992;87:231-6. (IHC-FS)
2. Bloom S, Simmons D, Jewell DP. Adhesion molecules intercellular adhesion molecule-1 (ICAM-1), ICAM-3 and B7 are not expressed by epithelium in normal or inflamed colon. Clin Exp Immunol. 1995;101:157-63. (IHC-FS)
3. Sousa AR, Lane SJ, Atkinson BA, Poston RN, Lee TH. The effects of prednisolone on the cutaneous tuberculin response in patients with corticosteroid-resistant bronchial asthma. J Allergy Clin Immunol. 1996;97:698-706. (IHC-FS)
4. Lin Y, Weisdorf DJ, Solovey A, Hebbel RP. Origins of circulating endothelial cells and endothelial outgrowth from blood. J Clin Invest. 2000;105:71-7. (ICC)
5. Grewe M, Stege H, Vink A, Klammer M, Ruzicka T, Roza L, et al. Inhibition of intercellular adhesion molecule-1 (ICAM-1) expression in ultraviolet B-irradiated human antigen-presenting cells is restored after repair of cyclobutane pyrimidine dimers. Exp Dermatol. 2000;9:423-30. (WB)
6. Berendt AR, McDowall A, Craig AG, Bates PA, Sternberg MJ, Marsh K, et al. The binding site on ICAM-1 for Plasmodium falciparum-infected erythrocytes overlaps, but is distinct from, the LFA-1-binding site. Cell. 1992;68:71-81. (Block)
7. Rizzuto CD, Sodroski JG. Contribution of virion ICAM-1 to human immunodeficiency virus infectivity and sensitivity to neutralization. J Virol. 1997;71:4847-51. (IP, Neut)
8. Duperray A, Languino LR, Plescia J, McDowall A, Hogg N, Craig AG, et al. Molecular identification of a novel fibrinogen binding site on the first domain of ICAM-1 regulating leukocyte-endothelium bridging. J Biol Chem. 1997;272:435-41. (Block)
9. Porter JC, Falzon M, Hall A. Polarized localization of epithelial CXCL11 in chronic obstructive pulmonary disease and mechanisms of T cell egression. J Immunol. 2008;180:1866-77. (Block)
10. Chen K, Reece LM, Leary JF. Mitochondrial glutathione modulates TNF-α-induced endothelial cell dysfunction. Free Radic Biol Med. 1999;27:100-9. (ELISA)
11. Kalogeris TJ, Kevil CG, Laroux FS, Coe LL, Phifer TJ, Alexander JS. Differential monocyte adhesion and adhesion molecule expression in venous and arterial endothelial cells. Am J Physiol. 1999;276:L9-19. (ELISA)
12. Kalogeris TJ, Laroux FS, Cockrell A, Ichikawa H, Okayama N, Phifer TJ, et al. Effect of selective proteasome inhibitors on TNF-induced activation of primary and transformed endothelial cells. Am J Physiol. 1999;276(4):C856-64. (ELISA)
13. Chen K, Chang BH, Younan P, Shlykov SG, Sanborn BM, Chan L. Increased intracellular calcium transients by calmodulin antagonists differentially modulate tumor necrosis factor-α-induced E-selectin and ICAM-1 expression. Atherosclerosis. 2002;165:5-13. (ELISA)
14. Franken M, Devergne O, Rosenzweig M, Annis B, Kieff E, Wang F. Comparative analysis identifies conserved tumor necrosis factor receptor-associated factor 3 binding sites in the human and simian Epstein-Barr virus oncogene LMP1. J Virol. 1996;70:7819-26. (FC)
15. Yamazaki K, Spuill G, Rhoderick J, Spielman J, Savaraj N, Podack ER. Small cell lung carcinomas express shared and private tumor antigens presented by HLA-A1 or HLA-A2. Cancer Res. 1999;59:4642-50. (FC)
16. Varas A, Jiménez E, Sacedón R, Rodríguez-Mahou M, Maroto E, Zapata AG, et al. Analysis of the human neonatal thymus: evidence for a transient thymic involution. J Immunol. 2000;164:6260-7. (FC)
17. Hernández-Lopez C, Valencia J, Hidalgo L, Martínez VG, Zapata AG, Sacedón R, et al. CXCL12/CXCR4 signaling promotes human thymic dendritic cell survival regulating the Bcl-2/Bax ratio. Immunol Lett. 2008;120:72-8. (FC)
18. Edamura K, Nasu K, Iwami Y, Nishimura R, Ogawa H, Sasaki N, et al. Effect of long-term culture on the expression of antigens and adhesion molecule in single porcine pancreatic endocrine cells. Xenotransplantation. 2005;12:327-32. (ICC, Porcine Reactivity)