Mouse Anti-Mouse CD19-APC/CY7 (MB19-1)
APC/CY7 Anti-Mouse CD19 antibody for use in flow cytometry assays.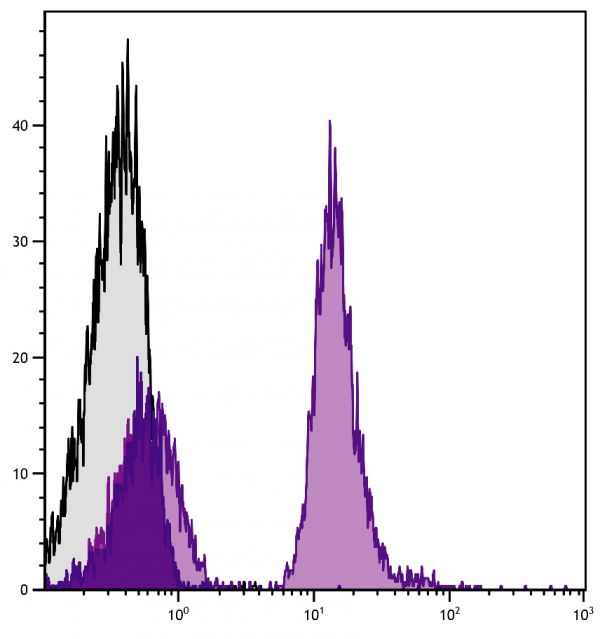 More Information
Clone
MB19-1
Isotype
Mouse (129 x C57BL/6) IgAκ
Isotype Control
Mouse IgA-APC/CY7 (S107)
Specificity
Mouse CD19
Alternative Names
B4, Leu-12
Description
CD19 is a monomeric transmembrane glycoprotein expressed at relatively constant levels throughout B cell development from early pro-B/pre-B cells (i.e. B220+/CD43+/HSA+) through fully differentiated B cell stages. Terminally differentiated plasma cells do not express CD19. In humans, the CD19 molecule on the surface of mature B cells associates with CD21 (CR-2) and CD81 (TAPA-1), and this multimolecular complex synergizes with surface immunoglobulin to provide signal transduction and promote cellular activation. All splenic and peritoneal IgM+ cells of both B-1 and B-2 lineages are CD19+, with B-1 cells expressing higher levels of CD19 than B-2 cells in these sites. Studies with CD19-deficient mice have suggested that this molecule may not be required for normal generation and maturation of B cells in the bone marrow.
Immunogen
CD19+ mouse pre-B cell line 300.19
Conjugate
APC/CY7 (Allophycocyanin/Cyanine 7)
Buffer Formulation
Phosphate buffered saline containing < 0.1% sodium azide and a stabilizer
Clonality
Monoclonal
Concentration
0.1 mg/mL
Volume
1.0 mL
Recommended Storage
2-8°C; Avoid exposure to light; Do not freeze
Trademark Information
Cy® is a registered trademark of Global Life Sciences Solutions Germany GmbH
Applications
Flow Cytometry – Quality tested 1,6
Immunoprecipitation – Reported in literature 1-3,7
Activation – Reported in literature 4,5,7


RRID Number
AB_2794971
Gene ID
12478 (Mouse)

Gene ID Symbol
Cd19 (Mouse)

Gene ID Aliases
AW495831
UniProt ID
P25918 (Mouse)

UniProt Name
CD19_MOUSE (Mouse)

Documentation
---
Certificate of Analysis Lookup
Enter the Catalog Number and Lot Number for the Certificate of Analysis you wish to view
Need help with this product?
1. Sato S, Ono N, Steeber DA, Pisetsky DS, Tedder TF. CD19 regulates B lymphocyte signaling thresholds critical for the development of B-1 lineage cells and autoimmunity. J Immunol. 1996;157:4371-8. (Immunogen, FC, IP)
2. Yazawa N, Fujimoto M, Sato S, Miyake K, Asano N, Nagai Y, et al. CD19 regulates innate immunity by the toll-like receptor RP105 signaling in B lymphocytes. Blood. 2003;102:1374-80. (IP)
3. Fujimoto M, Poe JC, Jansen PJ, Sato S, Tedder TF. CD19 amplifies B lymphocyte signal transduction by regulating Src-family protein tyrosine kinase activation. J Immunol. 1999;162:7088-94. (IP)
4. Fujimoto M, Poe JC, Hasegawa M, Tedder TF. CD19 amplification of B lymphocyte Ca2+ responses: a role for Lyn sequestration in extinguishing negative regulation. J Biol Chem. 2001;276:44820-7. (Activ)
5. Sato S, Jansen PJ, Tedder TF. CD19 and CD22 expression reciprocally regulates tyrosine phosphorylation of Vav protein during B lymphocyte signaling. Proc Natl Acad Sci USA. 1997;94:13158-62. (Activ)
6. Sato S, Steeber DA, Jansen PJ, Tedder TF. CD19 expression levels regulate B lymphocyte development: human CD19 restores normal function in mice lacking endogenous CD19. J Immunol. 1997;158:4662-9. (FC)
7. Lee Y, Haas KM, Gor DO, Ding X, Karp DR, Greenspan NS, et al. Complement component C3d-antigen complexes can either augment or inhibit B lymphocyte activation and humoral immunity in mice depending on the degree of CD21/CD19 complex engagement. J Immunol. 2005;175:8011-23. (FC, IP, Activ)