Mouse Anti-Porcine CD3ε-UNLB (PPT3)
Purified Anti-Porcine CD3 epsilon for use in flow cytometry, immunohistochemistry, western blot, immunoprecipitation, separation, stimulation, and cytotoxicity assays.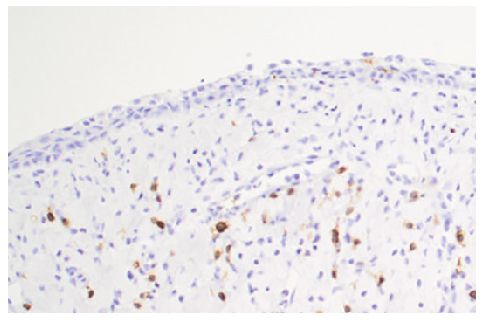 More Information
Clone
PPT3
Isotype
Mouse (BALB/c) IgG1κ
Isotype Control
Mouse IgG1-UNLB (15H6)
Specificity
Porcine CD3ε
Description
Porcine CD3ε is a member of the T-cell receptor-associated CD3 complex. It is found on a subpopulation of thymocytes and on all pig T lymphocytes. The monoclonal antibody PPT3 is mitogenic when presented to peripheral blood mononuclear cells in immobilized form.
Immunogen
Purified CD3 molecules from porcine thymus
Conjugate
UNLB (Unconjugated)
Buffer Formulation
Borate buffered saline, pH 8.2
Clonality
Monoclonal
Concentration
0.5 mg/mL
Volume
1.0 mL
Recommended Storage
2-8°C
Applications
Flow Cytometry – Quality tested 1,11-19,21-27
Immunohistochemistry-Frozen Sections – Reported in literature 1-4,20
Immunohistochemistry-Paraffin Sections – Reported in literature 5-7
Immunoprecipitation – Reported in literature 1
Western Blot – Reported in literature 1
Separation – Reported in literature 8-12
Stimulation – Reported in literature 1
Cytoxicity – Reported in literature 1


RRID Number
AB_2796012
Gene ID
397455 (Porcine)

Gene ID Symbol
CD3E (Porcine)

Gene ID Aliases
CD3
UniProt ID
Q7YRN2 (Porcine)

UniProt Name
CD3E_PIG (Porcine)

Documentation
---
Certificate of Analysis Lookup
Enter the Catalog Number and Lot Number for the Certificate of Analysis you wish to view
Need help with this product?
1. Yang H, Oura CA, Kirkham PA, Parkhouse RM. Preparation of monoclonal anti-porcine CD3 antibodies and preliminary characterization of porcine T lymphocytes. Immunology. 1996;88:577-85. (Immunogen, FC, IHC-FS, WB, IP, Stim, Cyto)
2. Jamin A, Gorin S, Le Potier M, Kuntz-Simon G. Characterization of conventional and plasmacytoid dendritic cells in swine secondary lymphoid organs and blood. Vet Immunol Immunopathol. 2006;114:224-37. (IHC-FS)
3. Kvist PH, Iburg T, Dawson HD, Jensen HE. Effect of subcutaneous glucose sensor implantation on skin mRNA expression in pigs. Diabetes Technol Ther. 2010;12:791-9. (IHC-FS)
4. Debeer S, Le Luduec J, Kaiserlian D, Laurent P, Nicolas J, Dubois B, et al. Comparative histology and immunohistochemistry of porcine versus human skin. Eur J Dematol. 2013;23:456-66. (IHC-FS)
5. Tingstedt J, Nielsen J. Cellular immune responses in the lungs of pigs infected in utero with PRRSV: an immunohistochemical study. Viral Immunol. 2004;17:558-64. (IHC-PS)
6. Jung K, Alekseev KP, Zhang X, Cheon D, Vlasova AN, Saif LJ. Altered pathogenesis of porcine respiratory coronavirus in pigs due to immunosuppressive effects of dexamethasone: implications for corticosteroid use in treatment of severe acute respiratory syndrome coronavirus. J Virol. 2007;81:13681-93. (IHC-PS)
7. Isling LK, Aalbæk B, Schrøder M, Leifsson PS. Pyelonephritis in slaughter pigs and sows: morphological characterization and aspects of pathogenesis and aetiology. Acta Vet Scand. 2010;52:48. (IHC-PS)
8. Toka FN, Nfon CK, Dawson H, Golde WT. Accessory-cell-mediated activation of porcine NK cells by toll-like receptor 7 (TLR7) and TLR8 agonists. Clin Vaccine Immunol. 2009;16:866-78. (Sep)
9. Toka FN, Nfon CK, Dawson H, Estes DM, Golde WT. Activation of porcine natural killer cells and lysis of foot-and-mouth disease virus infected cells. J Interferon Cytokine Res. 2009;29:179-92. (Sep)
10. Toka FN, Nfon C, Dawson H, Golde WT. Natural killer cell dysfunction during acute infection with foot-and-mouth disease virus. Clin Vaccine Immunol. 2009;16:1738-49. (Sep)
11. Wen K, Bui T, Li G, Liu F, Li Y, Kocher J, et al. Characterization of immune modulating functions of γδ T cell subsets in a gnotobiotic pig model of human rotavirus infection. Comp Immunol Microbiol Infect Dis. 2012;35:289-301. (FC, Sep)
12. Liu KY, Comstock SS, Shunk JM, Monaco MH, Donovan SM. Natural killer cell populations and cytotoxic activity in pigs fed mother's milk, formula, or formula supplemented with bovine lactoferrin. Pediatr Res. 2013;74:402-7. (FC, Sep)
13. Lohse L, Nielsen J, Eriksen L. Temporary CD8+ T-cell depletion in pigs does not exacerbate infection with porcine reproductive and respiratory syndrome virus (PRRSV). Viral Immunol. 2004;17:594-603. (FC)
14. Davis ME, Maxwell CV, Erf GF, Brown DC, Wistuba TJ. Dietary supplementation with phosphorylated mannans improves growth response and modulates immune function of weanling pigs. J Anim Sci. 2004;82:1882-91. (FC)
15. Yu S, Vincent A, Opriessnig T, Carpenter S, Kitikoon P, Halbur PG, et al. Quantification of PCV2 capsid transcript in peripheral blood mononuclear cells (PBMCs) in vitro. Vet Microbiol. 2007;123:34-42. (FC)
16. Shi K, Li H, Guo X, Ge X, Jia H, Zheng S, et al. Changes in peripheral blood leukocyte subpopulations in piglets co-infected experimentally with porcine reproductive and respiratory syndrome virus and porcine circovirus type 2. Vet Microbiol. 2008;129:367-77. (FC)
17. Yuan L, Wen K, Azevedo MS, Gonzalez AM, Zhang W, Saif LJ. Virus-specific intestinal IFN-γ producing T cell responses induced by human rotavirus infection and vaccines are correlated with protection against rotavirus diarrhea in gnotobiotic pigs. Vaccine. 2008;26:3322-31. (FC)
18. Facci MR, Auray G, Buchanan R, van Kessel J, Thompson DR, Mackenzie-Dyck S, et al. A comparison between isolated blood dendritic cells and monocyte-derived dendritic cells in pigs. Immunology. 2010;129:396-405. (FC)
19. Martelli P, Gozio S, Ferrari L, Rosina S, De Angelis E, Quintavalla C, et al. Efficacy of a modified live porcine reproductive and respiratory syndrome virus (PRRSV) vaccine in pigs naturally exposed to a heterologous European (Italian cluster) field strain: Clinical protection and cell-mediated immunity. Vaccine. 2009;27:3788-99. (FC)
20. Diaz-San Segundo F, Moraes MP, de Los Santos T, Dias CC, Grubman MJ. Interferon-induced protection against foot-and-mouth disease virus infection correlates with enhanced tissue-specific innate immune cell infiltration and interferon-stimulated gene expression. J Virol. 2010;84:2063-77. (IHC-FS)
21. Ferrari L, Borghetti P, Gozio S, De Angelis E, Ballotta L, Smeets J, et al. Evaluation of the immune response induced by intradermal vaccination by using a needle-less system in comparison with the intramuscular route in conventional pigs. Res Vet Sci. 2011;90:64-71. (FC)
22. Oh Y, Seo HW, Han K, Park C, Chae C. Protective effect of the maternally derived porcine circovirus type 2 (PCV2)-specific cellular immune response in piglets by dam vaccination against PCV2 challenge. J Gen Virol. 2012;93:1556-62. (FC)
23. Chattha KS, Vlasova AN, Kandasamy S, Rajashekara G, Saif LJ. Divergent immunomodulating effects of probiotics on T cell responses to oral attenuated human rotavirus vaccine and virulent human rotavirus infection in a neonatal gnotobiotic piglet disease model. J Immunol. 2013;191:2446-56. (FC)
24. Liu P, Pieper R, Tedin L, Martin L, Meyer W, Rieger J, et al. Effect of dietary zinc oxide on jejunal morphological and immunological characteristics in weaned piglets. J Anim S. 2014;92:5009-18. (FC)
25. Pasternak JA, Ng SH, Käser T, Meurens F, Wilson HL. Grouping pig-specific responses to mitogen with similar responder animals may facilitate the interpretation of results obtained in an out-bred animal model. J Vaccines Vaccin. 2014;5:5. (FC)