Hamster Anti-Mouse CD152-PE (1B8)
PE Anti-Mouse CD152 antibody for use in flow cytometry assays.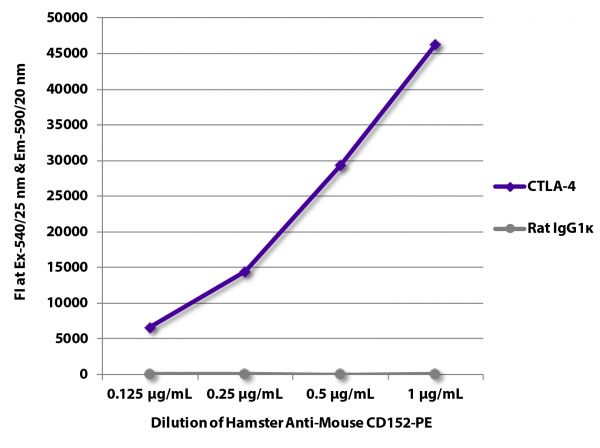 More Information
Clone
1B8
Isotype
Hamster (Armenian) IgG1
Isotype Control
Hamster IgG-PE
Specificity
Mouse CD152
Alternative Names
CTLA-4, cytotoxic T-lymphocyte protein 4
Description
The lymphocyte surface antigen CD152, also known as CTLA-4, is related to the costimulatory molecule CD28 and both molecules share common B7 family counter-receptors. However CD152 is thought to be a negative regulator of T cell activation and may play a role in apoptotic control of T cells. CD152 is relatively conserved among humans, mice, and chickens.
Immunogen
Extracellular portion of murine CTLA-4 fused to a murine IgG2a
Conjugate
PE (R-phycoerythrin)
Buffer Formulation
Phosphate buffered saline containing < 0.1% sodium azide and a stabilizer
Clonality
Monoclonal
Concentration
0.1 mg/mL
Volume
1.0 mL
Recommended Storage
2-8°C; Avoid exposure to light; Do not freeze
Applications
ELISA – Quality tested 2
FLISA – Quality tested
Flow Cytometry – Reported literature 3-11
Stimulation – Reported in literature 1


RRID Number
AB_2795294
Gene ID
12477 (Mouse)

Gene ID Symbol
Ctla4 (Mouse)

Gene ID Aliases
Cd152; Ly-56; Ctla-4
UniProt ID
P09793 (Mouse)

UniProt Name
CTLA4_MOUSE (Mouse)

Documentation
---
Certificate of Analysis Lookup
Enter the Catalog Number and Lot Number for the Certificate of Analysis you wish to view
Need help with this product?
1. Walunas TL, Lenschow DJ, Bakker CY, Linsley PS, Freeman GJ, Green JM, et al. CTLA-4 can function as a negative regulator of T cell activation. Immunity. 1994;1:405-13. (Immunogen, Stim)
2. Kimura F, Gotoh M, Tanaka T, Luo Z, Miyazaki J, Uede T, et al. Locally expressed CTLA4-Ig in a pancreatic beta-cell line suppresses accelerated graft rejection response induced by donor-specific transfusion. Diabetologia. 2002;45:831-40. (ELISA)
3. Ben-David H, Sela M, Mozes E. Down-regulation of myasthenogenic T cell responses by a dual altered peptide ligand via CD4+CD25+-regulated events leading to apoptosis. Proc Natl Acad Sci USA. 2005;102:2028-33. (FC)
4. Sharabi A, Mozes E. The suppression of murine lupus by a tolerogenic peptide involves Foxp3-expressing CD8 cells that are required for the optimal induction and function of Foxp3-expressing CD4 cells. J Immunol. 2008;181:3243-51. (FC)
5. Laronne-Bar-On A, Zipori D, Haran-Ghera N. Increased regulatory versus effector T cell development is associated with thymus atrophy in mouse models of multiple myeloma. J Immunol. 2008;181:3714-24. (FC)
6. Barnes MJ, Krebs P, Harris N, Eidenschenk C, Gonzalez-Quintal R, Arnold CN, et al. Commitment to the regulatory T cell lineage requires CARMA1 in the thymus but not in the periphery. PloS Biol. 2009;7(3):e1000051. (FC)
7. Scalapino KJ, Daikh DI. Suppression of glomerulonephritis in NZB/NZW lupus prone mice by adoptive transfer of ex vivo expanded regulatory T cells. PLoS One. 2009;4(6):e6031. (FC)
8. Wafula PO, Teles A, Schumacher A, Pohl K, Yagita H, Volk H, et al. PD-1 but not CTLA-4 blockage abrogates the protective effect of regulatory T cells in a pregnancy murine model. Am J Reprod Immunol. 2009;62:283-92. (FC)
9. Wang D, Zhou R, Yao Y, Zhu X, Yin Y, Zhao G, et al. Stimulation of α7 nicotinic acetylcholine receptor by nicotine increases suppressive capacity of naturally occurring CD4+CD25+ regulatory T cells in mice in vitro. J Pharmacol Exp Ther. 2010;335:553-61. (FC)
10. Zhang Y, Yao Y, Huang L, Dong N, Yu Y, Sheng Z. The potential effect and mechanism of high-mobility group box 1 protein on regulatory T cell-mediated immunosuppression. J Interferon Cytokine Res. 2011;31:249-57. (FC)
11. Duraiswamy J, Freeman GJ, Coukos G. Therapeutic PD-1 pathway blockade augments with other modalities of immunotherapy T-cell function to prevent immune decline in ovarian cancer. Cancer Res. 2013;73:6900-12. (FC)