Purified Human IgG Fc for use in flow cytometry and in vitro assays and as a standard in ELISA.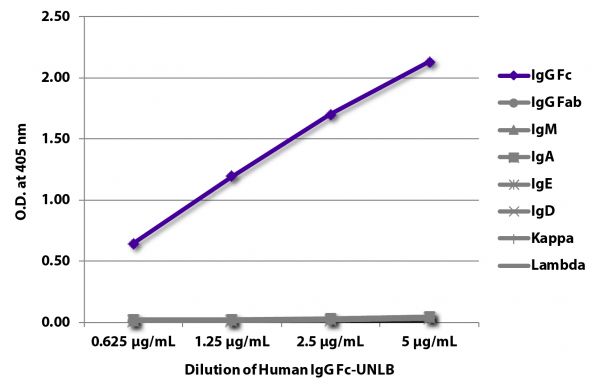 More Information
Isotype
Human IgG Fc
Source
Papain digest of Human IgG (SB Cat. No. 0150)
Conjugate
UNLB (Unconjugated)
Buffer Formulation
Borate buffered saline, pH 8.2
Clonality
Polyclonal
Concentration
1.0 mg/mL
Volume
1.0 mL
Recommended Storage
2-8°C
Applications
Quality tested applications for relevant formats include -
ELISA 1

Other referenced applications for relevant formats include -
Flow cytometry 1
In vitro control 1

RRID Number
AB_2794096
Documentation
---
Certificate of Analysis Lookup
Enter the Catalog Number and Lot Number for the Certificate of Analysis you wish to view
Need help with this product?
1. Zhou Y, Hagood JS, Lu B, Merryman WD, Murphy-Ullrich JE. Thy-1-integrin αvβ5 interactions inhibit lung fibroblast contraction-induced latent transforming growth factor-β1 activation and myofibroblast differentiation. J Biol Chem. 2010;285:22382-93. (ELISA, FC, in vitro control)