Mouse Anti-Human TIMP-4-UNLB (SB30c)
Purified Anti-Human TIMP-4 antibody for use in immunohistochemistry / immunocytochemistry, ELISA, and western blotting assays.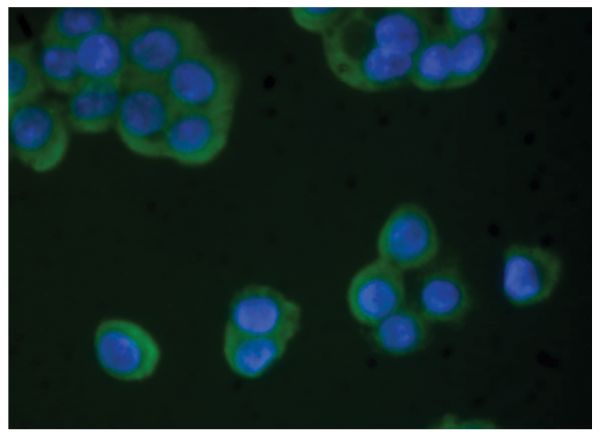 More Information
Clone
SB30c
Isotype
Mouse (BALB/c) IgG2aκ
Isotype Control
Mouse IgG2a-UNLB (HOPC-1)
Specificity
Human/Mouse/Rat TIMP-4
Alternative Names
Tissue inhibitor of metalloproteinase 4
Description
Tissue inhibitors of matrix metalloproteinases (TIMPs) constitute a family of secreted multifunctional proteins which are classified based on structural similarity to each other as well as their ability to inhibit matrix metalloproteinases (MMPs). TIMPs play a critical role in ECM homeostasis but have also been shown to have erythroid-potentiating and cell growth-promoting activities. TIMP-4, unlike TIMP-1, TIMP-2 and TIMP-3, shows restricted localization to cardiac, neural, breast, and muscle tissue. Cardiospecific TIMP-4 seems to play a significant role in regulating the normal cell phenotype since reduced levels elicit cellular transformation.
Immunogen
Recombinant human TIMP-4 (a.a. 35-224)
Conjugate
UNLB (Unconjugated)
Buffer Formulation
Borate buffered saline, pH 8.2
Clonality
Monoclonal
Concentration
0.5 mg/mL
Volume
0.2 mL
Recommended Storage
2-8°C
Applications
Western Blot – Quality tested 1-3
Immunohistochemistry-Paraffin Sections 4
Immunocytochemistry 4
ELISA 5


RRID Number
AB_2794707
Gene ID
7079 (Human)
110595 (Mouse)
680130 (Rat)

Gene ID Symbol
TIMP4 (Human)
Timp4 (Mouse)
Timp4 (Rat)

Gene ID Aliases
TIMP-4; Timp-4
UniProt ID
Q99727 (Human)
Q9JHB3 (Mouse)
P81556 (Rat)

UniProt Name
TIMP4_HUMAN (Human)
TIMP4_MOUSE (Mouse)
TIMP4_RAT (Rat)

Documentation
---
Certificate of Analysis Lookup
Enter the Catalog Number and Lot Number for the Certificate of Analysis you wish to view
Need help with this product?
1. Alarab M, Kufaishi H, Lye S, Drutz H, Shynlova O. Expression of extracellular matrix-remodeling proteins is altered in vaginal tissue of premenopausal women with severe pelvic organ prolapse. Reprod Sci. 2014;21:704-15. (WB)
2. Zambirinis CP, Levie E, Nguy S, Avanzi A, Barilla R, Xu Y, et al. TLR9 ligation in pancreatic stellate cells promotes tumorigenesis. J Exp Med. 2015;212:2077-94. (WB, Mouse Reactivity)
3. Ketsawatsomkron P, Keen HL, Davis DR, Lu K, Stump M, De Silva TM, et al. Protective role for tissue inhibitor of metalloproteinase-4, a novel peroxisome proliferator-activated receptor-γ target gene, in smooth muscle in deoxycorticosterone acetate-salt hypertension. Hypertension. 2016;67:214-22. (WB, Mouse & Rat Reactivity)
4. SouthernBiotech published data (IHC-PS, ICC)
5. SouthernBiotech unpublished data (ELISA)