Rat Anti-Mouse CD45RB-AF647 (C363.16A)
Alexa Fluor® 647 Anti-Mouse CD45RB antibody for use in flow cytometry assays.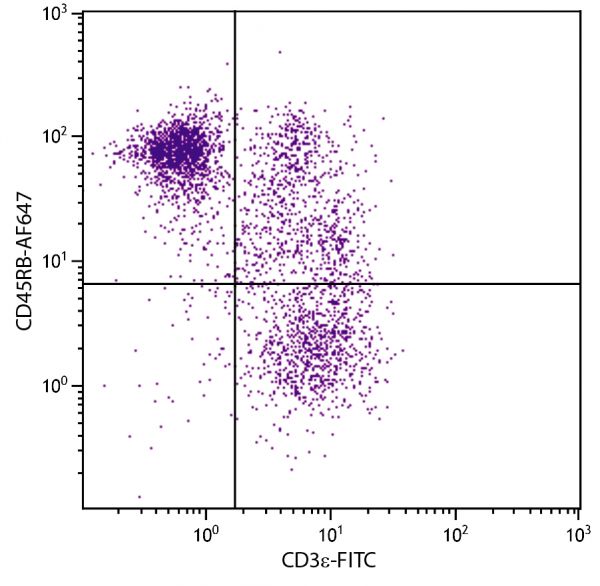 More Information
Clone
C363.16A
Isotype
Rat IgG2aκ
Isotype Control
Rat IgG2a-AF647 (KLH/G2a-1-1)
Specificity
Mouse CD45RB
Description
CD45RB represents an exon B-dependent form of CD45 glycoprotein. It is expressed at high density on peripheral B cells, the suppressor/cytotoxic subpopulation of T lymphocytes, a subset of helper T cells, most thymocytes, and at low density on macrophages and dendritic cells.
Immunogen
Cloned mouse Th cell line
Conjugate
AF647 (Alexa Fluor® 647)
Buffer Formulation
Phosphate buffered saline containing < 0.1% sodium azide
Clonality
Monoclonal
Concentration
0.5 mg/mL
Volume
0.2 mL
Recommended Storage
2-8°C; Avoid exposure to light
Trademark Information
Alexa Fluor® is a registered trademark of Thermo Fisher Scientific, Inc. or its subsidiaries
Applications
Flow Cytometry – Quality tested 1,2,4
Separation – Reported in literature 3


RRID Number
AB_2795137
Gene ID
19264 (Mouse)

Gene ID Symbol
Ptprc (Mouse)

Gene ID Aliases
loc; B220; Cd45; L-CA; Ly-5; T200; CD45R; Lyt-4
UniProt ID
P06800 (Mouse)

UniProt Name
PTPRC_MOUSE (Mouse)

Documentation
---
Certificate of Analysis Lookup
Enter the Catalog Number and Lot Number for the Certificate of Analysis you wish to view
Need help with this product?
1. Johnson P, Greenbaum L, Bottomly K, Trowbridge IS. Identification of the alternatively spliced exons of murine CD45 (T200) required for reactivity with B220 and other T200-restricted antibodies. J Exp Med. 1989;169:1179-84. (FC)
2. Hathcock KS, Laszlo G, Dickler HB, Sharrow SO, Johnson P, Trowbridge IS, et al. Expression of variable exon A-, B-, and C-specific CD45 determinants on peripheral and thymic T cell populations. J Immunol. 1992;148:19-28. (FC)
3. Farber DL, Acuto O, Bottomly K. Differential T cell receptor-mediated signaling in naive and memory CD4 T cells. Eur J Immunol. 1997;27:2094-101. (Sep)
4. Borlado LR, Redondo C, Alvarez B, Jimenez C, Criado LM, Flores J, et al. Increased phosphoinositide 3-kinase activity induces a lymphoproliferative disorder and contributes to tumor generation in vivo. FASEB J. 2000;14:895-903. (FC)