Rabbit F(ab')2 Anti-Human IgG(H+L), Mouse ads-HRP
Rabbit F(ab')2 Anti-Human IgG(H+L)-HRP antibody with minimal reactivity to mouse proteins for use in ELISA assays.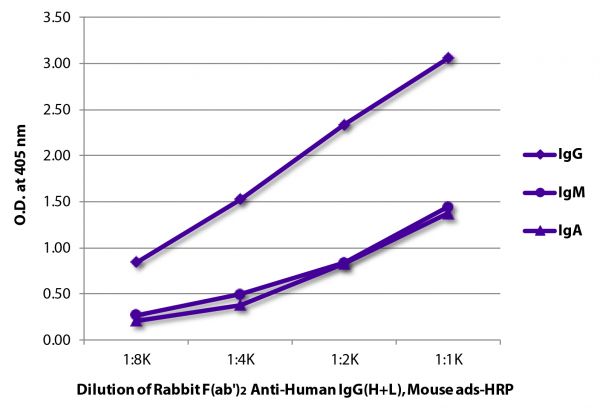 More Information
Isotype
Rabbit F(ab')2 IgG
Isotype Control
0112-05
Specificity
Reacts with the heavy and light chains of human IgG and the light chains of human IgM and IgA
Source
Pepsin digest of Rabbit Anti-Human IgG(H+L), Mouse ads (SB Cat. No. 6145)
Cross Adsorption
Mouse immunoglobulins and pooled sera; may react with immunoglobulins from other species
Conjugate
HRP (Horseradish Peroxidase)
Buffer Formulation
50% Glycerol/50% Phosphate buffered saline, pH 7.4
Clonality
Polyclonal
Concentration
Lot specific
Volume
1.0 mL
Recommended Storage
2-8°C
Applications
Quality tested applications for relevant formats include -
ELISA 1,2
FLISA


RRID Number
AB_2796090
Documentation
---
Certificate of Analysis Lookup
Enter the Catalog Number and Lot Number for the Certificate of Analysis you wish to view
Need help with this product?
1. Baselmans PJ, Pöllabauer E, van Reijsen FC, Heystek HC, Hren A, Stumptner P, et al. IgE production after antigen-specific and cognate activation of HLA-DPw4-restricted T-cell clones, by 78% of randomly selected B-cell donors. Hum Immunol. 2000;61:789-98. (ELISA)
2. Piesche M, Ho VT, Kim H, Nakazaki Y, Nehil M, Yaghi NK, et al. Angiogenic cytokines are antibody targets during graft-versus-leukemia reactions. Clin Cancer Res. 2015;21:1010-8. (ELISA)