Rat Anti-Human IL-7-UNLB (BVD10-40F6)
Purified Anti-Human IL-7 antibody for use in ELISA and immunocytochemistry assays.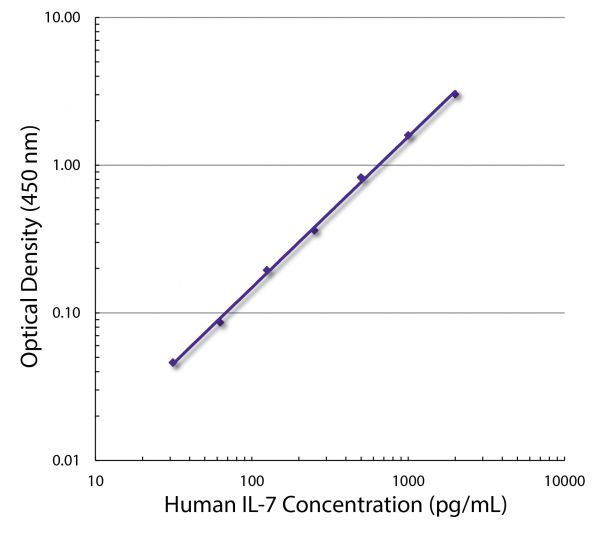 More Information
Clone
BVD10-40F6
Isotype
Rat IgG1κ
Isotype Control
Rat IgG1-UNLB (KLH/G1-2-2)
Specificity
Human IL-7
Alternative Names
Interleukin-7, lymphopoietin-1, LP-1, Lpo-1, pre-B cell growth factor, PBGF, thymocyte growth factor
Immunogen
E. coli-expressed human IL-7
Conjugate
UNLB (Unconjugated)
Buffer Formulation
Borate buffered saline, pH 8.2
Clonality
Monoclonal
Concentration
0.5 mg/mL
Volume
1.0 mL
Recommended Storage
2-8°C
Applications
ELISA-Capture – Quality tested 1-3
Immunocytochemistry – Reported in literature 4
Neutralization – Reported in literature 1,5

Note – May be paired with the biotinylated clone BVD10-11C10 (SB Cat. No. 10123-08) in a sandwich ELISA


RRID Number
AB_2794172
Gene ID
3574 (Human)

Gene ID Symbol
IL7 (Human)

Gene ID Aliases
IL-7
UniProt ID
P13232 (Human)

UniProt Name
IL7_HUMAN (Human)

Documentation
---
Certificate of Analysis Lookup
Enter the Catalog Number and Lot Number for the Certificate of Analysis you wish to view
Need help with this product?
1. Abrams JS, Roncarolo M, Yssel H, Andersson U, Gleich GJ, Silver JE. Strategies of anti-cytokine monoclonal antibody development: immunoassay of IL-10 and IL-5 in clinical samples. Immunol Rev. 1992;127:5-24.(ELISA-Capture, Neut)
2. Abrams JS. Immunoenzymetric assay of mouse and human cytokines using NIP-labeled anti-cytokine antibodies. Curr Protoc Immunol. 2001;6.20:1-15. (ELISA-Capture)
3. Kelly EA, Koziol-White CJ, Clay KJ, Liu LY, Bates ME, Bertics PJ, et al. Potential contribution of IL-7 to allergen-induced eosinophilic airway inflammation in asthma. J Immunol. 2009;182:1404-10. (ELISA-Capture)
4. Bazdar DA, Kalinowska M, Panigrahi S, Sieg SF. Recycled IL-7 can be delivered to neighboring T cells. J Immunol. 2015;194:4698-704. (ICC)
5. Moreau I, Duvert V, Caux C, Galmiche MC, Charbord P, Banchereau J, et al. Myofibroblastic stromal cells isolated from human bone marrow induce the proliferation of both early myeloid and B-lymphoid cells. Blood. 1993;82:2396-405. (Neut)