Rat Anti-Mouse CD105-PACBLU (MJ7/18)
Pacific Blue™ Anti-Mouse CD105 antibody for use in flow cytometry assays.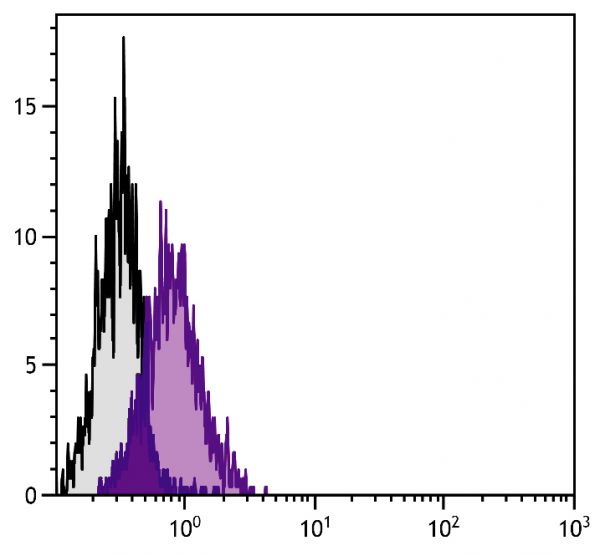 More Information
Clone
MJ7/18
Isotype
Rat IgG2aκ
Isotype Control
Rat IgG2a-PACBLU (KLH/G2a-1-1)
Specificity
Mouse CD105
Alternative Names
Endoglin
Description
CD105, also known as endoglin, is a disulfide-linked type II transmembrane homodimer that is predominantly expressed on vascular endothelial cells. It is also found on pre-erythroblasts, macrophages, and lymphoid and myeloid leukemic cells. Both mouse and human CD105 exhibit >70% sequence homology in their cytoplasmic domains with type III transforming growth factor β (TGFβ) receptor. CD105 has been shown to be one of several receptors for the various isoforms of TGFβ which in turn is one of a family of proteins involved in regulation of cell differentiation, migration of cells, and control of the immune response.
Immunogen
Inflamed mouse skin
Conjugate
PACBLU (Pacific Blue™)
Buffer Formulation
Phosphate buffered saline containing < 0.1% sodium azide
Clonality
Monoclonal
Concentration
0.5 mg/mL
Volume
0.2 mL
Recommended Storage
2-8°C; Avoid exposure to light
Trademark Information
Pacific Blue™ is a trademark of Thermo Fisher Scientific, Inc. or its subsidiaries
Applications
Flow Cytometry – Quality tested 2,7-9
Immunohistochemistry-Frozen Sections – Reported in literature 6
Immunoprecipitation – Reported in literature 2
Western Blot – Reported in literature 1,2,4,5
Separation – Reported in literature 3


RRID Number
AB_2795412
Gene ID
13805 (Mouse)

Gene ID Symbol
Eng (Mouse)

Gene ID Aliases
Endo; CD105; AI528660; AI662476; S-endoglin
UniProt ID
Q63961 (Mouse)

UniProt Name
EGLN_MOUSE (Mouse)

Documentation
---
Certificate of Analysis Lookup
Enter the Catalog Number and Lot Number for the Certificate of Analysis you wish to view
Need help with this product?
1. Ge AZ, Butcher EC. Cloning and expression of a cDNA encoding mouse endoglin, an endothelial cell TGF-β ligand. Gene. 1994;138:201-6. (Immunogen, WB, FC)
2. Raab U, Velasco B, Lastres P, Letamendía A, Calés C, Langa C, et al. Expression of normal and truncated forms of human endoglin. Biochem J. 1999;339:579-88. (FC, WB, IP)
3. Finkensieper A, Kieser S, Bekhite MM, Richter M, Mueller JP, Graebner R, et al. The 5-lipoxygenase pathway regulates vasculogenesis in differentiating mouse embryonic stem cells. Cardiovasc Res. 2010;86:37-44. (Sep)
4. Belik J, Jerkic M, McIntyre BA, Pan J, Leen J, Yu LX, et al. Age-dependent endothelial nitric oxide synthase uncoupling in pulmonary arteries of endoglin heterozygous mice. Am J Physiol Lung Cell Mol Physiol. 2009;297:L1170-8. (WB)
5. Jerkic M, Peter M, Ardelean D, Fine M, Konerding MA, Letarte M. Dextran sulfate sodium leads to chronic colitis and pathological angiogenesis in endoglin heterozygous mice. Inflamm Bowel Dis. 2010;16:1859-70. (WB)
6. Wickersheim A, Kerber M, de Miguel LS, Plate KH, Machein MR. Endothelial progenitor cells do not contribute to tumor endothelium in primary and metastatic tumors. Int J Cancer. 2009;125:1771-7. (IHC-FS)
7. Ren Y, Finckenstein FG, Abdueva DA, Shahbazian V, Chung B, Weinberg KI, et al. Mouse mesenchymal stem cells expressing PAX-FKHR form alveolar rhabdomyosarcomas by cooperating with secondary mutations. Cancer Res. 2008;68:6587-97. (FC)
8. Adhikari AS, Agarwal N, Wood BM, Porretta C, Ruiz B, Pochampally RR, et al. CD117 and Stro-1 identify osteosarcoma tumor-initiating cells associated with metastasis and drug resistance. Cancer Res. 2010;70:4602-12. (FC)
9. Moorthy RK, Sam GA, Kumar SV, Chacko G, Mathews V, Chacko AG, et al. Intralesional mesenchymal stromal cell transplant in a rodent model of cortical cryoinjury. Neurol India. 2011;59:573-8. (FC)