Rat Anti-Mouse CD107b-APC (ABL-93)
APC Anti-Mouse CD107b antibody for use in flow cytometry assays.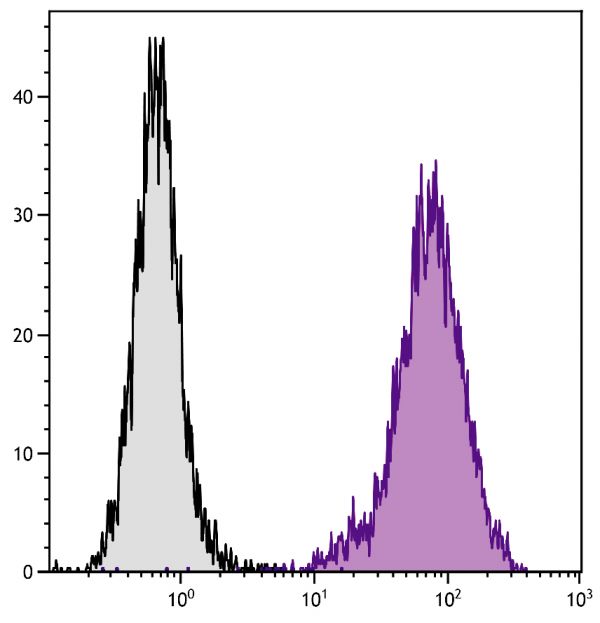 More Information
Clone
ABL-93
Isotype
Rat (Sprague Dawley) IgG2aκ
Isotype Control
Rat IgG2a-APC (KLH/G2a-1-1)
Specificity
Mouse CD107b
Alternative Names
LAMP-2, lysosomal-associated membrane protein 2
Description
CD107b, also known as lysosomal-associated membrane protein 2 (LAMP-2), is a heavily glycosylated type I transmembrane protein that constitutes one of the two major sialoglycoproteins on lysosomal membranes that can be used to distinguish lysosomes from other organelles. CD107b is similar in structure to Mac-1 and is expressed primarily on epithelial cells and macrophages in a variety of organs in normal and beige mutant mice.
Immunogen
Glycoproteins purified from BALB/c mouse embryo 3T3 cell line
Conjugate
APC (Allophycocyanin)
Buffer Formulation
Phosphate buffered saline containing < 0.1% sodium azide and a stabilizer
Clonality
Monoclonal
Concentration
0.1 mg/mL
Volume
1.0 mL
Recommended Storage
2-8°C; Avoid exposure to light; Do not freeze
Applications
Flow Cytometry – Quality tested 7
Immunohistochemistry-Frozen Sections – Reported in literature 4
Immunocytochemistry – Reported in literature 1,2,5,6
Electron Microscopy – Reported in literature 1
Immunoprecipitation – Reported in literature 1,2
Western Blot – Reported in literature 2,3


RRID Number
AB_2795537
Gene ID
16784 (Mouse)

Gene ID Symbol
Lamp2 (Mouse)

Gene ID Aliases
CD107b; LGP-B; Lamp II; Lamp-2; Lamp-2a; Lamp-2b; Lamp-2c; Mac3
UniProt ID
P17047 (Mouse)

UniProt Name
LAMP2_MOUSE (Mouse)

Documentation
---
Certificate of Analysis Lookup
Enter the Catalog Number and Lot Number for the Certificate of Analysis you wish to view
Need help with this product?
1. Chen JW, Murphy TL, Willingham MC, Pastan I, August JT. Identification of two lysosomal membrane glycoproteins. J Cell Biol. 1985;101:85-95. (Immunogen, ICC, EM, IP)
2. Andrejewski N, Punnonen E, Guhde G, Tanaka Y, Lüllmann-Rauch R, Hartmann D, et al. Normal lysosomal morphology and function in LAMP-1-deficient mice. J Biol Chem. 1999;274:12692-701. (IP, WB, ICC)
3. Via LE, Deretic D, Ulmer RJ, Hibler NS, Huber LA, Deretic V. Arrest of mycobacterial phagosome maturation is caused by a block in vesicle fusion between stages controlled by rab5 and rab7. J Biol Chem. 1997;272:13326-31. (WB)
4. Zhao W, Dumanis SB, Tamboli IY, Rodriguez GA, LaDu MJ, Moussa CE, et al. Human APOE genotype affects intraneuronal Aβ1-42 accumulation in a lentiviral gene transfer model. Hum Mol Genet. 2014;23:1365-75. (IHC-FS)
5. Martina JA, Moriyama K, Bonifacino JS. BLOC-3, a protein complex containing the Hermansky-Pudlak syndrome gene products HPS1 and HPS4. J Biol Chem. 2003;278:29376-84. (ICC)
6. Valk E, Leung R, Kang H, Kaneko K, Rudd CE, Schneider H. T cell receptor-interacting molecule acts as a chaperone to modulate surface expression of the CTLA-4 coreceptor. Immunity. 2006;25:807-21. (ICC)
7. Ramachandra L, Sramkoski RM, Canaday DH, Boom WH, Harding CV. Flow analysis of MHC molecules and other membrane proteins in isolated phagosomes. J Immunol Methods. 1998;213:53-71. (FC)