Rat Anti-Mouse CD11a-FITC (I21/7)
FITC Anti-Mouse CD11a antibody for use in flow cytometry and immunohistochemistry / immunocytochemistry assays.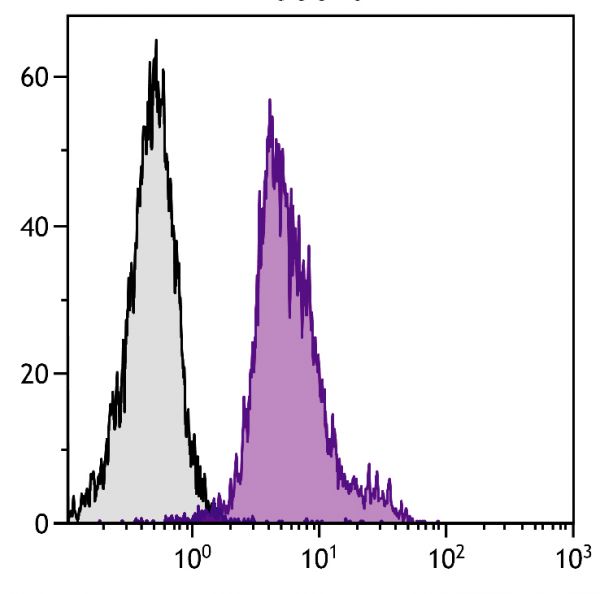 More Information
Clone
I21/7
Isotype
Rat (Lewis) IgG2aκ
Isotype Control
Rat IgG2a-FITC (KLH/G2a-1-1)
Specificity
Mouse/Human CD11a
Alternative Names
LFA-1, LFA-1α, integrin αL
Description
The monoclonal antibody I21/7 reacts with the α subunit of mouse and human CD11a, also known as LFA-1, and a member of the integrin family of cell adhesion molecules. The antigen is expressed on thymocytes, T and B lymphocytes, and on non-lymphoid cells in the bone marrow. CD11a appears to be an essential component for T-cell activation by antigen-presenting cells and is important for cell-mediated killing. Costimulatory signaling by LFA-1 is achieved by pairing with its ligand, CD54/ICAM-1.
Immunogen
Whole BW5147 cells
Conjugate
FITC (Fluorescein)
Buffer Formulation
Phosphate buffered saline containing < 0.1% sodium azide
Clonality
Monoclonal
Concentration
0.5 mg/mL
Volume
1.0 mL
Recommended Storage
2-8°C; Avoid exposure to light
Applications
Flow Cytometry – Quality tested 5-8
Immunohistochemistry-Frozen Sections – Reported in literature 2
Immunocytochemistry – Reported in literature 3
Immunoprecipitation – Reported in literature 1,4
Blocking – Reported in literature 1


RRID Number
AB_2794890
Gene ID
16408 (Mouse)
3683 (Human)

Gene ID Symbol
Itgal (Mouse)
ITGAL (Human)

Gene ID Aliases
Cd11a; LFA-1; Ly-15; Ly-21; (p180); LFA-1A; CD11A; LFA1A
UniProt ID
P24063 (Mouse)
P20701 (Human)

UniProt Name
ITAL_MOUSE (Mouse)
ITAL_HUMAN (Human)

Documentation
---
Certificate of Analysis Lookup
Enter the Catalog Number and Lot Number for the Certificate of Analysis you wish to view
Need help with this product?
1. Trowbridge IS, Omary MB. Molecular complexity of leukocyte surface glycoproteins related to the macrophage differentiation antigen Mac-1. J Exp Med. 1981;154:1517-24. (Immunogen, IP, Block)
2. Pauschinger M, Noutsias M, Lassner D, Schultheiss HP, Kuehl U. Inflammation, ECG changes and pericardial effusion: whom to biopsy in suspected myocarditis?. Clin Res Cardiol. 2006;95:569-83. (IHC-FS, Human Reactivity)
3. Thauland TJ, Koguchi Y, Wetzel SA, Dustin ML, Parker DC. Th1 and Th2 cells form morphologically distinct immunological synapses. J Immunol. 2008;181:393-9. (ICC)
4. Lefrançois L, Bevan MJ. Novel antigenic determinants of the T200 glycoprotein expressed preferentially by activated cytotoxic T lymphocytes. J Immunol. 1984;135:374-83. (IP)
5. Kato N, Yuzawa Y, Kosugi T, Hobo A, Sato W, Miwa Y, et al. The E-selectin ligand basigin/CD147 is responsible for neutrophil recruitment in renal ischemia/reperfusion. J Am Soc Nephrol. 2009;20:1565-76. (FC)
6. Takeshi T, Keisuke N, Takaaki I, Makoto Y, Tatsuji N. Involvement of adhesion molecule in in vitro plaque-like formation of macrophages stimulated with Aggregatibacter actinomycetemcomitans lipopolysaccharide. J Periodont Res. 2010;45:550-6. (FC)
7. Nagaoka K, Takahara K, Minamino K, Takeda T, Yoshida Y, Inaba K. Expression of C-type lectin, SIGNR3, on subsets of dendritic cells, macrophages, and monocytes. J Leukoc Biol. 2010;88:913-24. (FC)
8. Domingos-Pereira S, Decrausaz L, Derré L, Bobst M, Romero P, Schiller JT, et al. Intravaginal TLR agonists increase local vaccine-specific CD8 T cells and human papillomavirus-associated genital-tumor regression in mice. Mucosal Immunol. 2013;6:393-404. (FC)