Rat Anti-Mouse CD45RC-BIOT (GL24)
Biotin Anti-Mouse CD45RC antibody for use in flow cytometry and immunoprecipitation assays.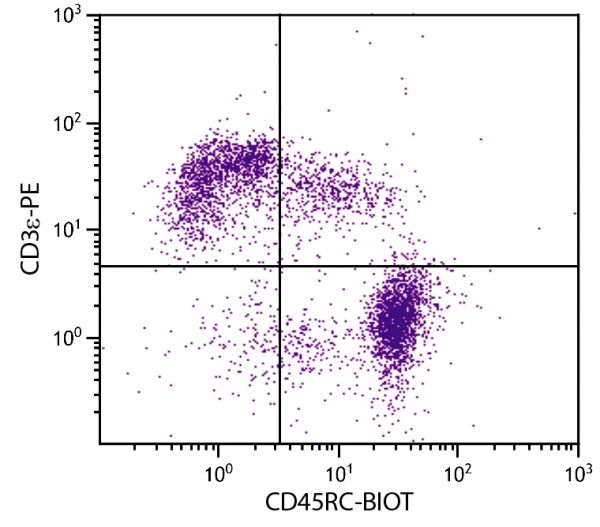 More Information
Clone
GL24
Isotype
Rat (Lewis) IgMκ
Isotype Control
Rat IgM-BIOT (NIP/M-2)
Specificity
Mouse CD45RC
Description
CD45RC represents an exon C-dependent isoform of CD45 glycoprotein. It is expressed at high density on all B lymphocytes, at intermediate density on most CD8+ splenic T cells, and on two subpopulations of CD4+ splenic T cells with high and low density of expression. CD45RC is also present on a small subset of thymocytes.
Immunogen
Activated DBA/2 B cells
Conjugate
BIOT (Biotin)
Buffer Formulation
Phosphate buffered saline containing < 0.1% sodium azide
Clonality
Monoclonal
Concentration
0.5 mg/mL
Volume
1.0 mL
Recommended Storage
2-8°C
Applications
Flow Cytometry – Quality tested 1-3
Immunoprecipitation – Reported in literature 1


RRID Number
AB_2795139
Gene ID
19264 (Mouse)

Gene ID Symbol
Ptprc (Mouse)

Gene ID Aliases
loc; B220; Cd45; L-CA; Ly-5; T200; CD45R; Lyt-4
UniProt ID
P06800 (Mouse)

UniProt Name
PTPRC_MOUSE (Mouse)

Documentation
---
Certificate of Analysis Lookup
Enter the Catalog Number and Lot Number for the Certificate of Analysis you wish to view
Need help with this product?
1. Hathcock KS, Laszlo G, Dickler HB, Sharrow SO, Johnson P, Trowbridge IS, et al. Expression of variable exon A-, B-, and C-specific CD45 determinants on peripheral and thymic T cell populations. J Immunol. 1992;148:19-28. (Immunogen, IP, FC)
2. Hathcock KS, Hirano H, Murakami S, Hodes RJ. CD45 expression by B cells. Expression of different CD45 isoforms by subpopulations of activated B cells. J Immunol. 1992;149:2286-94. (FC)
3. Czömpöly T, Lábadi A, Balázs M, Németh P, Balogh P. Use of cyclic peptide phage display library for the identification of a CD45RC epitope expressed on murine B cells and their precursors. Biochem Biophys Res Commun. 2003;307:791-6. (FC)