Rat Anti-Mouse IgA-PE (11-44-2)
Only %1 left
Cat. No.:
1165-09L,
1165-09
PE Anti-Mouse IgA antibody for use in flow cytometry assays.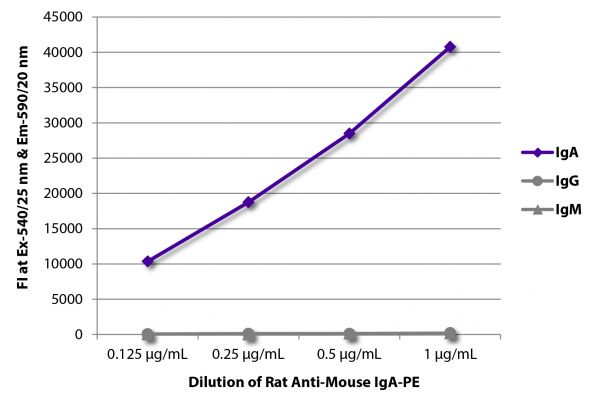 More Information
Clone
11-44-2
Isotype
Rat IgG1κ
Isotype Control
Rat IgG1-PE (KLH/G1-2-2)
Specificity
Mouse IgA
Conjugate
PE (R-phycoerythrin)
Buffer Formulation
Phosphate buffered saline containing < 0.1% sodium azide and a stabilizer
Clonality
Monoclonal
Concentration
0.1 mg/mL
Volume
1.0 mL or 2.0 mL
Recommended Storage
2-8°C; Avoid exposure to light; Do not freeze
Applications
Flow Cytometry – Quality tested 14-21
ELISA – Quality tested 1-13
FLISA – Quality tested
Immunohistochemistry-Frozen Sections – Reported in literature 19,22,23
Immunohistochemistry-Paraffin Sections 24
Western Blot 25


RRID Number
AB_2794659
Gene ID
238447 (Mouse)

Gene ID Symbol
Igha (Mouse)

Gene ID Aliases
IgA; Igh-2
Documentation
---
Certificate of Analysis Lookup
Enter the Catalog Number and Lot Number for the Certificate of Analysis you wish to view
Need help with this product?
1. McCathey SN, Shomer NH, Schrenzel MD, Whary MT, Taylor NS, Fox JG. Colonization and tissue tropism of Helicobacter pylori and a novel urease-negative Helicobacter species in ICR mice are independent of route of exposure. Helicobacter. 1999;4:249-59. (ELISA)
2. Tan GS, McKenna PM, Koser ML, McLinden R, Kim JH, McGettigan JP, et al. Strong cellular and humoral anti-HIV Env immune responses induced by a heterologous rhabdoviral prime-boost approach. Virology. 2005;331:82-93. (ELISA)
3. Doligalska M, Rzepecka J, Drela N, Donskow K, Gerwel-Wronka M. The role of TGF-β in mice infected with Heligmosomoides polygyrus. Parasite Immunol. 2006;28:387-95. (ELISA)
4. Qin L, Greenland JR, Moriya C, Cayabyab MJ, Letvin NL. Effects of type I interferons on the adjuvant properties of plasmid granulocyte-macrophage colony-stimulating factor in vivo. J Virol. 2007;81:10606-13. (ELISA)
5. Ramalingam TR, Pesce JT, Sheikh F, Cheever AW, Mentink-Kane MM, Wilson MS, et al. Unique functions of the type II interleukin 4 receptor identified in mice lacking the interleukin 13 receptor α1 chain. Nat Immunol. 2008;9:25-33. (ELISA)
6. Li F, Wang L, Jin X, Yan C, Jiang S, Shen X. The immunologic effect of TGF-beta1 chitosan nanoparticle plasmids on ovalbumin-induced allergic BALB/c mice. Immunobiology. 2009;214:87-99. (ELISA)
7. Zhang H, Jia C, Xi H, Li S, Yang L, Wang Y. Specific inhibition of Candida albicans growth in vitro by antibodies from experimental Candida keratitis mice. Exp Eye Res. 2011;93:50-8. (ELISA)
8. Jenq RR, Ubeda C, Taur Y, Menezes CC, Khanin R, Dudakov JA, et al. Regulation of intestinal inflammation by microbiota following allogeneic bone marrow transplantation. J Exp Med. 2012;209:903-11. (ELISA)
9. Lo DD, Ling J, Eckelhoefer AH. M cell targeting by a Claudin 4 targeting peptide can enhance mucosal IgA responses. BMC Biotechnol. 2012;12:7. (ELISA)
10. Christianson GJ, Sun VZ, Akilesh S, Pesavento E, Proetzel G, Roopenian DC. Monoclonal antibodies directed against human FcRn and their applications. MAbs. 2012;4:208-16. (ELISA)
11. Bernal-Reynaga R, Thompson-Bonilla R, Lopez-Saucedo C, Pech-Armenta M, Estrada-Parra S, Estrada-Garcia T. C57-CD40 ligand deficient mice: a potential model for enterotoxigenic Escherichia coli (H10407) colonization. Vet Immunol Immunopathol. 2013;152:50-6. (ELISA)
12. Lopez-Saucedo C, Bernal-Reynaga R, Zayas-Jahuey J, Galindo-Gomez S, Shibayama M, Garcia-Galvez C, et al. CD40 ligand deficient C57BL/6 mouse is a potential surrogate model of human X-linked hyper IgM (X-HIGM) syndrome for characterizing immune responses against pathogens. Biomed Res Int. Article ID 679850, in press. (ELISA)
13. Chen M, Hong MJ, Sun H, Wang L, Shi X, Gilbert BE, et al. Essential role for autophagy in the maintenance of immunological memory against influenza infection. Nat Med. 2014;20:503-10. (ELISA)
14. Newberry RD, McDonough JS, McDonald KG, Lorenz RG. Postgestational lymphotoxin/lymphotoxin β receptor interactions are essential for the presence of intestinal B lymphocytes. J Immunol. 2002;168:4988-97. (FC)
15. Sitnicka E, Brakebusch C, Martensson I, Svensson M, Agace WW, Sigvardsson M, et al. Complementary signaling through flt3 and interleukin-7 receptor α is indispensable for fetal and adult B cell genesis. J Exp Med. 2003;198:1495-506. (FC)
16. Lorenz RG, Chaplin DD, McDonald KG, McDonough JS, Newberry RD. Isolated lymphoid follicle formation is inducible and dependent upon lymphotoxin-sufficient B lymphocytes, lymphotoxin β receptor, and TNF receptor I function. J Immunol. 2003;170:5475-82. (FC)
17. Hu S, Yang K, Yang J, Li M, Xiong N. Critical roles of chemokine receptor CCR10 in regulating memory IgA responses in intestines. Proc Natl Acad Sci USA. 2011;108(45):E1035-44. (FC)
18. Wei M, Shinkura R, Doi Y, Maruya M, Fagarasan S, Honjo T. Mice carrying a knock-in mutation of Aicda resulting in a defect in somatic hypermutation have impaired gut homeostasis and compromised mucosal defense. Nat Immunol. 2011;12:264-70. (FC)
19. Fritz JH, Rojas OL, Simard N, McCarthy DD, Hapfelmeier S, Rubino S, et al. Acquisition of a multifunctional IgA+ plasma cell phenotype in the gut. Nature. 2012;481:199-203. (FC, IHC-FS)
20. Grigera F, Bellacosa A, Kenter AL. Complex relationship between mismatch repair proteins and MBD4 during immunoglobulin class switch recombination. PLoS One. 2013;8(10):e78370. (FC)
21. Donaldson DS, Bradford BM, Artis S, Mabbott NA. Reciprocal regulation of lymphoid tissue development in the large intestine by IL-25 and IL-23. Mucosal Immunol. 2014 Sep 24. doi: 10.1038/mi.2014.90. [Epub ahead of print]. (FC)
22. Hwang I, Park C, Luong T, Harrison KA, Birnbaumer L, Kehrl JH. The loss of Gnai2 and Gnai3 in B cells eliminates B lymphocyte compartments and leads to a hyper-IgM like syndrome. PLoS One. 2013;8(8):e72596. (IHC-FS)
23. SouthernBiotech published data (IHC-FS)
24. Personal communication (IHC-PS)
25. SouthernBiotech unpublished data (WB)