Rat Anti-Mouse IL-17A-FITC (TC11-8H4)
FITC Anti-Mouse IL-17A antibody for use in flow cytometry assays.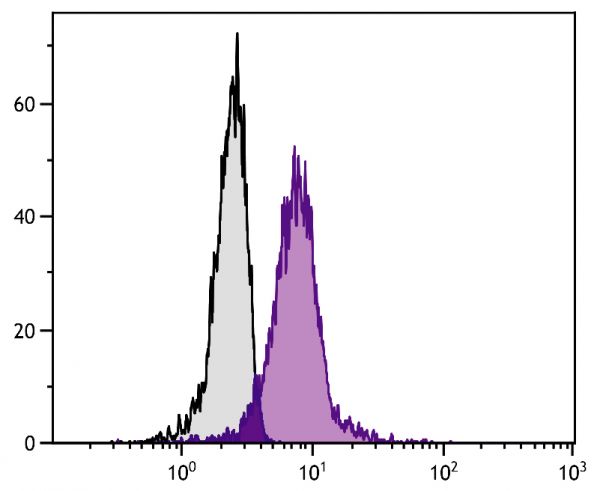 More Information
Clone
TC11-8H4
Isotype
Rat IgG1κ
Isotype Control
Rat IgG1-FITC (KLH/G1-2-2)
Specificity
Mouse IL-17A
Alternative Names
Interleukin-17A, cytotoxic T lymphocyte-associated antigen 8, CTLA-8
Immunogen
E. coli-expressed mouse IL-17
Conjugate
FITC (Fluorescein)
Buffer Formulation
Phosphate buffered saline containing < 0.1% sodium azide
Clonality
Monoclonal
Concentration
0.1 mg/mL
Volume
1.0 mL
Recommended Storage
2-8°C; Avoid exposure to light
Applications
ELISA-Detection – Quality tested 1
Flow Cytometry – Quality tested 5
ELISpot-Capture – Reported in literature 2
ELISpot-Detection – Reported in literature 3,4

Note – May be paired with the purified clone TC11-18H10 (SB Cat. No. 10215-01) in a sandwich ELISA


RRID Number
AB_2794257
Gene ID
16171 (Mouse)

Gene ID Symbol
Il17a (Mouse)

Gene ID Aliases
Ctla-8; Ctla8; IL-17; IL-17A; Il17
UniProt ID
Q62386 (Mouse)

UniProt Name
IL17_MOUSE (Mouse)

Documentation
---
Certificate of Analysis Lookup
Enter the Catalog Number and Lot Number for the Certificate of Analysis you wish to view
Need help with this product?
1. Amsen D, de Visser KE, Town T. Approaches to determine expression of inflammatory cytokines. Methods Mol Biol. 2009;511:107-42. (ELISA-Detection)
2. Kish DD, Li X, Fairchild RL. CD8 T cells producing IL-17 and IFN-γ initiate the innate immune response required for responses to antigen skin challenge. J Immunol. 2009;182:5949-59. (ELISPOT-Capture)
3. Faust SM, Lu G, Marini BL, Zou W, Gordon D, Iwakura Y, et al. Role of T cell TGFβ signaling and IL-17 in allograft acceptance and fibrosis associated with chronic rejection. J Immunol. 2009;183:7297-306. (ELISPOT-Detection)
4. Nekrasova T, Shive C, Gao Y, Kawamura K, Guardia R, Landreth G, et al. ERK1-deficient mice show normal T cell effector function and are highly susceptible to experimental autoimmune encephalomyelitis. J Immunol. 2005;175:2374-80. (ELISPOT-Detection)
5. Bending D, Newland S, Krejcí A, Phillips JM, Bray S, Cooke A. Epigenetic changes at Il12rb2 and Tbx21 in relation to plasticity behavior of Th17 cells. J Immunol. 2011;186:3373-82. (FC)