Rat Anti-Mouse IL-3-UNLB (MP2-8F8)
Purified Anti-Mouse IL-3 antibody for use in flow cytometry, immunohistochemistry / immunocytochemistry, immunoprecipitation, ELISA, ELISpot, and multiplex assays.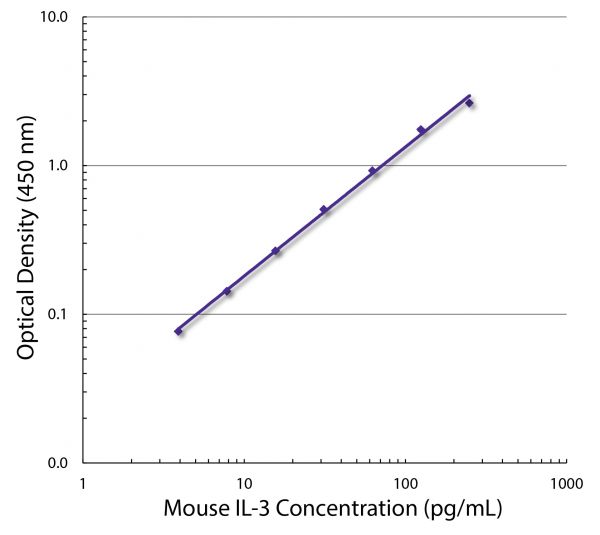 More Information
Clone
MP2-8F8
Isotype
Rat IgG1κ
Isotype Control
Rat IgG1-UNLB (KLH/G1-2-2)
Specificity
Mouse IL-3
Alternative Names
Interleukin-3, burst promoting activity, BP/BPA, eosinophil colony stimulating factor, Eo-CSF, hematopoietic cell growth factor, HCGF, mast cell growth factor, MGF, MCGF, multi-colony stimulating factor, multi-CSF, P cell stimulating activity, PCSA
Immunogen
COS-expressed mouse IL-3
Conjugate
UNLB (Unconjugated)
Buffer Formulation
Borate buffered saline, pH 8.2
Clonality
Monoclonal
Concentration
0.5 mg/mL
Volume
1.0 mL
Recommended Storage
2-8°C
Applications
ELISA-Capture – Quality tested 2-5
ELISpot-Capture – Reported in literature 6,7
Flow Cytometry – Reported in literature 8
Immunohistochemsitry-Frozen Sections – Reported in literature 9
Immunocytochemistry – Reported in literature 3
Immunoprecipitation – Reported in literature 1,2
Neutralization – Reported in literature 1-3
Multiplex-Capture – Reported in literature 4

Note – May be paired with the biotinylated clone MP2-43D11 (SB Cat. No. 10213-08) in a sandwich ELISA


RRID Number
AB_2794249
Gene ID
16187 (Mouse)

Gene ID Symbol
Il3 (Mouse)

Gene ID Aliases
BPA; PSF; HCGF; Il-3; MCGF; Csfmu
UniProt ID
P01586 (Mouse)

UniProt Name
IL3_MOUSE (Mouse)

Documentation
---
Certificate of Analysis Lookup
Enter the Catalog Number and Lot Number for the Certificate of Analysis you wish to view
Need help with this product?
1. Abrams JS, Pearce MK. Development of rat anti-mouse interleukin 3 monoclonal antibodies which neutralize bioactivity in vitro. J Immunol. 1988;140:131-7. (Immunogen, IP, Neut)
2. Abrams JS, Roncarolo M, Yssel H, Andersson U, Gleich GJ, Silver JE. Strategies of anti-cytokine monoclonal antibody development: immunoassay of IL-10 and IL-5 in clinical samples. Immunol Rev. 1992;127:5-24. (ELISA-Capture, IP, Neut)
3. Sander B, Höidén I, Andersson U, Möller E, Abrams JS. Similar frequencies and kinetics of cytokine producing cells in murine peripheral blood and spleen. Cytokine detection by immunoassay and intracellular immunostaining. J Immunol Methods. 1993;166:201-14. (ELISA-Capture, ICC, Neut)
4. Carson RT, Vignali DA. Simultaneous quantitation of 15 cytokines using a multiplexed flow cytometric assay. J Immunol Methods. 1999;227:41-52. (ELISA-Capture, Multiplex-Capture)
5. Abrams JS. Immunoenzymetric assay of mouse and human cytokines using NIP-labeled anti-cytokine antibodies. Curr Protoc Immunol. 2001;6.20:1-15. (ELISA-Capture)
6. Karulin AY, Hesse MD, Tary-Lehmann M, Lehmann PV. Single-cytokine-producing CD4 memory cells predominate in type 1 and type 2 immunity. J Immunol. 2000;164:1862-72. (ELISPOT-Capture)
7. Klinman D. ELISPOT assay to detect cytokine-secreting murine and human cells. Curr Protoc Immunol. 2008;6.19:1-9. (ELISPOT-Capture)
8. Kim S, Prout M, Ramshaw H, Lopez AF, LeGros G, Min B. Cutting edge: basophils are transiently recruited into the draining lymph nodes during helminth infection via IL-3, but infection-induced Th2 immunity can develop without basophil lymph node recruitment or IL-3. J Immunol. 2010;184:1143-7. (FC)
9. Martinelli TM, Van Driel IR, Alderuccio F, Gleeson PA, Toh B. Analysis of mononuclear cell infiltrate and cytokine production in murine autoimmune gastritis. Gastroenterology. 1996;110:1791-802. (IHC-FS)