Rat Anti-Mouse Ly-6G/Ly-6C-APC/CY7 (RB6-8C5)
APC/CY7 Anti-Mouse Ly-6G/Ly-6C antibody for use in flow cytometry assays.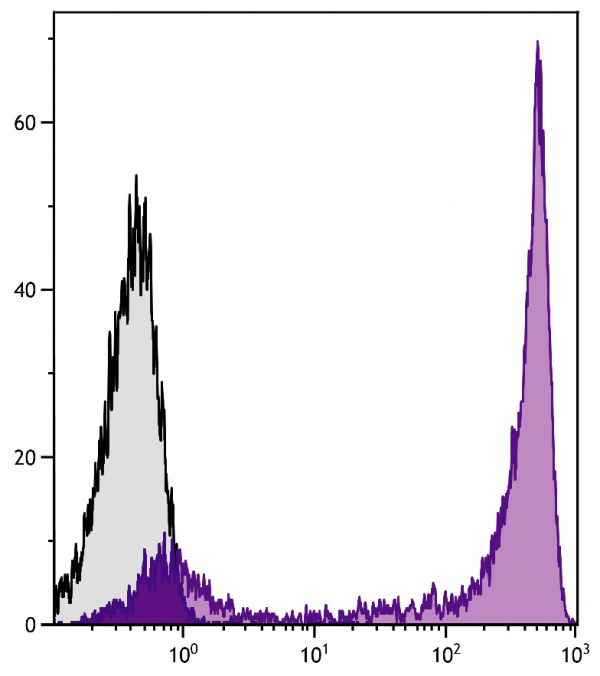 More Information
Clone
RB6-8C5
Isotype
Rat IgG2bκ
Isotype Control
Rat IgG2b-APC/CY7 (KLH/G2b-1-2)
Specificity
Mouse Ly-6G and Ly-6C
Alternative Names
Gr-1
Description
Ly-6G/Ly-6C, formerly known as the myeloid differentiation antigen Gr-1, is a GPI-anchored protein. In the bone marrow, the level of antigen expression is directly correlated with granulocyte differentiation and maturation. It is also transiently expressed on monocytes in the bone marrow. In the periphery, Ly-6G/Ly-6C is expressed predominantly on neutrophils.
Conjugate
APC/CY7 (Allophycocyanin/Cyanine 7)
Buffer Formulation
Phosphate buffered saline containing < 0.1% sodium azide and a stabilizer
Clonality
Monoclonal
Concentration
0.1 mg/mL
Volume
1.0 mL
Recommended Storage
2-8°C; Avoid exposure to light; Do not freeze
Trademark Information
Cy® is a registered trademark of Global Life Sciences Solutions Germany GmbH
Applications
Flow Cytometry – Quality tested 1,11,12
Immunohistochemistry-Frozen Sections – Reported in literature 7-10
Immunoprecipitation – Reported in literature 1
Complement Mediated Cell Depletion – Reported in literature 2
Depletion – Reported in literature 3-6


RRID Number
AB_2795473
Gene ID
546644 (Mouse)
17067 (Mouse)

Gene ID Symbol
Ly6g (Mouse)
Ly6c1 (Mouse)

Gene ID Aliases
Gr1; Gr-1; Ly-6G; AA682074; AA959465; Ly-6C; Ly-6C1; Ly6c
UniProt ID
P35461 (Mouse)
P0CW02 (Mouse)

UniProt Name
LY6G_MOUSE (Mouse)
LY6C1_MOUSE (Mouse)

Documentation
---
Certificate of Analysis Lookup
Enter the Catalog Number and Lot Number for the Certificate of Analysis you wish to view
Need help with this product?
1. Fleming TJ, Fleming ML, Malek TR. Selective expression of Ly-6G on myeloid lineage cells in mouse bone marrow. RB6-8C5 mAb to granulocyte-differentiation antigen (Gr-1) detects members of the Ly-6 family. J Immunol. 1993;151:2399-408. (FC, IP)
2. Brummer E, Sugar AM, Stevens DA. Immunological activation of polymorphonuclear neutrophils for fungal killing: studies with murine cells and blastomyces dermatitidis in vitro. J Leukoc Biol. 1984;36:505-20. (CMDC)
3. Franco JL, Ghosh P, Wiltrout RH, Carter CR, Zea AH, Momozaki N, et al. Partial degradation of T-cell signal transduction molecules by contaminating granulocytes during protein extraction of splenic T cells from tumor-bearing mice. Cancer Res. 1995;55:3840-6. (Depletion)
4. Conlan JW, North RJ. Neutrophils are essential for early anti-Listeria defense in the liver, but not in the spleen or peritoneal cavity, as revealed by a granulocyte-depleting monoclonal antibody. J Exp Med. 1994;179:259-68. (Depletion)
5. Tumpey TM, Chen SH, Oakes JE. Neutrophil-mediated suppression of virus replication after herpes simplex virus type 1 infection of the murine cornea. J Virol. 1996;70:898-904. (Depletion)
6. Gong Y, Koh D. Neutrophils promote inflammatory angiogenesis via release of preformed VEGF in an in vivo corneal model. Cell Tissue Res. 2010;339:437-48. (Depletion)
7. Okuma T, Terasaki Y, Kaikita K, Kobayashi H, Kuziel WA, Kawasuji M, et al. C-C chemokine receptor 2 (CCR2) deficiency improves bleomycin-induced pulmonary fibrosis by attenuation of both macrophage infiltration and production of macrophage-derived matrix metalloproteinases. J Pathol. 2004;204:594-604. (IHC-FS)
8. Hasegawa T, Iwanaga K, Hultquist DE, Liao H, Visovatti SH, Pinsky DJ. Suppression of nitrosative and oxidative stress to reduce cardiac allograft vasculopathy. Am J Physiol Heart Circ Physiol. 2009;296:H1007-16. (IHC-FS)
9. Miyazaki Y, Kaikita K, Endo M, Horio E, Miura M, Tsujita K, et al. C/EBP homologous protein deficiency attenuates myocardial reperfusion injury by inhibiting myocardial apoptosis and inflammation. Arterioscler Thromb Vasc Biol. 2011;31:1124-32. (IHC-FS)
10. Hasegawa T, Okada K, Okita Y, Pinsky DJ. Antioxidant properties of pioglitazone limit nicotinamide adenine dinucleotide phosphate hydrogen oxidase and augment superoxide dismutase activity in cardiac allotransplantation. J Heart Lung Transplant. 2011;30:1186-96. (IHC-FS)
11. Scarff KL, Ung KS, Nandurkar H, Crack PJ, Bird CH, Bird PI. Targeted disruption of SPI3/Serpinb6 does not result in developmental or growth defects, leukocyte dysfunction, or susceptibility to stroke. Mol Cell Biol. 2004;24:4075-82. (FC)
12. De Cesare M, Calcaterra C, Pratesi G, Gatti L, Zunino F, Mènard S, et al. Eradication of ovarian tumor xenografts by locoregional administration of targeted immunotherapy. Clin Cancer Res. 2008;14:5512-8. (FC)