Hamster Anti-Mouse CD30-FITC (mCD30.1)
FITC Anti-Mouse CD30 antibody for use in flow cytometry assays.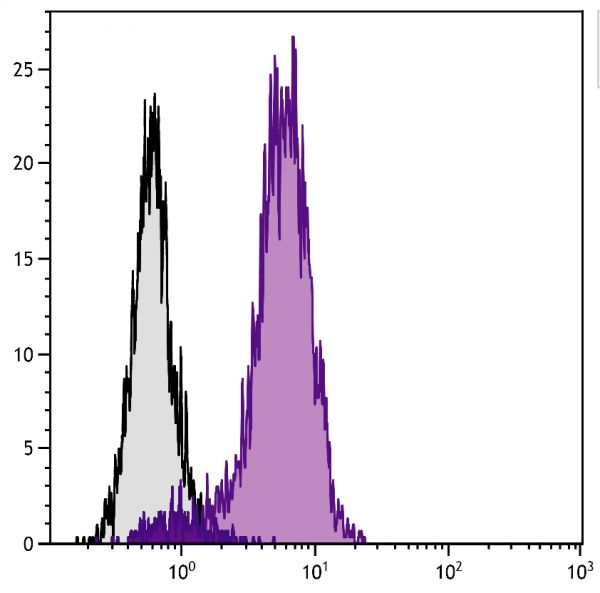 More Information
Clone
mCD30.1
Isotype
Hamster (Armenian) IgG1
Isotype Control
Hamster IgG-FITC
Specificity
Mouse CD30
Alternative Names
Ki-1, Ber-H2
Description
CD30 is a type I transmembrane protein and a member of the tumor necrosis factor receptor superfamily of proteins. Murine CD30 is expressed predominantly in the thymus and it is inducible in mouse splenocytes stimulated with pokeweed mitogen or concanavalin A. In anti-CD3ε-activated spleen cells, CD30 is expressed primarily on the surface of CD8+ T cells with peak expression on days 4 and 5. Stimulation of CD30+ CTL lines with plate-bound anti-CD30 directly signals IL-5 but not IFN-γ production. While these studies demonstrate that CD30 directs cytokine secretion and suggest that CD30 may play a pivotal role in the pattern of cytokine production by T cells, the precise roles of CD30 and its ligand (CD153) in T-cell development have not been clearly defined.
Immunogen
Mouse CD30-mouse IgG1 fusion protein
Conjugate
FITC (Fluorescein)
Buffer Formulation
Phosphate buffered saline containing < 0.1% sodium azide
Clonality
Monoclonal
Concentration
0.5 mg/mL
Volume
1.0 mL
Recommended Storage
2-8°C; Avoid exposure to light
Applications
Flow Cytometry – Quality tested 1
Stimulation – Reported in literature 1,2
Costimulation – Reported in literature 1
Blocking – Reported in literature 3


RRID Number
AB_2795038
Gene ID
21941 (Mouse)

Gene ID Symbol
Tnfrsf8 (Mouse)

Gene ID Aliases
Ki; Cd30; Ki-1; D1S166E
UniProt ID
Q60846 (Mouse)

UniProt Name
TNR8_MOUSE (Mouse)

Documentation
---
Certificate of Analysis Lookup
Enter the Catalog Number and Lot Number for the Certificate of Analysis you wish to view
Need help with this product?
1. Bowen MA, Lee RK, Miragliotta G, Nam SY, Podack ER. Structure and expression of murine CD30 and its role in cytokine production. J Immunol. 1996;156:442-9. (Immunogen, FC, Stim, Costim)
2. Sun X, Yamada H, Shibata K, Muta H, Tani K, Podack ER, et al. CD30 ligand/CD30 plays a critical role in Th17 differentiation in mice. J Immunol. 2010;185:2222-30. (Stim)
3. Polte T, Behrendt A, Hansen G. Direct evidence for a critical role of CD30 in the development of allergic asthma. J Allergy Clin Immunol. 2006;118:942-8. (Block)