Hamster Anti-Mouse Ly-49C/F/H/I-PE (14B11)
PE Anti-Mouse Ly-49C/F/H/I antibody for use in flow cytometry assays.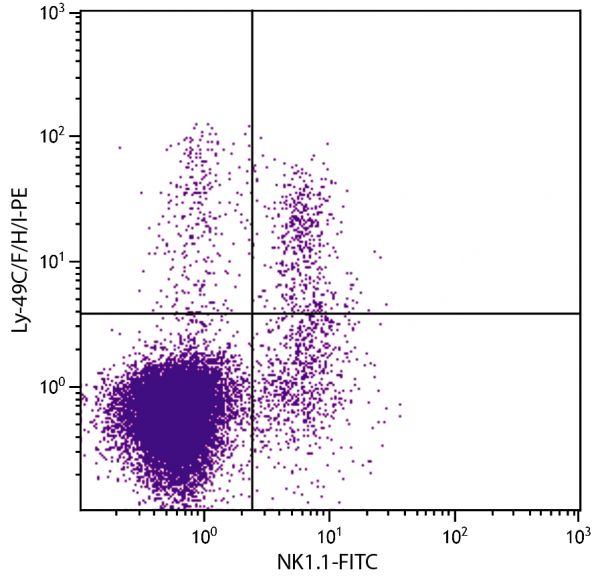 More Information
Clone
14B11
Isotype
Hamster (Syrian) IgG1
Isotype Control
Hamster IgG-PE
Specificity
Mouse Ly-49C/F/H/I
Alternative Names
Ly-49
Description
The monoclonal antibody 14B11 reacts with murine Ly49C, Ly49F, Ly49H, and Ly49I, members of the lectin-like homodimeric Ly49 family of cell surface receptors. Mouse Ly49 receptors exhibit allelic specificity for MHC class I Ia molecules and are thought to serve to prevent natural killer (NK) cells from attacking normal cells while allowing them to attack infected or transformed cells in which class I molecules have been downregulated. These inhibitory receptors are also expressed on a subpopulation of mouse CD8+ T cells. The 14B11 antibody stains ~90% of NK1.1+CD3- splenocytes and ~6% of CD8+ spleen cells from C57BL/6 mice. The antibody also stains 30-80% of NK1.1+CD3- splenocytes in other mouse strains tested (BALB/c, C3H, 129, SJL, AKR/J).
Immunogen
IL-2 activated natural killed (A-LAK) cells from C57BL/6 mice
Conjugate
PE (R-phycoerythrin)
Buffer Formulation
Phosphate buffered saline containing < 0.1% sodium azide and a stabilizer
Clonality
Monoclonal
Concentration
0.1 mg/mL
Volume
1.0 mL
Recommended Storage
2-8°C; Avoid exposure to light; Do not freeze
Applications
Flow Cytometry – Quality tested 1,2
Cytoxicity – Reported in literature 1


RRID Number
AB_2795330
Gene ID
16634 (Mouse)
16637 (Mouse)
16639 (Mouse)
16640 (Mouse)

Gene ID Symbol
Klra3 (Mouse)
Klra6 (Mouse)
Klra8 (Mouse)
Klra9 (Mouse)

Gene ID Aliases
5E6; Ly49c; NK-2.1; Nk-2; Nk2; Nk2.1; Ly49f; ly-49f; Cmv-1; Cmv1; Ly49h; Ly49u<129>; LY49I1; Ly49I
UniProt ID
Q64329 (Mouse)
Q60653 (Mouse)
Q60682 (Mouse)
Q2TJJ8 (Mouse)

UniProt Name
KLRA3_MOUSE (Mouse)
KLRA6_MOUSE (Mouse)
KLRA8_MOUSE (Mouse)
Q2TJJ8_MOUSE (Mouse)

Documentation
---
Certificate of Analysis Lookup
Enter the Catalog Number and Lot Number for the Certificate of Analysis you wish to view
Need help with this product?
1. Corral L, Takizawa H, Hanke T, Jamieson AM, Raulet DH. A new monoclonal antibody reactive with several Ly49 NK cell receptors mediates redirected lysis of target cells. Hybridoma. 1999;18:359-66. (Immunogen, Cyto, FC)
2. Chung JW, Kim MS, Piao Z, Jeong M, Yoon SR, Shin N, et al. Osteopontin promotes the development of natural killer cells from hematopoietic stem cells. Stem Cells. 2008;26:2114-23. (FC)