Mouse Anti-Biotin-HRP (SB58c)
HRP Anti-Biotin antibody for use in ELISA and western blot assays.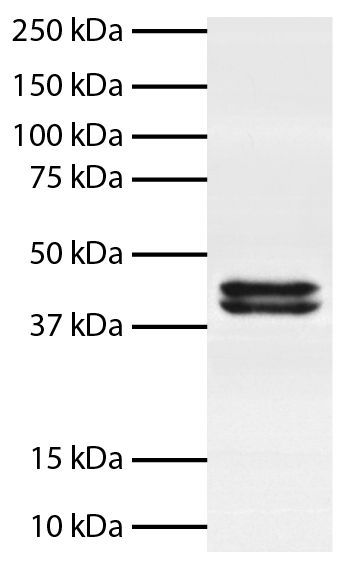 More Information
Clone
SB58c
Isotype
Mouse (BALB/c) IgG1κ
Isotype Control
Mouse IgG1-HRP (15H6)
Specificity
Biotin
Description
Anti-Biotin may be used for indirect immunostaining when working with a biotinylated primary antibody. As an effective alternative to avidin, Anti-Biotin amplifies signal and reduces background that can be caused by avidin and its derivatives.
Immunogen
Biotin-KLH
Conjugate
HRP (Horseradish Peroxidase)
Buffer Formulation
50% Glycerol/50% Phosphate buffered saline, pH 7.4
Clonality
Monoclonal
Concentration
Lot specific
Volume
1.0 mL
Recommended Storage
2-8°C
Applications
ELISA – Quality tested
FLISA – Quality tested
Flow Cytometry – Quality tested
Western Blot – Reported in literature 1
Proximity Ligation Assay – Reported in literature 2


RRID Number
AB_2796299
Documentation
---
Certificate of Analysis Lookup
Enter the Catalog Number and Lot Number for the Certificate of Analysis you wish to view
Need help with this product?
1. Späte A, Schart VF, Häfner J, Niederwieser A, Mayer TU, Wittmann V. Expanding the scope of cyclopropene reporters for the detection of metabolically engineered glycoproteins by Diels-Alder reactions. Beilstein J Org Chem. 2014;10:2235-42. (WB)
2. Workman ER, Haddick PC, Bush K, Dilly GA, Niere F, Zemelman BV, et al. Rapid antidepressants stimulate the decoupling of GABAB receptors from GIRK/Kir3 channels through increased protein stability of 14-3-3η. Mol Psychiatry. 2015;20:298-310. (Proximity ligation assay)
3. Fahie MA, Yang B, Mullis M, Holden MA, Chen M. Selective detection of protein homologues in serum using an OmpG nanopore. Anal Chem. 2015;87:11143-9.