Mouse Anti-Chicken Bu-1a-PE (21-1A4)
PE Anti-Chicken Bu-1a antibody for use in flow cytometry assays.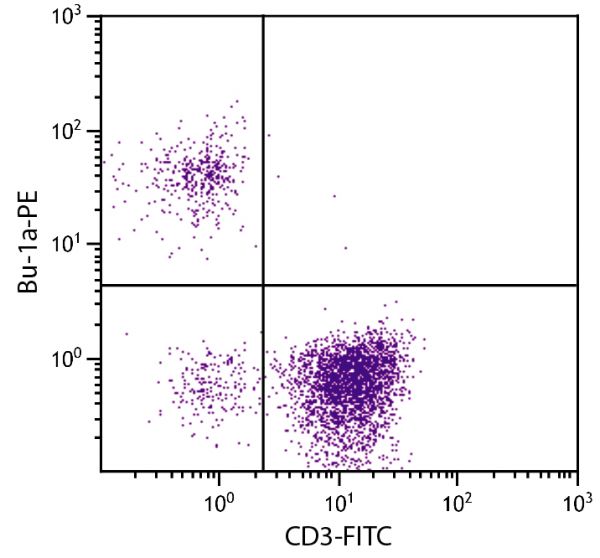 More Information
Clone
21-1A4
Isotype
Mouse (BALB/c) IgG1κ
Isotype Control
Mouse IgG1-PE (15H6)
Specificity
Chicken Bu-1a
Alternative Names
ChB6.1
Description
Chicken Bu-1a, a product of the Bu-1a allele, is expressed on the cell surface as a disulfide-linked homodimer. In 10-week-old H.B15 and H.B2 chickens, Bu-1 is found on 85-90% of bursal cells, 2-8% of thymocytes, 15-27% of spleen cells, and 2-18% of peripheral blood cells. It is also expressed on subsets of macrophages and monocytes but not on granulocytes, erythrocytes, or thrombocytes. In chickens heterozygous for the Bu-1 alleles (Bu-1a/b), Bu-1a does not exhibit allelic exclusion. The monoclonal antibody 21-1A4 does not react with cells from CHA and H.B14ab strains by immunofluorescence.
Immunogen
Bursa cells from one-day-old H.B15 (Bu-1a/b) strain chickens
Conjugate
PE (R-phycoerythrin)
Buffer Formulation
Phosphate buffered saline containing < 0.1% sodium azide and a stabilizer
Clonality
Monoclonal
Concentration
0.1 mg/mL
Volume
1.0 mL
Recommended Storage
2-8°C; Avoid exposure to light; Do not freeze
Applications
Flow Cytometry – Quality tested 1,5-9
Immunohistochemistry-Frozen Sections – Reported in literature 2
Immunocytochemistry – Reported in literature 1
Immunoprecipitation – Reported in literature 3,4
Apoptosis – Reported in literature 4


RRID Number
AB_2796524
Gene ID
396098 (Chicken)

Gene ID Symbol
LOC396098 (Chicken)

Gene ID Aliases
B6.2; Bu-1; Bu-1b
Documentation
---
Certificate of Analysis Lookup
Enter the Catalog Number and Lot Number for the Certificate of Analysis you wish to view
Need help with this product?
1. Veromaa T, Vainio O, Eerola E, Toivanen P. Monoclonal antibodies against chicken Bu-1a and Bu-1b alloantigens. Hybridoma. 1988;7:41-8. (Immunogen, ICC, FC)
2. Sayegh CE, Ratcliffe MJ. Perinatal deletion of B cells expressing surface Ig molecules that lack V(D)J-encoded determinants in the bursa of Fabricius is not due to intrafollicular competition. J Immunol. 2000;164:5041-8. (IHC-FS)
3. Huffnagle GB, Ratcliffe MJ, Humphries EH. Bu-2, a novel avian cell surface antigen on B cells and a population of non-lymphoid cells, is expressed homogeneously in germinal centers. Hybridoma. 1989;8:589-604. (FC, IP)
4. Funk PE, Pifer J, Kharas M, Crisafi G, Johnson A. The avian chB6 alloantigen induces apoptosis in DT40 B cells. Cell Immunol. 2003;226:95-104. (IP, Apop)
5. Ratcliffe MJ. Generation of immunoglobulin heavy chain diversity subsequent to cell surface immunoglobulin expression in the avian bursa of Fabricius. J Exp Med. 1989;170:1165-73. (FC)
6. Pararnithiotis E, Jacobsen KA, Ratcliffe MJ. Loss of surface immunoglobulin expression precedes B cell death by apoptosis in the bursa of Fabricius. J Exp Med. 1995;181:105-13. (FC)
7. Sayegh CE, Demaries SL, Iacampo S, Ratcliffe MJ. Development of B cells expressing surface immunoglobulin molecules that lack V(D)J-encoded determinants in the avian embryo bursa of fabricius. Proc Natl Acad Sci USA. 1999;96:10806-11. (FC)
8. Hunt HD, Goto RM, Foster DN, Bacon LD, Miller MM. At least one YMHCI molecule in the chicken is alloimmunogenic and dynamically expressed on spleen cells during development. Immunogenetics. 2006;58:297-307. (FC)
9. Alitheen NB, McClure SJ, Yeap SK, Kristeen-Teo YW, Tan SW, McCullagh P. Establishment of an in vitro system representing the chicken gut-associated lymphoid tissue. PLoS One. 2012;7(11):e49188. (FC)