Mouse Anti-Chicken CD44-FITC (AV6)
FITC Anti-Chicken CD44 antibody for use in flow cytometry and immunohistochemistry assays.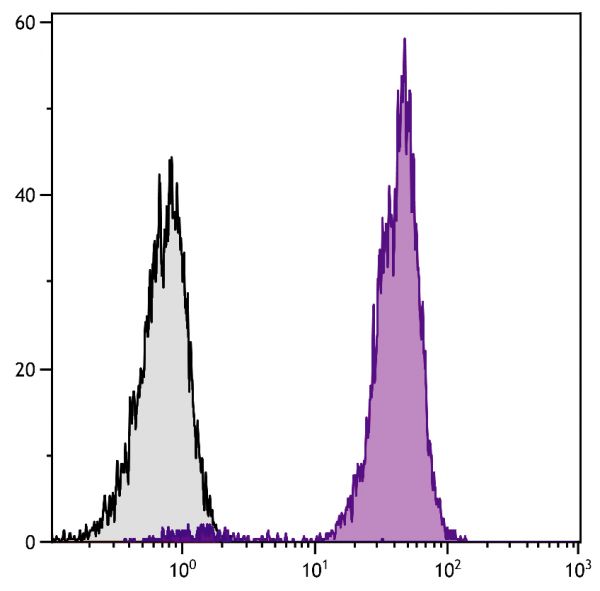 More Information
Clone
AV6
Isotype
Mouse IgG1κ
Isotype Control
Mouse IgG1-FITC (15H6)
Specificity
Chicken/Turkey/Pigeon CD44
Description
Chicken CD44 is a type I transmembrane glycoprotein expressed on many cell types including B cells, most T cells, monocytes, and some epithelial cells. CD44 primarily functions as an adhesion molecule. It has been implicated in various processes such as hematopoiesis, lymphocyte homing, leukocyte activation, tumor metastasis, and development. The monoclonal antibody AV6 also reacts with turkey peripheral blood mononuclear cells.
Conjugate
FITC (Fluorescein)
Buffer Formulation
Phosphate buffered saline containing < 0.1% sodium azide
Clonality
Monoclonal
Concentration
0.5 mg/mL
Volume
1.0 mL
Recommended Storage
2-8°C; Avoid exposure to light
Applications
Flow Cytometry – Quality tested 4-11
Immunohistochemistry-Frozen Sections – Reported in literature 1-3,12


RRID Number
AB_2796549
Gene ID
395666 (Chicken)
100544179 (Turkey)
102098155 (Pigeon)

Gene ID Symbol
CD44 (Chicken)
CD44 (Turkey)
CD44 (Pigeon)

Documentation
---
Certificate of Analysis Lookup
Enter the Catalog Number and Lot Number for the Certificate of Analysis you wish to view
Need help with this product?
1. Corbel C, Lehmann A, Davison F. Expression of CD44 during early development of the chick embryo. Mech Dev. 2000;96:111-4. (IHC-FS)
2. Bastow ER, Lamb KJ, Lewthwaite JC, Osborne AC, Kavanagh E, Wheeler-Jones CP, et al. Selective activation of the MEK-ERK pathway is regulated by mechanical stimuli in forming joints and promotes pericellular matrix formation. J Biol Chem. 2005;280:11749-58. (IHC-FS)
3. Powell FL, Rothwell L, Clarkson MJ, Kaiser P. The turkey, compared to the chicken, fails to mount an effective early immune response to Histomonas meleagridis in the gut. Parasite Immunol. 2009;31:312-27. (IHC-FS, Turkey Reactivity)
4. Baigent SJ, Ross LJ, Davison TF. Differential susceptibility to Marek's disease is associated with differences in number, but not phenotype or location, of pp38+ lymphocytes. J Gen Virol. 1998;79:2795-802. (FC)
5. Madruga J, Koritschoner NP, Diebold SS, Kurz SM, Zenke M. Polarised expression pattern of focal contact proteins in highly motile antigen presenting dendritic cells. J Cell Sci. 1999;112:1685-96. (FC)
6. Singh S. First characterization of avian memory T lymphocyte responses to avian influenza virus proteins [dissertation]. College Station (TX): Texas A&M University; 2009. (FC)
7. Del Cacho E, Gallego M, Lillehoj HS, López-Bernard F, Sánchez-Acedo C. Avian follicular and interdigitating dendritic cells: isolation and morphologic, phenotypic, and functional analyses. Vet Immunol Immunopathol. 2009;129:66-75. (FC)
8. Dalgaard TS, Norup LR, Pedersen AR, Handberg KJ, Jørgensen PH, Juul-Madsen HR. Flow cytometric assessment of chicken T cell-mediated immune responses after Newcastle disease virus vaccination and challenge. Vaccine. 2010;28:4506-14. (FC)
9. Singh S, Briles WE, Lupiani B, Collisson EW. Avian influenza viral nucleocapsid and hemagglutinin proteins induce chicken CD8+ memory T lymphocytes. Virology. 2010;399:231-8. (FC)
10. Meyerhoff RR, Ali RA, Liu K, Huang G, Koci MD. Comprehensive analysis of commercially available mouse antichicken monoclonal antibodies for cross-reactivity with peripheral blood leukocytes from commercial turkeys. Poult Sci. 2012;91:383-92. (FC, Turkey Reactivity)
11. Kameka AM, Haddadi S, Jamaldeen FJ, Moinul P, He XT, Nawazdeen FH, et al. Clodronate treatment significantly depletes macrophages in chickens. Can J Vet Res. 2014;78:274-82. (FC)
12. Treiber CD, Salzer M, Breuss M, Ushakova L, Lauwers M, Edelman N, et al. High resolution anatomical mapping confirms the absence of a magnetic sense system in the rostral upper beak of pigeons. Commun Integr Biol. 2013;6:e24859. (IHC-FS, Pigeon Reactivity)