Mouse Anti-Chicken ChT1-PE (CT1)
PE Anti-Chicken ChT1 antibody for use in flow cytometry assays.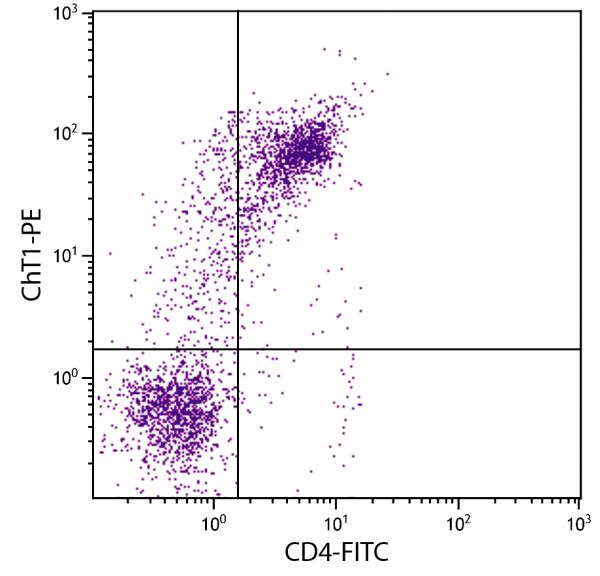 More Information
Clone
CT1
Isotype
Mouse IgG1κ
Isotype Control
Mouse IgG1-PE (15H6)
Specificity
Chicken/Quail ChT1
Alternative Names
Chicken thymocyte receptor, chicken T cell thymocyte Ag 1
Description
ChT1, a member of the Ig superfamily with one V-like and one C2-like domain, is a T cell antigen that is expressed on the surface of embryonic thymocytes (day 10). In young chickens about 90% of the thymocytes as well as a subpopulation of peripheral lymphocytes, which represent recent thymic emigrants are ChT1 positive. Expression in the periphery declines with age and, in correlation with partial thymectomy, indicates that ChT1 can be used as an accurate marker for studying thymic function. The monoclonal antibody CT1 also recognizes the ChT1 antigen in quail cortical thymocytes.
Immunogen
Chicken thymocytes
Conjugate
PE (R-phycoerythrin)
Buffer Formulation
Phosphate buffered saline containing < 0.1% sodium azide and a stabilizer
Clonality
Monoclonal
Concentration
0.1 mg/mL
Volume
1.0 mL
Recommended Storage
2-8°C; Avoid exposure to light; Do not freeze
Applications
Flow Cytometry – Quality tested 1-4
Immunoprecipitation – Reported in literature 1


RRID Number
AB_2796562
Gene ID
414795 (Chicken)
107312786 (Quail)

Gene ID Symbol
VSIG1 (Chicken)
VSIG1 (Quail)

Gene ID Aliases
CHT1
UniProt ID
Q9PWR4 (Chicken)

UniProt Name
VSIG1_CHICK (Chicken)

Documentation
---
Certificate of Analysis Lookup
Enter the Catalog Number and Lot Number for the Certificate of Analysis you wish to view
Need help with this product?
1. Chen CH, Chanh TC, Cooper MD. Chicken thymocyte-specific antigen identified by monoclonal antibodies: ontogeny, tissue distribution and biochemical characterization. Eur J Immunol. 1984;14:385-91. (Immunogen, FC, IP, Quail Reactivity)
2. Hemendinger RA, Bloom SE. Selective mitomycin C and cyclophosphamide induction of apoptosis in differentiating B lymphocytes compared to T lymphocytes in vivo. Immunopharmacology. 1996;35:71-82. (FC)
3. Kong F, Chen CH, Cooper MD. Thymic function can be accurately monitored by the level of recent T cell emigrants in the circulation. Immunity. 1998;8:97-104. (FC)
4. Rudrappa SG, Humphrey BD. Energy metabolism in developing chicken lymphocytes is altered during the embryonic to posthatch transition. J Nutr. 2007;137:427-32. (FC)