Mouse Anti-Cytokeratin 19-FITC (SB39g)
FITC Anti-Cytokeratin 19 antibody for use in flow cytometry, immunohistochemistry / immunocytochemistry, and western blot assays.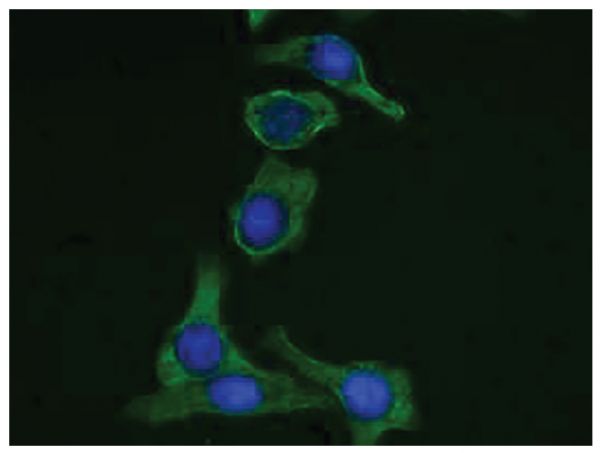 More Information
Clone
SB39g
Isotype
Mouse (BALB/c) IgG2aκ
Isotype Control
Mouse IgG2a-FITC (HOPC-1)
Specificity
Cytokeratin 19
Alternative Names
CK 19, keratin 19
Description
Keratins are a family of intermediate filament proteins that assemble into filaments through forming heterodimers of one type I keratin (keratins 9 to 23) and one type II keratin (keratins 1-8). The two keratin types share only 30% sequence homology. Keratins demonstrate tissue- and differentiation-specific expression profiles. Cytokeratin 19 is the smallest human keratin. It is found in many simple and some non-keratinizing stratified squamous epithelia and is often co-expressed with keratin 7. Cytokeratin 19 has been implicated as a marker for stem cells in some tissues such as hair follicles in the skin. Monoclonal antibodies to cytokeratin proteins can be useful markers for tumor identification and classification. The degree of cytokeratin 19 positivity in breast cancer distinguishes malignant from benign tumors. Cytokeratin 19 is also associated with malignant transformation in esophageal and pancreatic cancers.
Immunogen
Recombinant C-terminal cytokeratin 19
Conjugate
FITC (Fluorescein)
Buffer Formulation
Phosphate buffered saline containing < 0.1% sodium azide
Clonality
Monoclonal
Concentration
0.5 mg/mL
Volume
0.2 mL
Recommended Storage
2-8°C; Avoid exposure to light
Applications
ELISA – Quality tested
FLISA – Quality tested
Western Blot – Quality tested
Immunohistochemistry-Paraffin Sections 2
Immunocytochemistry 2
Flow Cytometry – Reported in literature 1
Immunoprecipitation 3


RRID Number
AB_2794118
Gene ID
3880 (Human)

Gene ID Symbol
KRT19 (Human)

Gene ID Aliases
K19; CK19; K1CS
UniProt ID
P08727 (Human)

UniProt Name
K1C19_HUMAN (Human)

Documentation
---
Certificate of Analysis Lookup
Enter the Catalog Number and Lot Number for the Certificate of Analysis you wish to view
Need help with this product?
1. Berglin L, Björkström NK, Bergquist A. Primary sclerosing cholangitis is associated with autoreactive IgA antibodies against biliary epithelial cells. Scand J Gastroenterol. 2013;48:719-28. (FC)
2. SouthernBiotech published data (IHC-PS, ICC)
3. SouthernBiotech unpublished data (IP)