Mouse Anti-GSK-3α-UNLB (SBGSK3α1)
Purified Anti-GSK-3α antibody for use in western blot assays.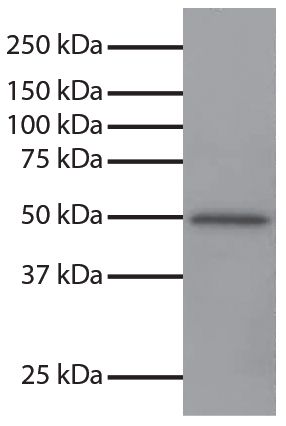 More Information
Clone
SBGSK3α1
Isotype
Mouse (BALB/c) IgG2aκ
Isotype Control
Mouse IgG2a-UNLB (HOPC-1)
Specificity
Human/Mouse GSK-3α
Alternative Names
Glycogen synthase kinase-3 alpha
Description
Glycogen synthase kinase-3 (GSK-3) is a protein serine kinase that phosphorylates glycogen synthase and thereby inactivates it. Insulin stimulates the dephosphorylation of glycogen synthase at the sites phosphorylated by GSK-3 and subsequently inhibits GSK-3 acutely leading to the stimulation of glycogen synthesis. GSK-3 signaling is performed by two isoforms, GSK-3α and GSK-3β. The two isoforms share 97% sequence similarity within their catalytic domains. GSK-3 has also been shown to play a role in protein synthesis, cell adhesion, cell proliferation, cell differentiation, microtubule dynamics, and cell motility.
Immunogen
Recombinant N-terminal GSK-3α
Conjugate
UNLB (Unconjugated)
Buffer Formulation
Borate buffered saline, pH 8.2
Clonality
Monoclonal
Concentration
0.5 mg/mL
Volume
0.2 mL
Recommended Storage
2-8°C
Applications
Western Blot – Quality tested 1


RRID Number
AB_2794515
Gene ID
2931 (Human)
606496 (Mouse)

Gene ID Symbol
GSK3A (Human)
Gsk3a (Mouse)

Gene ID Aliases
2700086H06Rik
UniProt ID
P49840 (Human)
Q2NL51 (Mouse)

UniProt Name
GSK3A_HUMAN (Human)
GSK3A_MOUSE (Mouse)

Documentation
---
Certificate of Analysis Lookup
Enter the Catalog Number and Lot Number for the Certificate of Analysis you wish to view
Need help with this product?
1. Sun M, Song L, Li Y, Zhou T, Jope RS. Identification of an antiapoptotic protein complex at death receptors. Cell Death Differ. 2008;15:1887-1900. (WB)