Mouse Anti-Human IgG1 Hinge-AF488 (4E3)
Alexa Fluor® 488 Anti-Human IgG1 Hinge antibody for use in flow cytometry, immunohistochemistry, and western blot assays.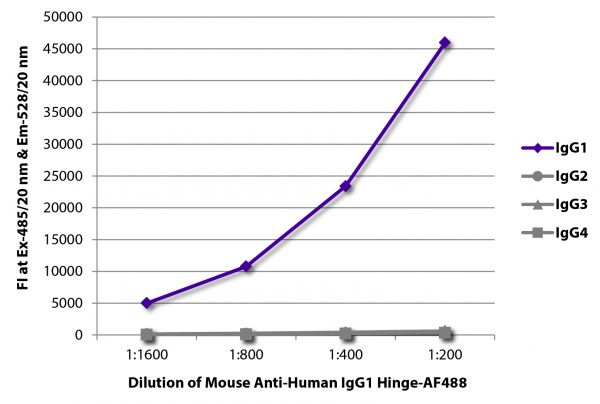 More Information
Clone
4E3
Isotype
Mouse (BALB/c) IgG1κ
Isotype Control
Mouse IgG1-AF488 (15H6)
Specificity
Human IgG1 Hinge
Conjugate
AF488 (Alexa Fluor® 488)
Buffer Formulation
Phosphate buffered saline containing < 0.1% sodium azide
Clonality
Monoclonal
Concentration
0.5 mg/mL
Volume
0.2 mL
Recommended Storage
2-8°C; Avoid exposure to light
Trademark Information
Alexa Fluor® is a registered trademark of Thermo Fisher Scientific, Inc. or its subsidiaries
Applications
ELISA – Quality tested 1-7,9
FLISA – Quality tested
Flow Cytometry – Reported in literature 13-15
Immunohistochemistry-Paraffin Sections – Reported in literature 8-10
Western Blot – Reported in literature 11,12
Multiplex – Reported in literature 16-19
Separation – Reported in literature 20
Purification – Reported in literature 21

Note – For direct immunostaining of IgG1 positive cells in flow cytometry applications, clone HP6001 (SB Cat. No. 9054) is recommended


RRID Number
AB_2796622
Gene ID
3500 (Human)

Gene ID Symbol
IGHG1 (Human)

UniProt ID
P01857 (Human)

UniProt Name
IGHG1_HUMAN (Human)

Documentation
---
Certificate of Analysis Lookup
Enter the Catalog Number and Lot Number for the Certificate of Analysis you wish to view
Need help with this product?
1. Whary MT, Sundina N, Bravo LE, Correa P, Quinones F, Caro F, et al. Intestinal helminthiasis in Colombian children promotes a Th2 response to Helicobacter pylori: possible implications for gastric carcinogenesis. Cancer Epidemiol Biomarkers Prev. 2005;14:1464-9. (ELISA)
2. Njoku DB, Mellerson JL, Talor MV, Kerr DR, Faraday NR, Outschoorn I, et al. Role of CYP2E1 immunoglobulin G4 subclass antibodies and complement in pathogenesis of idiosyncratic drug-induced hepatitis. Clin Vaccine Immunol. 2006;13:258-65. (ELISA)
3. Liu L, Chen M, Yu F, Zhao M, Wang H. IgG subclass distribution, affinity of anti-myeloperoxidase antibodies in sera from patients with Wegener's granulomatosis and microscopic polyangiitis. Nephrology. 2008;13:629-35. (ELISA)
4. Xu P, Cui Z, Chen M, Hellmark T, Zhao M. Comparison of characteristics of natural autoantibodies against myeloperoxidase and anti-myeloperoxidase autoantibodies from patients with microscopic polyangiitis. Rheumatology. 2011;50:1236-43. (ELISA)
5. Geisler WM, Morrison SG, Doemland ML, Iqbal SM, Su J, Mancevski A, et al. Immunoglobulin-specific responses to Chlamydia elementary bodies in individuals with and at risk for genital chlamydial infection. J Infect Dis. 2012;206:1836-43. (ELISA)
6. Shao C, Huo N, Zhao L, Gao Y, Fan X, Zheng Y, et al. The presence of thyroid peroxidase antibody of IgG2 subclass is a risk factor for thyroid dysfunction in chronic hepatitis C patients. Eur J Endocrinol. 2013;168:717-22. (ELISA)
7. Haag S, Schneider N, Mason DE, Tuncel J, Andersson IE, Peters EC, et al. Identification of new citrulline-specific autoantibodies, which bind to human arthritic cartilage, by mass spectrometric analysis of citrullinated type II collagen. Arthritis Rheumatol. 2014;66:1440-9. (ELISA)
8. Qu Z, Liu G, Li J, Wu L, Tan Y, Zheng X, et al. Absence of glomerular IgG4 deposition in patients with membranous nephropathy may indicate malignancy. Nephrol Dial Transplant. 2012;27:1931-7. (IHC-PS)
9. Jia X, Hu S, Chen J, Qu Z, Liu G, Cui Z, et al. The clinical and immunological features of patients with combined anti-glomerular basement membrane disease and membranous nephropathy. Kidney Int. 2014;85:945-52. (ELISA, IHC-PS)
10. Qu Z, Cui Z, Liu G, Zhao M. The distribution of IgG subclass deposition on renal tissues from patients with anti-glomerular basement membrane disease. BMC Immunol. 2013;14:19. (IHC-PS)
11. Bøe AS, Bredholt G, Knappskog PM, Hjelmervik TO, Mellgren G, Winqvist O, et al. Autoantibodies against 21-hydroxylase and side-chain cleavage enzyme in autoimmune Addison's disease are mainly immunoglobulin G1. Eur J Endocrinol. 2004;150:49-56. (WB)
12. Skorstad G, Hestvik AL, Torjesen P, Alvik K, Vartdal F, Vandvik B, et al. GAD65 IgG autoantibodies in stiff person syndrome: clonality, avidity and persistence. Eur J Neurol. 2008;15:973-80. (WB)
13. Wang M, Qiu Y, Wang X, Zhao F, Jin M, Xu M, et al. Role of HLA-G and NCR in protection of umbilical cord blood haematopoietic stem cells from NK cell mediated cytotoxicity. J Cell Mol Med. 2011;15:2040-5. (FC)
14. Gao B, Moore C, Porcheray F, Rong C, Abidoglu C, DeVito J, et al. Pretransplant IgG reactivity to apoptotic cells correlates with late kidney allograft loss. Am J Transplant. 2014;14:1581-91. (FC)
15. Toyoda C, Suzuki Y, Tsuneyama H, Onodera T, Masuno A, Yabe R, et al. Production of human monoclonal anti-Jk3, recognising an epitope including the Jka/Jkb polymorphic site of the Kidd glycoprotein. Transfus Med. 2014;24:286-91. (FC)
16. Keynan Y, Bodnarchuk T, Wayne S, Li Y, Fowke KR. Evaluation of influenza-specific humoral response by microbead array analysis. Can J Infect Dis Med Microbiol. 2011;22:25-9. (Multiplex)
17. Kaneku H, O'Leary JG, Taniguchi M, Susskind BM, Terasaki PI, Klintmalm GB. Donor-specific human leukocyte antigen antibodies of the immunoglobulin G3 subclass are associated with chronic rejection and graft loss after liver transplantation. Liver Transpl. 2012;18:984-92. (Multiplex)
18. Lowe D, Higgins R, Zehnder D, Briggs DC. Significant IgG subclass heterogeneity in HLA-specific antibodies: Implications for pathogenicity, prognosis, and the rejection response. Hum Immunol. 2013;74:666-72. (Multiplex)
19. Freitas MC, Rebellato LM, Ozawa M, Nguyen A, Sasaki N, Everly M, et al. The role of immunoglobulin-G subclasses and C1q in de novo HLA-DQ donor-specific antibody kidney transplantation outcomes. Transplantation. 2013;95:1113-9. (Multiplex)
20. He B, Xu W, Santini PA, Polydorides AD, Chiu A, Estrella J, et al. Intestinal bacteria trigger T cell-independent immunoglobulin A2 class switching by inducing epithelial-cell secretion of the cytokine APRIL. Immunity. 2007;26:812-26. (Sep)
21. Chmielewski M, Hombach AA, Abken H. CD28 cosignalling does not affect the activation threshold in a chimeric antigen receptor-redirected T-cell attack. Gene Ther. 2011;18:62-72. (Purification)