Mouse Anti-Human IL-33-UNLB (SB127j)
Purified Anti-Human IL-33 antibody for use in ELISA assays.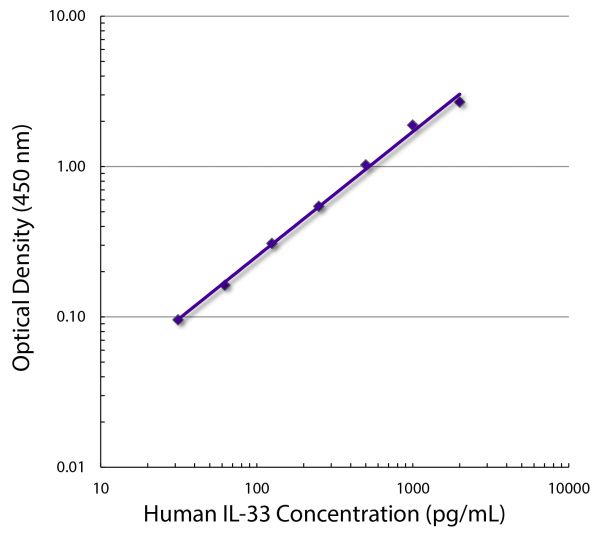 More Information
Clone
SB127j
Isotype
Mouse (BALB/c) IgG2aκ
Isotype Control
Mouse IgG2a-UNLB (HOPC-1)
Specificity
Human IL-33
Alternative Names
Interleukin-33, IL-1F11, NF-HEV
Description
Interleukin-33 (IL-33), also known as NF-HEV, is a 30 kDa protein and a member of the IL-1 family. This pro-inflammatory cytokine is produced by a variety of cells but is primarily expressed by endothelial and smooth muscle cells in the vasculature and airways. IL-33 binds to the ST2 receptor on target cells which results in the activation of multiple signaling pathways including NF-κB and MAP kinases. Studies have shown that IL-33 promotes T helper type 2 (Th2) cell-mediated immune responses and upregulates production of Th2 associated cytokines including IL-4, IL-5, and IL-13. In vivo administration of this cytokine in mice results in eosinophilia and splenomegaly as well as induced severe pathological changes in the lungs, gastrointestinal tract, and other mucosal organs.
Immunogen
E. coli-expressed human IL-33
Conjugate
UNLB (Unconjugated)
Buffer Formulation
Borate buffered saline, pH 8.2
Clonality
Monoclonal
Concentration
0.5 mg/mL
Volume
1.0 mL
Recommended Storage
2-8°C
Applications
ELISA – Quality tested

Note – May be paired with the biotinylated clone SB127c (SB Cat. No. 15700-08) in a sandwich ELISA


RRID Number
AB_2794945
Gene ID
90865 (Human)

Gene ID Symbol
IL33 (Human)

Gene ID Aliases
C9orf26; DVS27; IL1F11; NF-HEV; NFEHEV
UniProt ID
O95760 (Human)

UniProt Name
IL33_HUMAN (Human)

Documentation
---
Certificate of Analysis Lookup
Enter the Catalog Number and Lot Number for the Certificate of Analysis you wish to view
Need help with this product?