Mouse Anti-Mouse H-2Dd-PE (34-5-8S)
PE Anti-Mouse H-2Dd antibody for use in flow cytometry assays.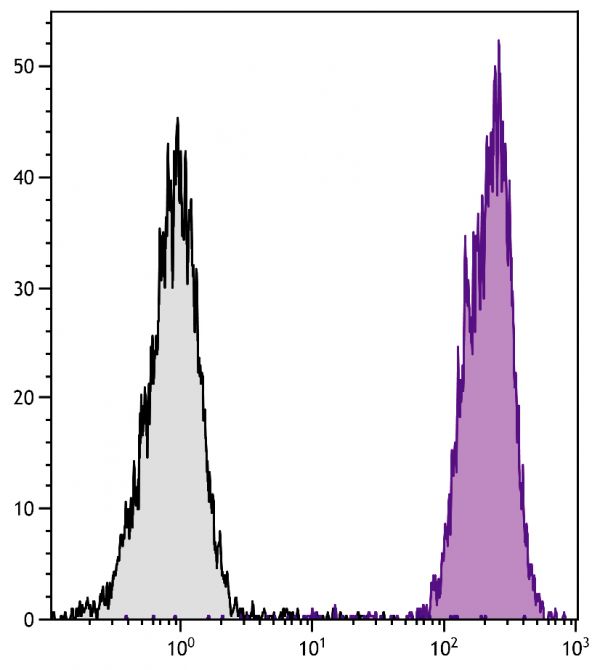 More Information
Clone
34-5-8S
Isotype
Mouse (C3H/HeJ) IgG2aκ
Isotype Control
Mouse IgG2a-PE (HOPC-1)
Specificity
Mouse H-2Dd
Alternative Names
MHC Class I
Description
The monoclonal antibody 34-5-8S reacts with a conformational epitope on H-2Dd MHC Class I found on the N-terminal domains of α1 and α2 chains when complexed with β2-microglobulin. The antibody does not react with H-2Dd α chains synthesized in vitro. Weak cross-reactivity with cells from mice of the H-2b, H-2q, and H-2s haplotypes has been observed by flow cytometric analysis. Reactivity with cells from mice of the H-2f, H-2k, H-2p, and H-2r haplotypes has not been observed. 34-5-8S has been reported to block the recognition of H-2Dd by Ly-49A+, Ly-49C+, and Ly-49G2+ natural killer cells.
Immunogen
BDF1 mouse splenocytes
Conjugate
PE (R-phycoerythrin)
Buffer Formulation
Phosphate buffered saline containing < 0.1% sodium azide and a stabilizer
Clonality
Monoclonal
Concentration
0.1 mg/mL
Volume
1.0 mL
Recommended Storage
2-8°C; Avoid exposure to light; Do not freeze
Applications
Flow Cytometry – Quality tested 8
Immunocytochemistry – Reported in literature 8
Immunoprecipitation – Reported in literature 4,5,8
Complement Mediated Cell Depletion – Reported in literature 1
Adhesion – Reported in literature 2,3
Blocking – Reported in literature 2,3
Purification – Reported in literature 2,6
ELISA – Reported in literature 6,7


RRID Number
AB_2795503
Gene ID
14964 (Mouse)

Gene ID Symbol
H2-D1 (Mouse)

Gene ID Aliases
H-2D; H2-D; H2-K1
UniProt ID
P01900 (Mouse)

UniProt Name
HA12_MOUSE (Mouse)

Documentation
---
Certificate of Analysis Lookup
Enter the Catalog Number and Lot Number for the Certificate of Analysis you wish to view
Need help with this product?
1. Ozato K, Mayer NM, Sachs DH. Monoclonal antibodies to mouse major histocompatibility complex antigens. IV. A series of hybridoma clones producing anti-H-2d antibodies and an examination of expression of H-2d antigens on the surface of these cells. Transplantation. 1982;34:113-9. (Immunogen, CMDC)
2. Kane KP. Ly-49 mediates EL4 lymphoma adhesion to isolated class I major histocompatibility complex molecules. J Exp Med. 1994;179:1011-5. (Block, Purification, Adhesion)
3. Brennan J, Mahon G, Mager DL, Jefferies WA, Takei F. Recognition of class I major histocompatibility complex molecules by Ly-49: specificities and domain interactions. J Exp Med. 1996;183:1553-9. (Block, Adhesion)
4. Beck JC, Hansen TH, Cullen SE, Lee DR. Slower processing, weaker β2-M association, and lower surface expression of H-2Ld are influenced by its amino terminus. J Immunol. 1986;137:916-23. (IP)
5. Lie W, Myers NB, Connolly JM, Gorka J, Lee DR, Hansen TH. The specific binding of peptide ligand to Ld class I major histocompatibility complex molecules determines their antigenic structure. J Exp Med. 1991;173:449-59. (IP)
6. White J, Crawford F, Fremont D, Marrack P, Kappler J. Soluble class I MHC with β2-microglobulin covalently linked peptides: specific binding to a T cell hybridoma. J Immunol. 1999;162:2671-6. (Purification, ELISA)
7. Mage MG, Lee Li, Ribaudo RK, Corr M, Kozlowski S, McHugh L, et al. A recombinant, soluble, single-chain class I major histocompatibility complex molecule with biological activity. Proc Natl Acad Sci USA. 1992;89:10658-62. (ELISA)
8. Paquet M, Cohen-Doyle M, Shore GC, Williams DB. Bap29/31 influences the intracellular traffic of MHC class I molecules. J Immunol. 2004;172:7548-55. (IP, ICC, FC)