Mouse Anti-Mouse H-2Kk-FITC (36-7-5)
FITC Anti-Mouse H-2Kk antibody for use in flow cytometry and immunohistochemistry assays.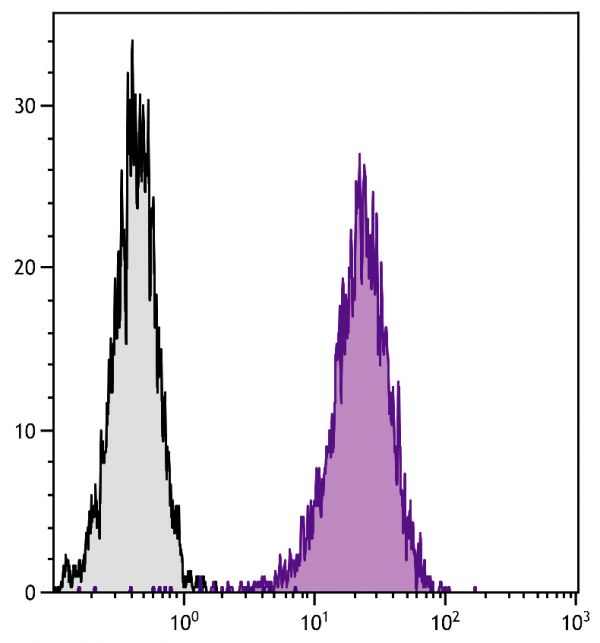 More Information
Clone
36-7-5
Isotype
Mouse (A.TL) IgG2aκ
Isotype Control
Mouse IgG2a-FITC (HOPC-1)
Specificity
Mouse H-2Kk
Alternative Names
MHC Class I
Description
The monoclonal antibody 36-7-5 reacts with the H-2Kk MHC class I alloantigen. Cross-reactivity with splenocytes of SJL/Hsd mice has been observed by flow cytometry. The antibody does not react with other (e.g., b, d, q) haplotypes.
Immunogen
A.AL mouse splenocytes
Conjugate
FITC (Fluorescein)
Buffer Formulation
Phosphate buffered saline containing < 0.1% sodium azide
Clonality
Monoclonal
Concentration
0.5 mg/mL
Volume
1.0 mL
Recommended Storage
2-8°C; Avoid exposure to light
Applications
Flow Cytometry – Quality tested 3
Immunohistochemistry-Frozen Sections – Reported in literature 2


RRID Number
AB_2795527
Gene ID
14972 (Mouse)

Gene ID Symbol
H2-K1 (Mouse)

Gene ID Aliases
H-2K; H-2K(d); H2-D1; H2-K; K-f
UniProt ID
P04223 (Mouse)

UniProt Name
HA1K_MOUSE (Mouse)

Documentation
---
Certificate of Analysis Lookup
Enter the Catalog Number and Lot Number for the Certificate of Analysis you wish to view
Need help with this product?
1. Sachs DH, Mayer N, Ozato K.Hybridoma antibodies directed toward murine H-2 and Ia antigens. In: Hämmerling GJ, Hämmerling U, Kearney JF, editors. Monoclonal antibodies and T-cell hybridomas. Amsterdam: Elsevier; 1981. p.95-101 (Immunogen)
2. Ardehali A, Laks H, Drinkwater DC, Ziv E, Drake TA, . Vascular cell adhesion molecule-1 is induced on vascular endothelia and medial smooth muscle cells in experimental cardiac allograft vasculopathy. Circulation. 1995;92:450-6. (IHC-FS)
3. Sykes M, Harty MW, Karlhofer FM, Pearson DA, Szot G, Yokoyama W. Hematopoietic cells and radioresistant host elements influence natural killer cell differentiation. J Exp Med. 1993;178:223-9. (FC)