Mouse Anti-Mouse I-Ek-FITC (17-3-3)
FITC Anti-Mouse I-Ek antibody for use in flow cytometry and immunohistochemistry assays.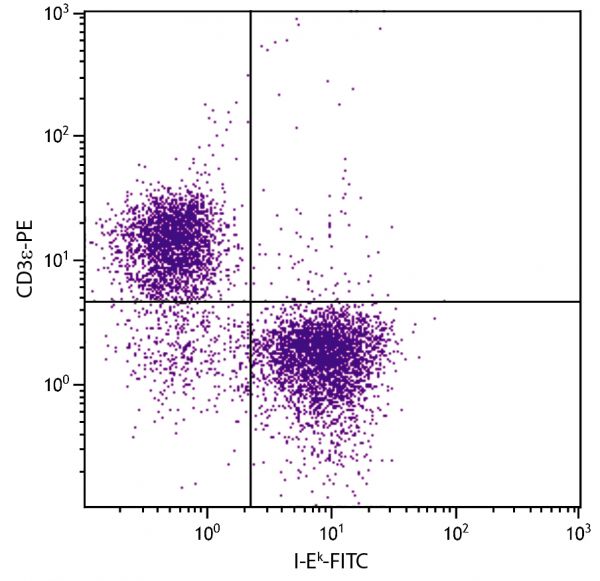 More Information
Clone
17-3-3
Isotype
Mouse (C3H.SW) IgG2aκ
Isotype Control
Mouse IgG2a-FITC (HOPC-1)
Specificity
Mouse I-Ek
Alternative Names
MHC Class II
Description
The monoclonal antibody 17-3-3 reacts with the I-Ek class II alloantigen on cells from mice of the H-2r haplotype. Reactivity with H-2d and H-2p haplotypes has not been observed. Cells from mice of the H-2b, H-2f, H-2g, H-2q, and H-2s haplotypes do not express I-E antigen.
Immunogen
C3H mouse skin graft and splenocytes
Conjugate
FITC (Fluorescein)
Buffer Formulation
Phosphate buffered saline containing < 0.1% sodium azide
Clonality
Monoclonal
Concentration
0.5 mg/mL
Volume
1.0 mL
Recommended Storage
2-8°C; Avoid exposure to light
Applications
Flow Cytometry – Quality tested 3
Immunohistochemistry-Frozen Sections – Reported in literature 2
Complement Mediated Cell Depletion – Reported in literature 1


RRID Number
AB_2795459
Gene ID
14969 (Mouse)

Gene ID Symbol
H2-Eb1 (Mouse)

Gene ID Aliases
Eb; Ia4; H2Eb; Ia-4; H-2Eb
UniProt ID
P18469 (Mouse)

UniProt Name
HB2J_MOUSE (Mouse)

Documentation
---
Certificate of Analysis Lookup
Enter the Catalog Number and Lot Number for the Certificate of Analysis you wish to view
Need help with this product?
1. Ozato K, Mayer N, Sachs DH. Hybridoma cell lines secreting monoclonal antibodies to mouse H-2 and Ia antigens. J Immunol. 1980;124:533-40. (Immunogen, CMDC)
2. Colson YL, Lange J, Fowler K, Ildstad ST. Mechanism for cotolerance in nonlethally conditioned mixed chimeras: negative selection of the Vbeta T-cell receptor repertoire by both host and donor bone marrow-derived cells. Blood. 1996;88:4601-10. (IHC-FS)
3. Anderson GD, David CS. In vivo expression and function of hybrid Ia dimers (EαAβ) in recombinant and transgenic mice. J Exp Med. 1989;170:1003-8. (FC)