Mouse Anti-Chicken CD4-FITC (CT-4)
FITC Anti-Chicken CD4 antibody for use in flow cytometry and immunohistochemistry assays.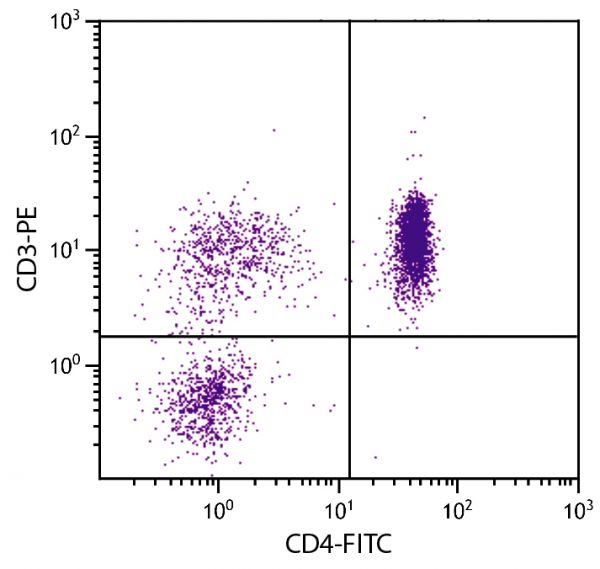 More Information
Clone
CT-4
Isotype
Mouse (BALB/c) IgG1κ
Isotype Control
Mouse IgG1-FITC (15H6)
Specificity
Chicken/Turkey/Quail/Pigeon CD4
Description
CD4 is a type I transmembrane glycoprotein expressed on approximately 70% of thymocytes, 10% of spleen cells, and 45% of peripheral blood lymphocytes but less than 1% of bursal cells. The monoclonal antibody CT-4 inhibits both PHA- and Con A-induced proliferative responses of splenocytes and PWM-induced IL-2 production. This antibody also reacts with turkey and quail as demonstrated by flow cytometry.
Immunogen
Chicken thymocytes and Ig-negative blood leukocytes
Conjugate
FITC (Fluorescein)
Buffer Formulation
Phosphate buffered saline containing < 0.1% sodium azide
Clonality
Monoclonal
Concentration
0.5 mg/mL
Volume
1.0 mL
Recommended Storage
2-8°C; Avoid exposure to light
Applications
Flow Cytometry – Quality tested 1,6-19
Immunohistochemistry-Frozen Sections – Reported in literature 2-4
Immunohistochemistry-Paraffin Sections – Reported in literature 5
Immunoprecipitation – Reported in literature 1
Blocking – Reported in literature 1


RRID Number
AB_2796428
Gene ID
395362 (Chicken)
100126554 (Turkey)
102084034 (Pigeon)

Gene ID Symbol
CD4 (Chicken)
CD4 (Turkey)
CD4 (Pigeon)

Documentation
---
Certificate of Analysis Lookup
Enter the Catalog Number and Lot Number for the Certificate of Analysis you wish to view
Need help with this product?
1. Chan MM, Chen CH, Ager LL, Cooper MD. Identification of the avian homologues of mammalian CD4 and CD8 antigens. J Immunol. 1988;140:2133-8. (Immunogen, FC, IP, Block)
2. Tanimura N, Sharma JM. Appearance of T cells in the bursa of Fabricius and cecal tonsils during the acute phase of infectious bursal disease virus infection in chickens. Avian Dis. 1997;41:638-45. (IHC-FS)
3. Pantin-Jackwood MJ, Brown TP, Huff GR. Proventriculitis in broiler chickens: immunohistochemical characterization of the lymphocytes infiltrating the proventricular glands. Vet Pathol. 2004;41:641-8. (IHC-FS)
4. Abdul-Careem MK, Hunter DB, Thanthrige-Don N, Haghighi HR, Lambourne MD, Sharif S. Cellular and cytokine responses associated with dinitrofluorobenzene-induced contact hypersensitivity in the chicken. Vet Immunol Immunopathol. 2008;122:275-84. (IHC-FS)
5. Rebel JM, Peeters B, Fijten H, Post J, Cornelissen J, Vervelde L. Highly pathogenic or low pathogenic avian influenza virus subtype H7N1 infection in chicken lungs: small differences in general acute responses. Vet Res. 2011;42:10. (IHC-PS)
6. Li Z, Nestor KE, Saif YM, Fan Z, Luhtala M, Vainio O. Cross-reactive anti-chicken CD4 and CD8 monoclonal antibodies suggest polymorphism of the turkey CD8α molecule. Poult Sci. 1999;78:1526-31. (FC, Turkey Reactivity)
7. Sheela RR, Babu U, Mu J, Elankumaran S, Bautista DA, Raybourne RB, et al. Immune responses against Salmonella enterica serovar enteritidis infection in virally immunosuppressed chickens. Clin Diagn Lab Immunol. 2003;10:670-9. (FC)
8. Koci MD, Kelley LA, Larsen D, Schultz-Cherry S. Astrovirus-induced synthesis of nitric oxide contributes to virus control during infection. J Virol. 2004;78:1564-74. (FC, Turkey Reactivity)
9. Janardhana V, Broadway MM, Bruce MP, Lowenthal JW, Geier MS, Hughes RJ, et al. Prebiotics modulate immune responses in the gut-associated lymphoid tissue of chickens. J Nutr. 2009;139:1404-9. (FC)
10. Tykałowski B, Stenzel T, Mikulski D, Jankowski J, Zduńczyk Z, Juśkiewicz J, et al. Level of electrolytes and percentage of T-lymphocyte subpopulations in blood of broiler chickens fed mixtures with different contents of sodium chloride. Bull Vet Inst Pulawy. 2011;55:333-7. (FC)
11. Norup LR, Dalgaard TS, Pedersen AR, Juul-Madsen HR. Assessment of Newcastle disease-specific T cell proliferation in different inbred MHC chicken lines. Scand J Immunol. 2011;74:23-30. (FC)
12. Young JA, Jefferies W. Towards the conservation of endangered avian species a recombinant West Nile Virus vaccine results in increased humoral and cellular immune responses in Japanese Quail (Coturnix japonica). PLoS One. 2013;8(6):e67137. (FC, Quail Reactivity)
13. Revajová V, Slaminková Z, Grešáková L, Levkut M. Duodenal morphology and immune responses of broiler chickens fed low doses of deoxynivalenol. Acta Vet. Brno. 2013;82:337-42. (FC)
14. Xue M, Shi X, Zhao Y, Cui H, Hu S, Cui X, et al. Effects of reticuloendotheliosis virus infection on cytokine production in SPF chickens. PLoS One. 2013;8(12):e83918. (FC)
15. Peng X, Zhang K, Bai S, Ding X, Zeng Q, Yang J, et al. Histological lesions, cell cycle arrest, apoptosis and T cell subsets changes of spleen in chicken fed aflatoxin-contaminated corn. Int J Environ Res Public Health. 2014;11:8567-80. (FC)
16. Laniewski P, Kuczkowski M, Chrząstek K, Woźniak A, Wyszyńska A, Wieliczko A, et al. Evaluation of the immunogenicity of Campylobacter jejuni CjaA protein delivered by Salmonella enterica sv. Typhimurium strain with regulated delayed attenuation in chickens. World J Microbiol Biotechnol. 2014;30:281-92. (FC)
17. Kjærup RM, Dalgaard TS, Norup LR, Hamzic E, Sørensen P, Juul-Madsen HR. Characterization of cellular and humoral immune responses after IBV infection in chicken lines differing in MBL serum concentration. Viral Immunol. 2014;27:529-42. (FC)
18. Pleidrup J, Dalgaard TS, Norup LR, Permin A, Schou TW, Skovgaard K, et al. Ascaridia galli infection influences the development of both humoral and cell-mediated immunity after Newcastle Disease vaccination in chickens. Vaccine. 2014;32:383-92. (FC)
19. Dudek K, Bednarek D. Cellular immune response of pigeons in the conditions of endotoxin fever and pyrogenic tolerance. Pol J Vet Sci. 2011;14:127-33. (FC, Pigeon Reactivity)