Mouse Anti-Rabbit RLA-DQ-PE (2C4)
PE Anti-Rabbit RLA-DQ antibody for use in flow cytometry assays.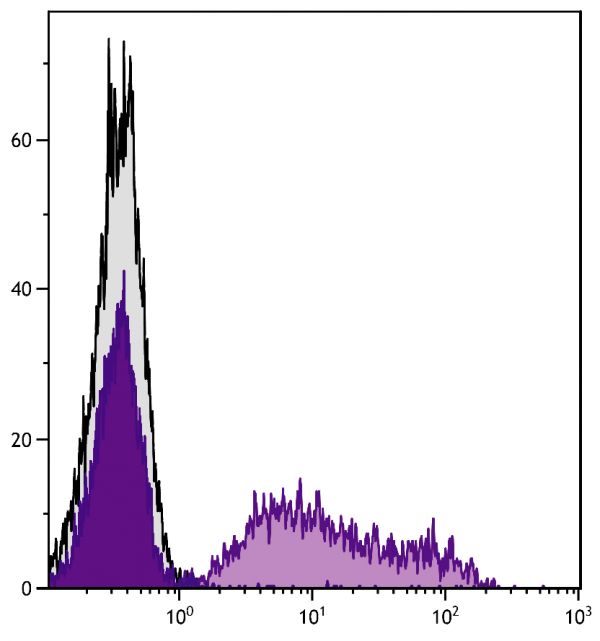 More Information
Clone
2C4
Isotype
Mouse (BALB/c) IgG2aκ
Isotype Control
Mouse IgG2a-PE (HOPC-1)
Specificity
Rabbit RLA-DQ
Alternative Names
MHC Class II, leukocyte antigen
Description
The monoclonal antibody 2C4 reacts with RLA-DQ-transfected cells, but not with RLA-DR-transfected cells. In normal adult rabbits, the antibody reacts with 30-60% of peripheral blood leukocytes. It has also been reported that the antibody stains lymphocytes and macrophages in the spleen, lymphocytes in the thymic medulla and some cells in the cortex, Kupffer cells in the liver, and synovial lining cells (e.g., infiltrating macrophages) in inflamed synovium. DQα transcripts have been detected in bone marrow and spleen and to a lesser extent in appendix, lymph nodes, and other organs.
Immunogen
Rabbit spleen cells
Conjugate
PE (R-phycoerythrin)
Buffer Formulation
Phosphate buffered saline containing < 0.1% sodium azide and a stabilizer
Clonality
Monoclonal
Concentration
0.1 mg/mL
Volume
1.0 mL
Recommended Storage
2-8°C; Avoid exposure to light; Do not freeze
Applications
Flow Cytometry – Quality tested 1-11
Immunohistochemistry-Frozen Sections – Reported in literature 5,12-21
Immunohistochemistry-Paraffin Sections – Reported in literature 22
Immunohistochemistry-Whole Mount – Reported in literature 21
Immunocytochemistry – Reported in literature 7,14,23
ELISA – Reported in literature 7
Western Blot – Reported in literature 24
Immunoprecipitation – Reported in literature 1,25,26
Blocking – Reported in literature 1,26


RRID Number
AB_2795998
Documentation
---
Certificate of Analysis Lookup
Enter the Catalog Number and Lot Number for the Certificate of Analysis you wish to view
Need help with this product?
1. Lobel SA, Knight KL. The role of rabbit Ia molecules in immune functions as determined with the use of an anti-Ia monoclonal antibody. Immunology. 1984;51:35-43. (Immunogen, FC, IP, Block)
2. Spieker-Polet H, Sittisombut N, Yam P, Knight KL. Rabbit major histocompatibility complex. IV. Expression of major histocompatibility complex class II genes. J Immunogenet. 1990;17:123-32. (FC)
3. Sawasdikosol S, Hague BF, Zhao TM, Bowers FS, Simpson RM, Robinson M, et al. Selection of rabbit CD4-CD8- T cell receptor-γ/δ cells by in vitro transformation with human T lymphotropic virus-I. J Exp Med. 1993;178:1337-45. (FC)
4. Pappo J, Mahlman RT. Follicle epithelial M cells are a source of interleukin-1 in peyer's patches. Immunology. 1993;78:505-7. (FC)
5. Xu Q, Kleindienst R, Waitz W, Dietrich H, Wick G. Increased expression of heat shock protein 65 coincides with a population of infiltrating T lymphocytes in atherosclerotic lesions of rabbits specifically responding to heat shock protein 65. J Clin Invest. 1993;91:2693-702. (FC, IHC-FS)
6. Fukushima A, Ueno H. The relationship between HTLV-I-infected cell lines and uveitis. Graefes Arch Clin Exp Ophthalmol. 1995;233:231-5. (FC)
7. Kim CJ, Tomoyoshi T, Seto A. Varied expression of major histocompatibility complex and oncogenes in Shope carcinoma cell lines derived from a single tumor. J Cancer Res Clin Oncol. 1995;121:16-22. (FC, ICC, ELISA)
8. Metzler B, Mayr M, Dietrich H, Singh M, Wiebe E, Xu Q, et al. Inhibition of arteriosclerosis by T-cell depletion in normocholesterolemic rabbits immunized with heat shock protein 65. Arterioscler Thromb Vasc Biol. 1999;19:1905-11. (FC)
9. Hayes SM, Knight KL. Group 1 CD1 genes in rabbit. J Immunol. 2001;166:403-10. (FC)
10. Jasper PJ, Zhai S, Kalis SL, Kingzette M, Knight KL. B lymphocyte development in rabbit: progenitor B cells and waning of B lymphopoiesis. J Immunol. 2003;171:6372-80. (FC)
11. Leader BT, VanVoorhis WC, Lukehart SA. Expression of rabbit interleukin-4 and characterization of its biologic activity on T and B-cells. Vet Immunol Immunopathol. 2006;113:421-7. (FC)
12. Hansson GK, Seifert PS, Olsson G, Bondjers G. Immunohistochemical detection of macrophages and T lymphocytes in atherosclerotic lesions of cholesterol-fed rabbits. Arterioscler Thromb. 1991;11:745-50. (IHC-FS)
13. Okabayashi M, Angell MG, Christensen ND, Kreider JW. Morphometric analysis and identification of infiltrating leucocytes in regressing and progressing Shope rabbit papillomas. Int J Cancer. 1991;49:919-23. (IHC-FS)
14. Mircheff AK, Gierow JP, Lee LM, Lambert RW, Akashi RH, Hofman FM. Class II antigen expression by lacrimal epithelial cells. An updated working hypothesis for antigen presentation by epithelial cells. Invest Ophthalmol Vis Sci. 1991;32:2302-10. (IHC-FS, ICC)
15. Tanaka H, Sukhova GK, Swanson SJ, Clinton SK, Ganz P, Cybulsky MI, et al. Sustained activation of vascular cells and leukocytes in the rabbit aorta after balloon injury. Circulation. 1993;88:1788-803. (IHC-FS)
16. Li H, Cybulsky MI, Gimbrone MA, Libby P. Inducible expression of vascular cell adhesion molecule-1 by vascular smooth muscle cells in vitro and within rabbit atheroma. Am J Pathol. 1993;143:1551-9. (IHC-FS)
17. Okabayashi M, Pickel MD, Budgeon LR, Cladel NM, Kreider JW. Podofilox-induced regression of Shope papillomas may be independent of host immunity. J Invest Dermatol. 1993;101:852-7. (IHC-FS)
18. Wilkinson JM, McDonald G, Smith S, Galea-Lauri J, Lewthwaite J, Henderson B, et al. Immunohistochemical identification of leucocyte populations in normal tissue and inflamed synovium of the rabbit. J Pathol. 1993;170:315-20. (IHC-FS)
19. Tanaka H, Sunamori M, Suzuki A, Sukhova GK, Libby P. Endothelial activation potentiates neointimal lesion formation in the rabbit aorta after balloon injury. Ann NY Acad Sci. 1997;811:448-58. (IHC-FS)
20. Gu W, Janssens P, Holland M, Seamark R, Kerr P. Lymphocytes and MHC class II positive cells in the female rabbit reproductive tract before and after ovulation. Immunol Cell Biol. 2005;83:596-606. (IHC-FS)
21. Huang W, Chamberlain CG, Sarafian RY, Chan-Ling T. MHC class II expression by β2 integrin (CD18)-positive microglia, macrophages and macrophage-like cells in rabbit retina. Neuron Glia Biol. 2008;4:285-94. (IHC-FS, IHC-WM)
22. Lou H, Kodama T, Zhao YJ, Maurice P, Wang YN, Katz N, et al. Inhibition of transplant coronary arteriosclerosis in rabbits by chronic estradiol treatment is associated with abolition of MHC class II antigen expression. Circulation. 1996;94:3355-61. (IHC-PS)
23. Mircheff AK, Gierow JP, Wood RL. Traffic of major histocompatibility complex class II molecules in rabbit lacrimal gland acinar cells. Invest Ophthalmol Vis Sci. 1994;35:3943-51. (ICC)
24. Yang T, Zeng H, Zhang J, Okamoto CT, Warren DW, Wood RL, et al. MHC class II molecules, cathepsins, and La/SSB proteins in lacrimal acinar cell endomembranes. Am J Physiol. 1999;277:C994-1007. (WB)
25. Knight KL, Johnson A, Coligan JE, Kindt TJ. Partial amino acid sequence analysis of rabbit MHC class II molecules isolated from two-dimensional polyacrylamide gels. Mol Immunol. 1987;24:449-54. (IP)
26. Kotani M, Yamamura Y, Tamatani T, Kitamura F, Miyasaka M. Generation and characterization of monoclonal antibodies against rabbit CD4, CD5 and CD11a antigens. J Immunol Methods. 1993;157:241-52. (IP, Block)