Rat Anti-Human GM-CSF-UNLB (BVD2-23B6)
Purified Anti-Human GM-CSF antibody for use in ELISA, ELISpot, immunoprecipitation, and multiplex assays.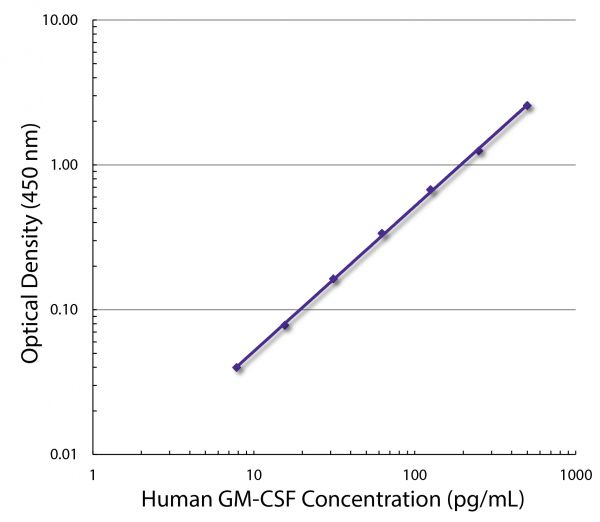 More Information
Clone
BVD2-23B6
Isotype
Rat IgG2aκ
Isotype Control
Rat IgG2a-UNLB (KLH/G2a-1-1)
Specificity
Human/Rhesus/Cynomolgus GM-CSF
Alternative Names
Granulocyte/macrophage colony-stimulating factor, CSF-α, pluripoietin-α, eosinophil colony stimulating factor, Eo-CSF, burst promoting activity, BPA
Immunogen
E. coli-expressed human GM-CSF
Conjugate
UNLB (Unconjugated)
Buffer Formulation
Borate buffered saline, pH 8.2
Clonality
Monoclonal
Concentration
0.5 mg/mL
Volume
1.0 mL
Recommended Storage
2-8°C
Applications
ELISA-Capture – Quality tested 1-7
ELISpot-Capture – Reported in literature 4,6,8
Immunoprecipitation – Reported in literature 3
Neutralization – Reported in literature 1,3,9,10
Multiplex-Capture – Reported in literature 11

Note – May be paired with the biotinylated clone BVD2-21C11 (SB Cat. No. 10112-08) in a sandwich ELISA


RRID Number
AB_2794135
Gene ID
1437 (Human)
574371 (Rhesus)
102118747 (Cynomolgus)

Gene ID Symbol
CSF2 (Human)
CSF2 (Rhesus)
CSF2 (Cynomolgus)

Gene ID Aliases
CSF; GMCSF; GM-CSF
UniProt ID
P04141 (Human)

UniProt Name
CSF2_HUMAN (Human)

Documentation
---
Certificate of Analysis Lookup
Enter the Catalog Number and Lot Number for the Certificate of Analysis you wish to view
Need help with this product?
1. Abrams JS, Silver JE, Van Dyke RE, Gleich GJ. Eosinophil-active cytokines in human disease: development and use of monoclonal antibodies to IL-3, IL-5 and GM-CSF. In: Gleich GJ, Kay AB, editors. Eosinophils in allergy and inflammation. New York: Marcel Dekker; 1994. p. 133-57. (Immunogen, ELISA-Capture, Neut)
2. Bacchetta R, de Waal Malefijt R, Yssel H, Abrams J, de Vries JE, Spits H, et al. Host-reactive CD4+ and CD8+ T cell clones isolated from a human chimera produce IL-5, IL-2, IFN-γ and granulocyte/macrophage-colony-stimulating factor but not IL-4. J Immunol. 1990;144:902-8. (ELISA-Capture)
3. Abrams JS, Roncarolo M, Yssel H, Andersson U, Gleich GJ, Silver JE. Strategies of anti-cytokine monoclonal antibody development: immunoassay of IL-10 and IL-5 in clinical samples. Immunol Rev. 1992;127:5-24. (ELISA-Capture, IP, Neut)
4. Mahanty S, Abrams JS, King CL, Limaye AP, Nutman TB. Parallel regulation of IL-4 and IL-5 in human helminth infections. J Immunol. 1992;148:3567-71. (ELISA-Capture, ELISPOT-Capture)
5. Abrams JS. Immunoenzymetric assay of mouse and human cytokines using NIP-labeled anti-cytokine antibodies. Curr Protoc Immunol. 2001;6.20:1-15. (ELISA-Capture)
6. Mäkitalo B, Andersson M, Areström I, Karlén K, Villinger F, Ansari A, et al. ELISpot and ELISA analysis of spontaneous, mitogen-induced and antigen-specific cytokine production in cynomolgus and rhesus macaques. J Immunol Methods. 2002;270:85-97. (ELISA-Capture, ELISPOT-Capture, Rhesus & Cynomolgus Reactivity)
7. Zhao W, Oskeritzian CA, Pozez AL, Schwartz LB. Cytokine production by skin-derived mast cells: endogenous proteases are responsible for degradation of cytokines. J Immunol. 2005;175:2635-42. (ELISA-Capture)
8. Klinman D. ELISPOT assay to detect cytokine-secreting murine and human cells. Curr Protoc Immunol. 2008;6.19:1-9. (ELISPOT-Capture)
9. Denburg JA, Silver JE, Abrams JS. Interleukin-5 is a human basophilopoietin: induction of histamine content and basophilic differentiation of HL-60 cells and of peripheral blood basophil-eosinophil progenitors. Blood. 1991;77:1462-8. (Neut)
10. Kelly EA, Koziol-White CJ, Clay KJ, Liu LY, Bates ME, Bertics PJ, et al. Potential contribution of IL-7 to allergen-induced eosinophilic airway inflammation in asthma. J Immunol. 2009;182:1404-10. (Neut)
11. Hutchinson KL, Villinger F, Miranda ME, Ksiazek TG, Peters CJ, Rollin PE. Multiplex analysis of cytokines in the blood of cynomolgus macaques naturally infected with Ebola virus (Reston serotype). J Med Virol. 2001;65:561-6. (Multiplex-Capture, Cynomolgus Reactivity)