Rat Anti-Mouse NKG2-A/C/E-PE (20d5)
PE Anti-Mouse NKG2-A/C/E antibody for use in flow cytometry assays.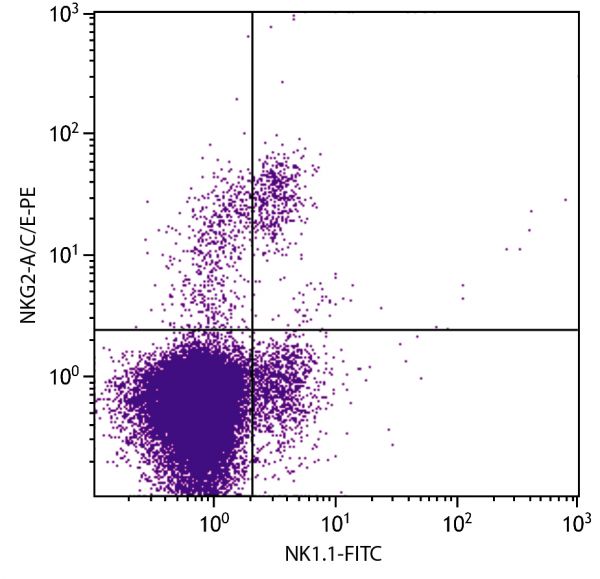 More Information
Clone
20d5
Isotype
Rat (Lewis) IgG2aκ
Isotype Control
Rat IgG2a-PE (KLH/G2a-1-1)
Specificity
Mouse NKG2-A/C/E
Alternative Names
NKG2A, NKG2C, NKG2E
Description
The monoclonal antibody 20d5 reacts with an epitope common to the NKG2A, NKG2C and NKG2E isoforms of the NKG2 heterodimer, a member of the c-type lectin family of inhibitory receptors. Mouse NKG2 is a natural killer (NK) cell receptor for the non-classical MHC class I molecule Qa-1b. NKG2 is expressed on NK cells, lymphokine-activated killer (LAK) T cells, and some CD8+ memory T cells. Two-color immunofluorescent staining with the 20d5 antibody reveals two distinct NKG2+ phenotypes within the NK1.1+CD3- spleen cell population: NKG2hi (50%) and NKG2low (50%). With the exception of DBA/2J mice, NKG2 is expressed on NK1.1+ cells from all mouse strains tested (C57BL/6, BALB/c, 129/J, C3H.SW, AKR/J, SJL).
Immunogen
CHO cells transfected with B6 allele of NKG2A gene
Conjugate
PE (R-phycoerythrin)
Buffer Formulation
Phosphate buffered saline containing < 0.1% sodium azide and a stabilizer
Clonality
Monoclonal
Concentration
0.1 mg/mL
Volume
1.0 mL
Recommended Storage
2-8°C; Avoid exposure to light; Do not freeze
Applications
Flow Cytometry – Quality tested 1-3
Blocking – Reported in literature 1


RRID Number
AB_2795343
Gene ID
16641 (Mouse)
16642 (Mouse)
58179 (Mouse)

Gene ID Symbol
Klrc1 (Mouse)
Klrc2 (Mouse)
Klrc3 (Mouse)

Gene ID Aliases
NKG2A; NKG2B; CD159a; NKG2C; Klrc2; Nkg2e
Documentation
---
Certificate of Analysis Lookup
Enter the Catalog Number and Lot Number for the Certificate of Analysis you wish to view
Need help with this product?
1. Vance RE, Jamieson AM, Raulet DH. Recognition of the class Ib molecule Qa-1b by putative activating receptors CD94/NKG2C and CD94/NKG2E on mouse natural killer cells. J Exp Med. 1999;190:1801-12. (Immunogen, FC, Block)
2. Fraser KP, Gays F, Robinson JH, van Beneden K, Leclercq G, Vance RE, et al. NK cells developing in vitro from fetal mouse progenitors express at least one member of the Ly49 family that is acquired in a time-dependent and stochastic manner independently of CD94 and NKG2. Eur J Immunol. 2002;32:686-78. (FC)
3. Lian RH, Maeda M, Lohwasser S, Delcommenne M, Nakano T, Vance RE, et al. Orderly and nonstochastic acquisition of CD94/NKG2 receptors by developing NK cells derived from embryonic stem cells in vitro. J Immunol. 2002;168:4980-7. (FC)