Rat Anti-Mouse CD54-PE (YN1/1.7.4)
PE Anti-Mouse CD54 antibody for use in flow cytometry assays.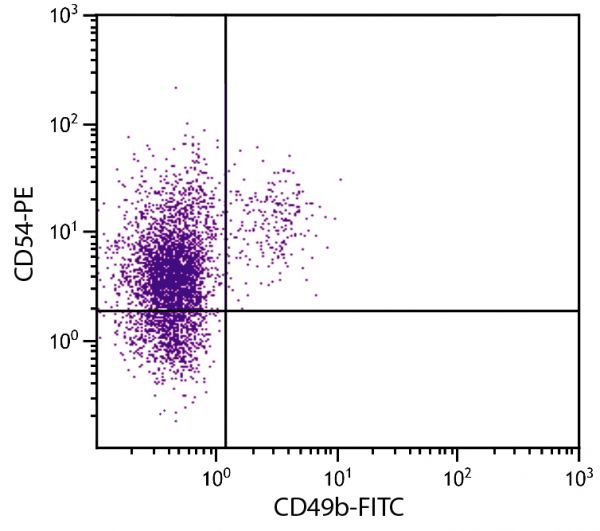 More Information
Clone
YN1/1.7.4
Isotype
Rat (Fischer 344) IgG2bκ
Isotype Control
Rat IgG2b-PE (KLH/G2b-1-2)
Specificity
Mouse/Porcine CD54
Alternative Names
ICAM-1, Ly-47
Description
CD54, a member of the immunoglobulin superfamily of cell surface receptors and also known as Intercellular Adhesion Molecule-1 (ICAM-1), is a type I transmembrane glycoprotein that mediates important cell/cell interactions. CD54 is expressed on endothelial cells, dendritic cells, keratinocytes, and lymphocytes. Its expression is upregulated by inflammatory mediators such as IFN γ, IL-1, TNF-α, lipopolysaccharide, and phorbol esters. Endothelial CD54 contributes to the extravasation of leukocytes from blood vessels, particularly in areas of inflammation. CD54 on antigen-presenting cells contributes to antigen-specific T-cell activation, presumably by enhancing interactions between T cell and antigen-presenting cells. These adhesion reactions are mediated via the binding of CD54 to its major ligands, LFA-1 and Mac-1.
Immunogen
Mouse NS-1 cells
Conjugate
PE (R-phycoerythrin)
Buffer Formulation
Phosphate buffered saline containing < 0.1% sodium azide and a stabilizer
Clonality
Monoclonal
Concentration
0.1 mg/mL
Volume
1.0 mL
Recommended Storage
2-8°C; Avoid exposure to light; Do not freeze
Applications
Flow Cytometry – Quality tested 9-11
Immunohistochemistry-Frozen Sections – Reported in literature 3,12-14
Immunocytochemistry – Reported in literature 4
Western Blot – Reported in literature 6-8
Immunoprecipitation – Reported in literature 1
Blocking – Reported in literature 1,2
Purification – Reported in literature 5


RRID Number
AB_2795154
Gene ID
15894 (Mouse)
396750 (Porcine)

Gene ID Symbol
Icam1 (Mouse)
ICAM1 (Porcine)

Gene ID Aliases
CD54; Icam-1; Ly-47; MALA-2
UniProt ID
P13597 (Mouse)

UniProt Name
ICAM1_MOUSE (Mouse)

Documentation
---
Certificate of Analysis Lookup
Enter the Catalog Number and Lot Number for the Certificate of Analysis you wish to view
Need help with this product?
1. Takei F. Inhibition of mixed lymphocyte response by a rat monoclonal antibody to a novel murine lymphocyte activation antigen (MALA-2). J Immunol. 1985;134:1403-7. (Immunogen, FC, IP, Block)
2. Kumasaka T, Quinlan WM, Doyle NA, Condon TP, Sligh J, Takei F, et al. Role of the intercellular adhesion molecule-1(ICAM-1) in endotoxin-induced pneumonia evaluated using ICAM-1 antisense oligonucleotides, anti-ICAM-1 monoclonal antibodies, and ICAM-1 mutant mice. J Clin Invest. 1996;97:2362-9. (Block)
3. Song J, Lokmic Z, Lämmermann T, Rolf J, Wu C, Zhang X, et al. Extracellular matrix of secondary lymphoid organs impacts on B-cell fate and survival. Proc Natl Acad Sci USA. 2013;110(31):E2915-24. (IHC-FS)
4. Bosch B, Heipertz EL, Drake JR, Roche PA. MHC class II-peptide complexes arrive at the plasma membrane in cholesterol-rich microclusters. J Biol Chem. 2013;288:13236-42. (ICC)
5. Krauss K, Altevogt P. Integrin leukocyte function-associated antigen-1-mediated cell binding can be activated by clustering of membrane rafts. J Biol Chem. 1999;274:36921-7. (Purification)
6. Muntasell A, Berger AC, Roche PA. T cell-induced secretion of MHC class II–peptide complexes on B cell exosomes. EMBO J. 2007;26:4263-72. (WB)
7. Ramachandra L, Qu Y, Wang Y, Lewis CJ, Cobb BA, Takatsu K, et al. Mycobacterium tuberculosis synergizes with ATP to induce release of microvesicles and exosomes containing major histocompatibility complex class II molecules capable of antigen presentation. Infect Immun. 2010;78:5116-25. (WB)
8. Chen L, Lin S, Amin S, Overbergh L, Maggiolino G, Chan LS. VCAM-1 blockade delays disease onset, reduces disease severity and inflammatory cells in an atopic dermatitis model. Immunol Cell Biol. 2010;88:334-42. (WB)
9. Zaru R, Mollahan P, Watts C. 3-Phosphoinositide-dependent kinase 1 deficiency perturbs toll-like receptor signaling events and actin cytoskeleton dynamics in dendritic cells. J Biol Chem. 2008;283:929-39. (FC)
10. Podgrabinska S, Kamalu O, Mayer L, Shimaoka M, Snoeck H, Randolph GJ, et al. Inflamed lymphatic endothelium suppresses dendritic cell maturation and function via Mac-1/ICAM-1-dependent mechanism. J Immunol. 2009;183:1767-79. (FC)
11. Jacobsen J, Haabeth OW, Tveita AA, Schjetne KW, Munthe LA, Bogen B. Naive idiotope-specific B and T cells collaborate efficiently in the absence of dendritic cells. J Immunol. 2014;192:4174-83. (FC)
12. Hoehn D, Sun L, Sucosky P. Role of pathologic shear stress alterations in aortic valve endothelial activation. Cardiovasc Eng Technol. 2010;1:165-78. (IHC-FS, Porcine Reactivity)
13. Sun L, Chandra S, Sucosky P. Ex vivo evidence for the contribution of hemodynamic shear stress abnormalities to the early pathogenesis of calcific bicuspid aortic valve disease. PLoS One. 2012;7(10):e48843. (IHC-FS, Porcine Reactivity)
14. Sun L, Rajamannan NM, Sucosky P. Defining the role of fluid shear stress in the expression of early signaling markers for calcific aortic valve disease. PLoS One. 2013;8(12):e84433. (IHC-FS, Porcine Reactivity)